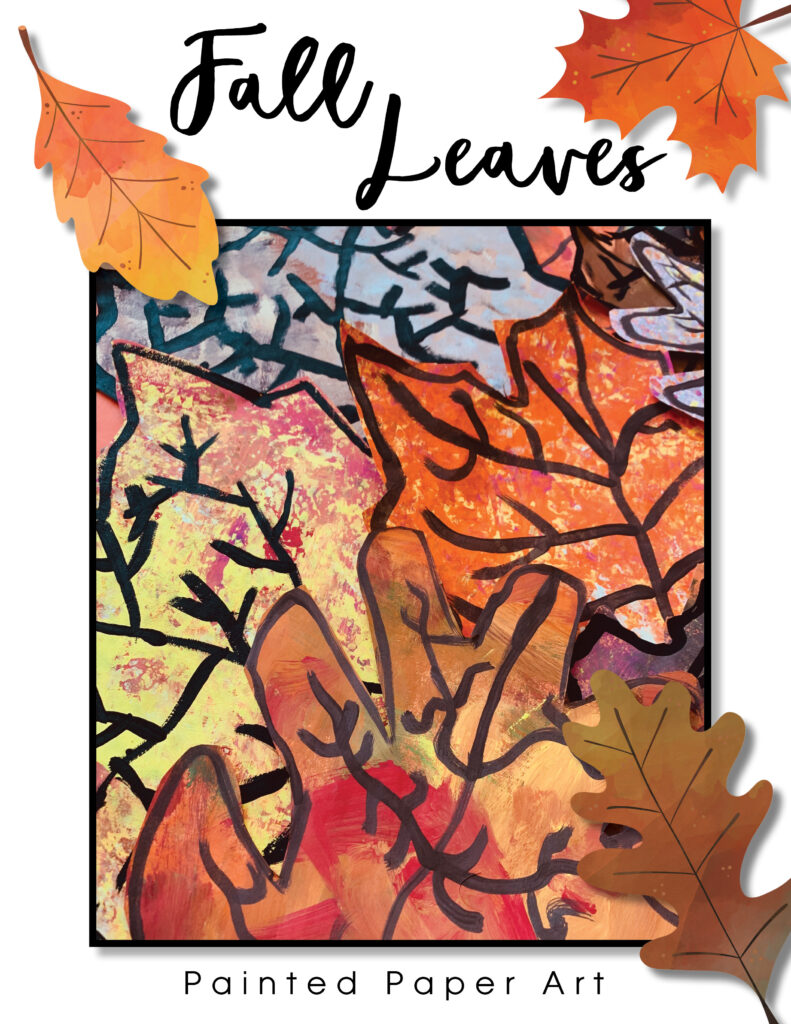 Georgia and her husband, Alfred, vacationed during the 1920's at his family's summer home in Lake George, New York. She would explore and hike daily. On those hikes she would find natural objects such as leaves, stones and branches. She adored all living things and their symbols of the changing seasons. She would often take such items as leaves and magnify them to the point of being semi-abstract while adding beautiful paint colors and textures to those leaves.
Inspiration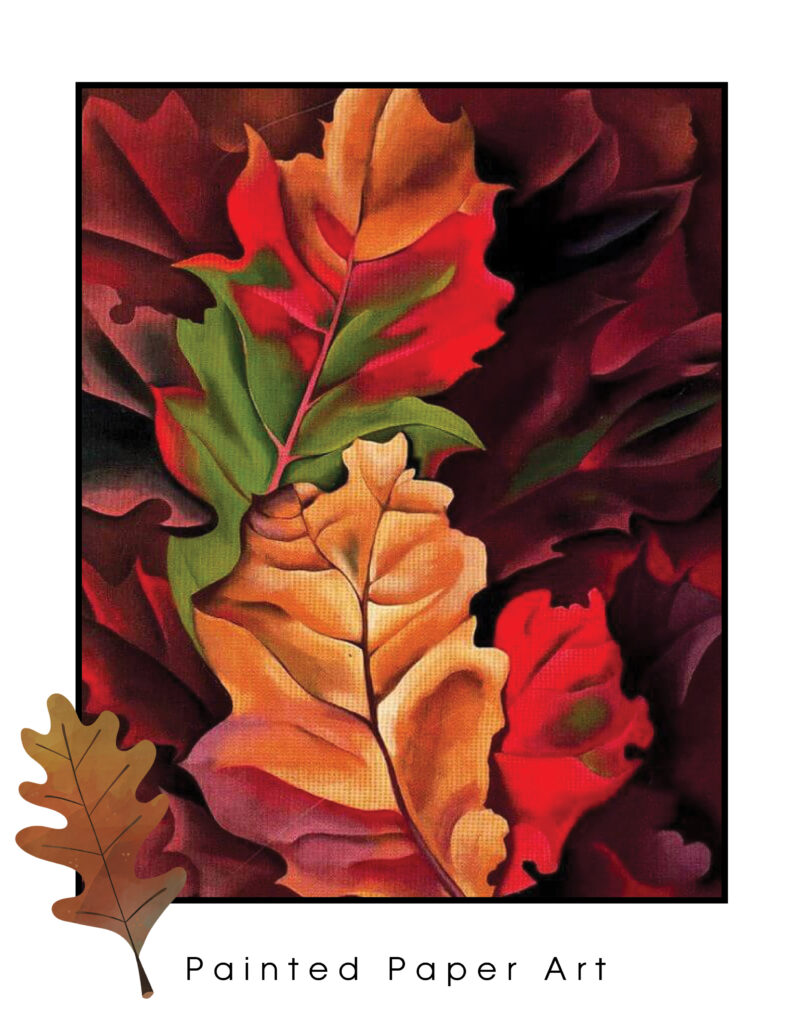 O'Keeffe collected organic souvenirs, from stones and shells to feathers and bones, and at Lake George she delighted in gathering leaves that appealed to her for the striking diversity of their shape and coloring. The majority of her leaf paintings exhibit a palette of browns, earthy reds, and shades of green, suggestive of autumn foliage, and, though enlarged and pressed close to and parallel with the picture plane, the leaves often retain their distinctive and identifiable shape. Autumn Leaves, Lake George, presents a bed of overlapping oak leaves whose forms are isolated and details magnified, drawing attention to the patches of summer's green that cling to the fiery reds and golden hues of fall, O'Keeffe's favorite season in the Adirondacks. She created twenty-nine leaf pictures between 1922 and 1931, all based on the leaves she collected at Lake George.
Students examined various types of leaves before drawing out their leaf shape on previously painted paper.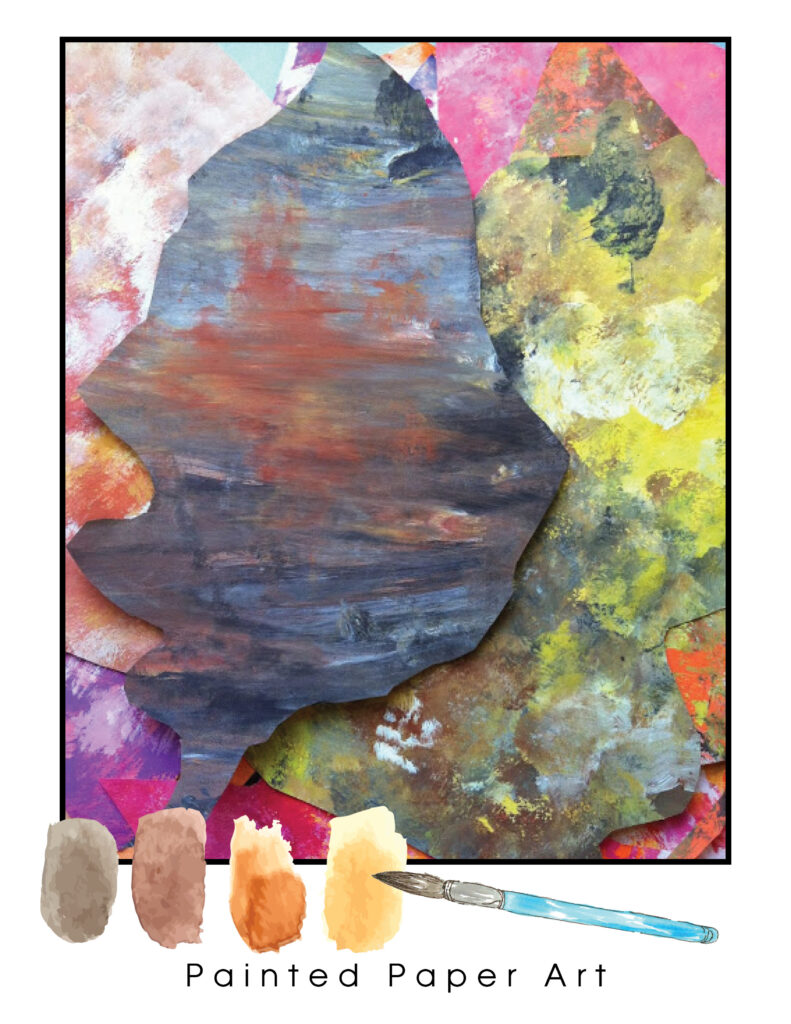 Next, they added various colors of oil pastels to create texture on their leaves and lastly painted veins on the leaves.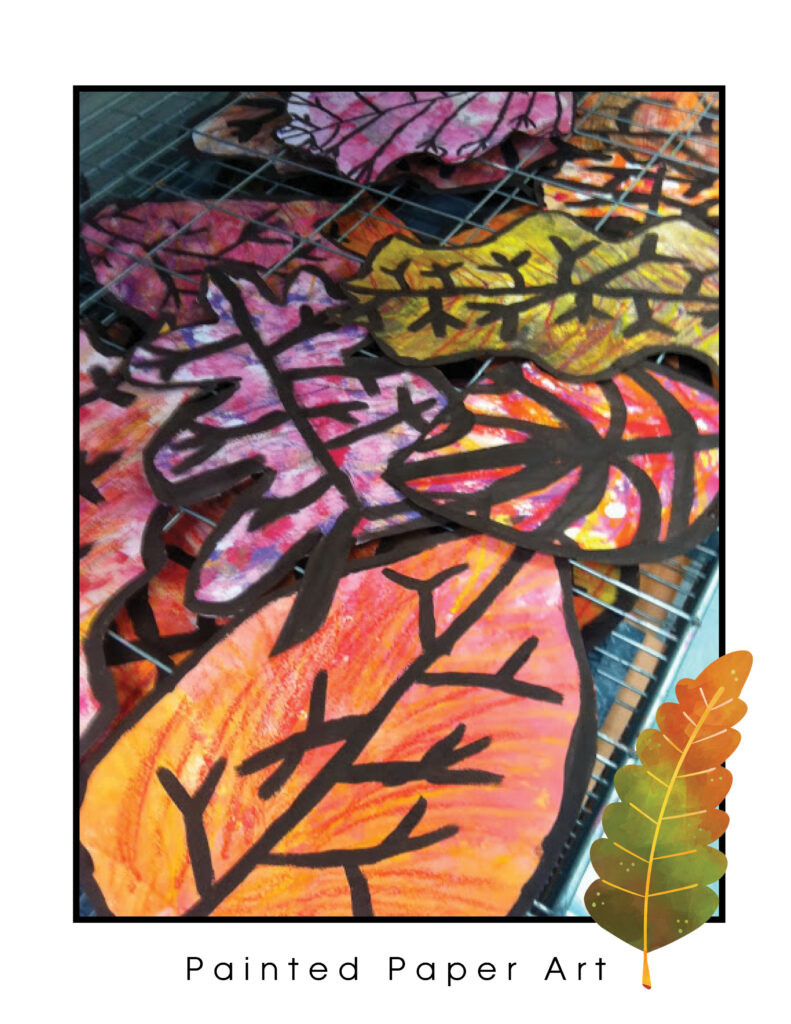 Full lesson is available below.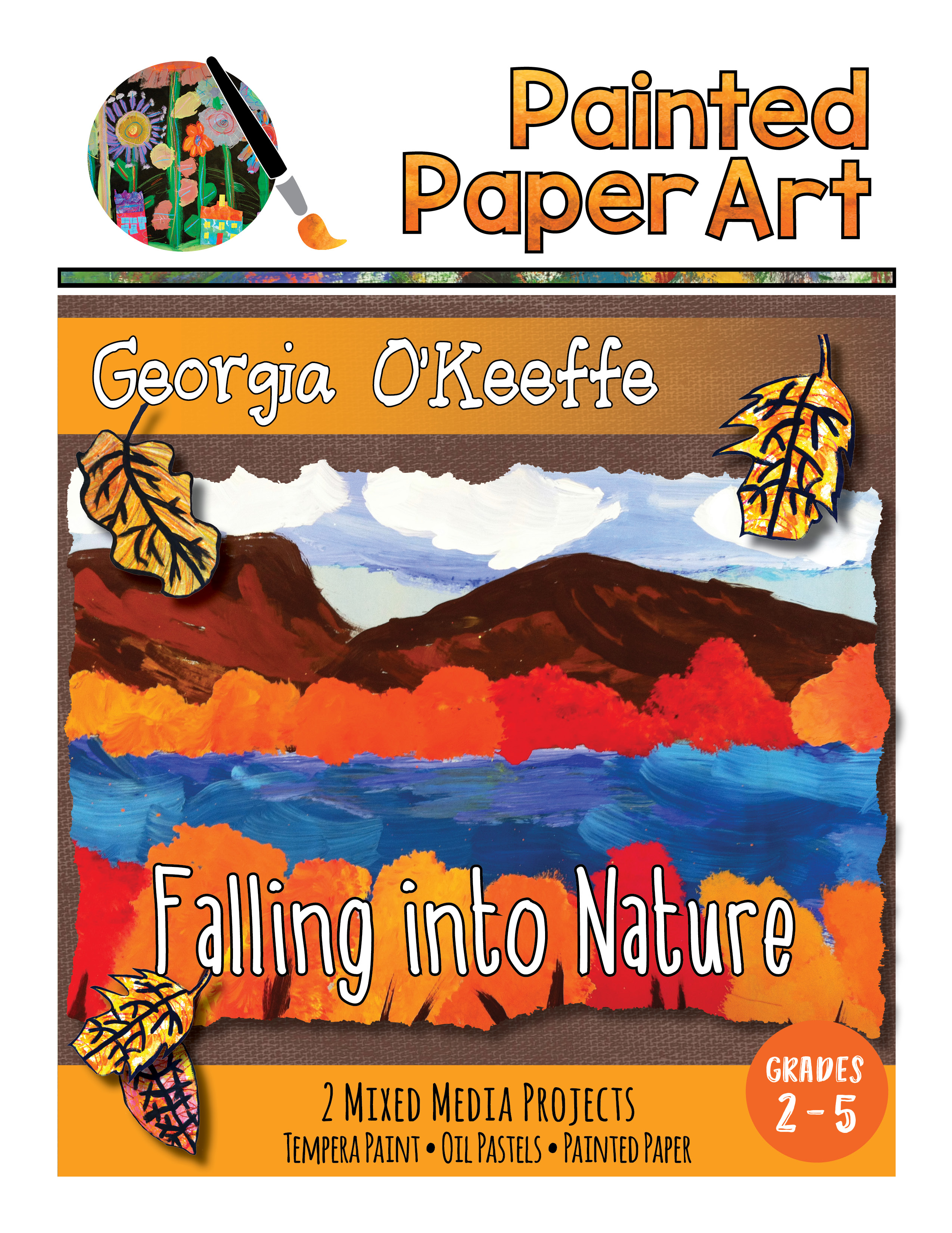 What's Inside
This 40 page digital lesson contains 2 colorful projects that are designed so that every child will be a successful artist.These projects are great for ages 7 – 12, but any age student with some guidance can create a beautiful painting following these directions.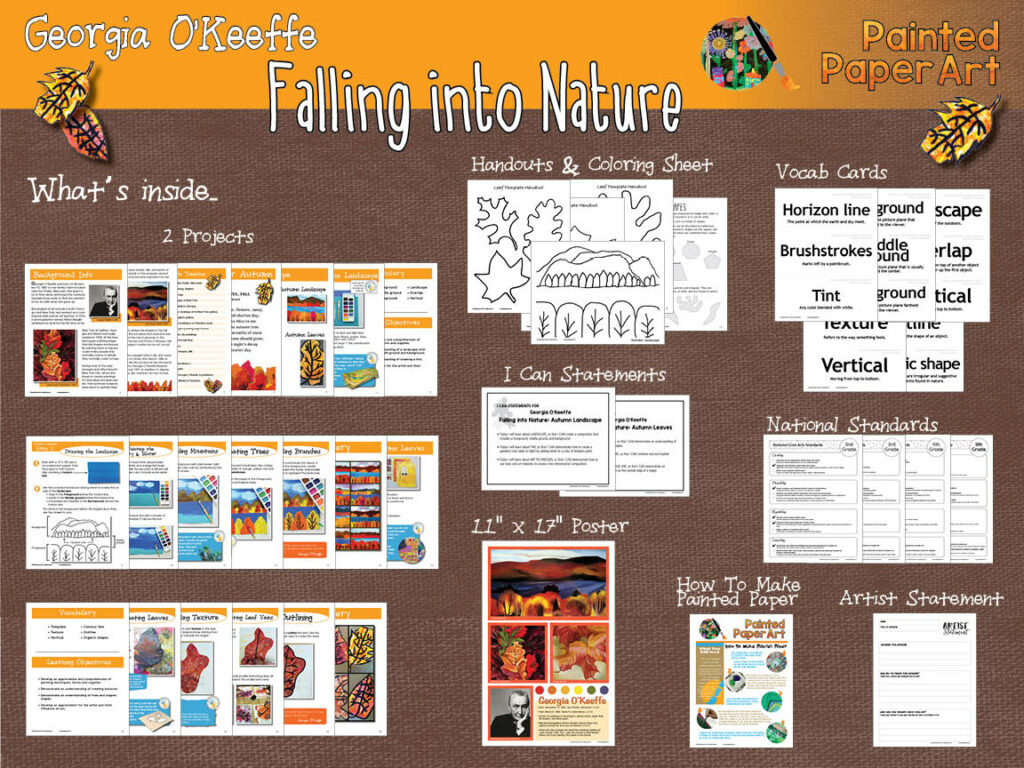 The pdf includes:
• Step by Step full-color photo tutorials for each lesson
• Background information about Georgia O'Keeffe
• Georgia O'Keeffe timeline
• Vocabulary words and learning objectives for each project
• Supplies needed
• Student galleries
• I Can statements
• National Standards
• Reproducible leaf handouts for making templates
• Reproducible shapes info handout
• Reproducible landscape coloring sheet for early finishers
• Reproducible artist statement
• Vocab cards for each project
• How To Make Painted Paper
• 11″ x 17″ poster
Here are our interpretations of our fall leaves.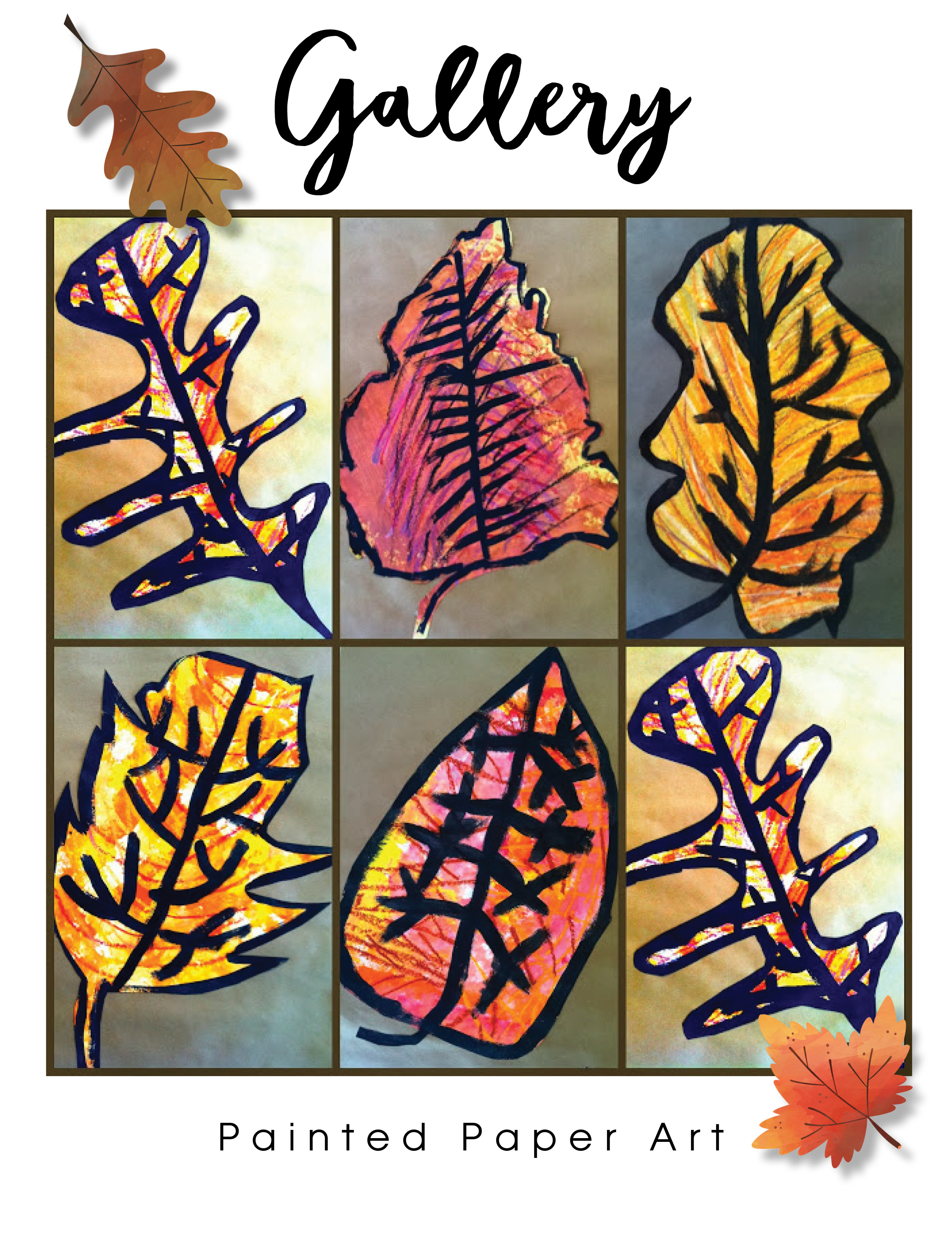 Enjoy finding the beauty in Nature.