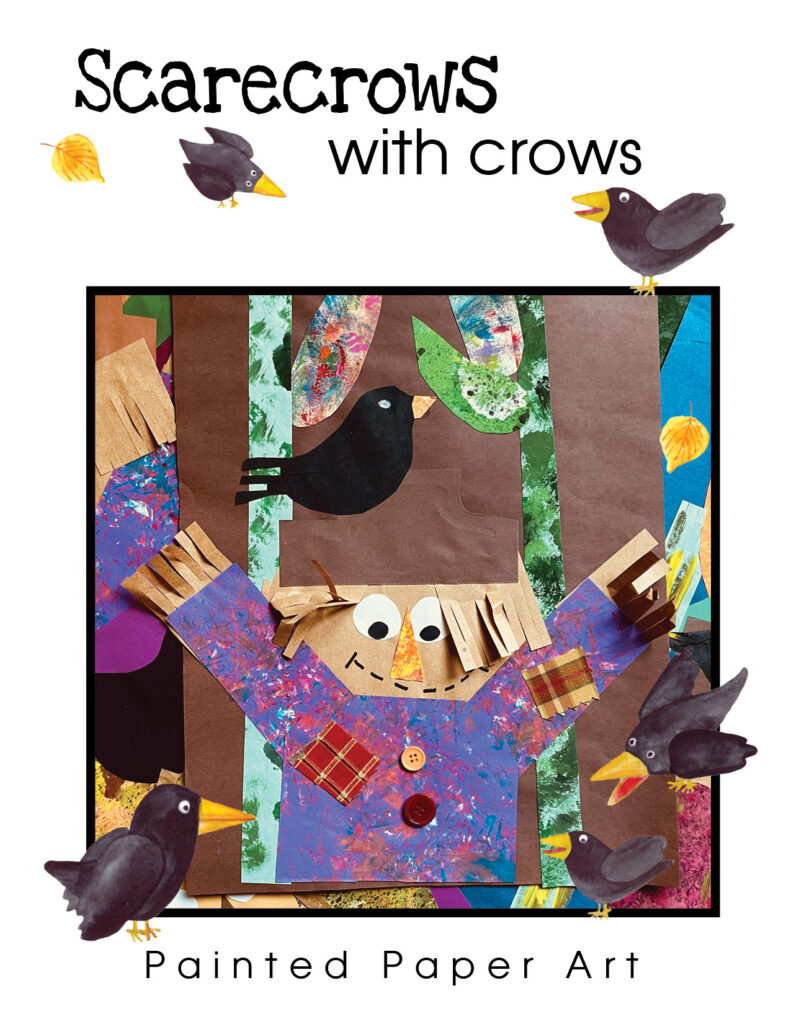 Using previously painted paper my 3rd grade artists created these adorable scarecrows. Students added all the fun features using scraps of brown paper for their scarecrows hair and hands. Painted paper was also used to create corn stalks, leaves, and pumpkins. The last step was to add buttons, fabric patches and little crows to completed these sweet scarecrows.
Inspiration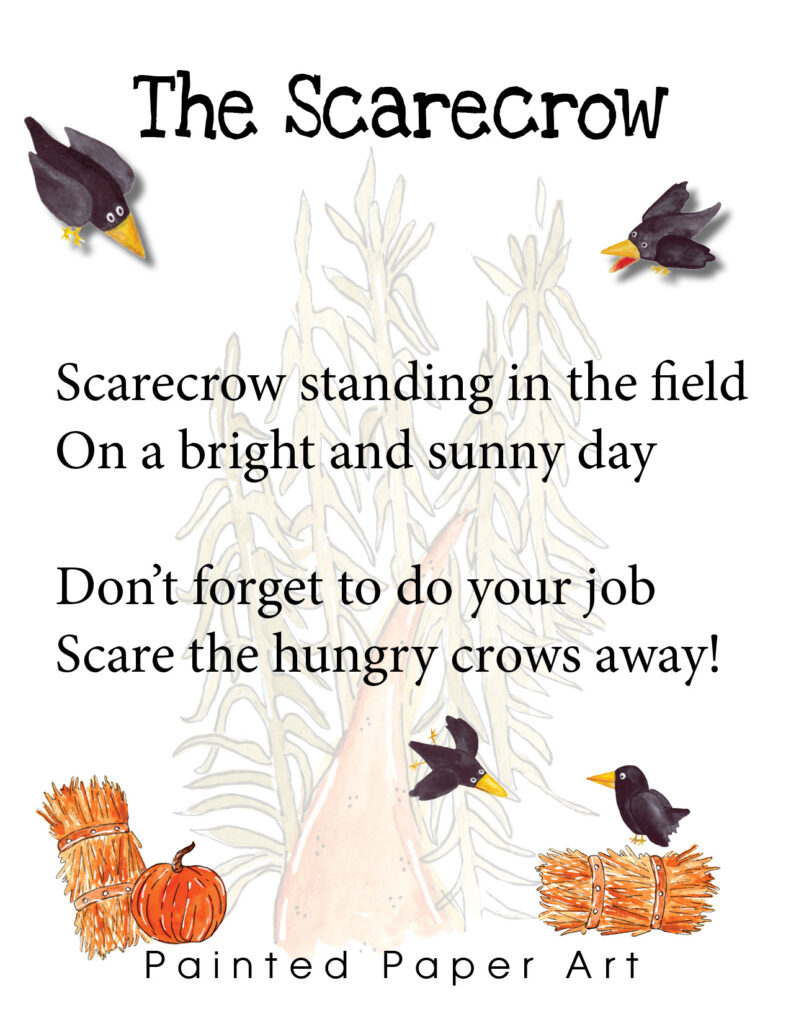 Supplies Needed:
• 12 x 18 Construction paper for the background
• Previously painted paper in various shades
• Scissors, pencil and glue
• Brown paper or brown lunch bags for the head, hair and hands
• Tan or Brown paper for the hat
• Black paper for crows
• Small piece of white paper for eyes and a black Sharpie to add mouth and the dots inside the eyes
• Buttons, Fabric patches.
• Optional: White Paint for clouds
Not sure how to create Painted Paper?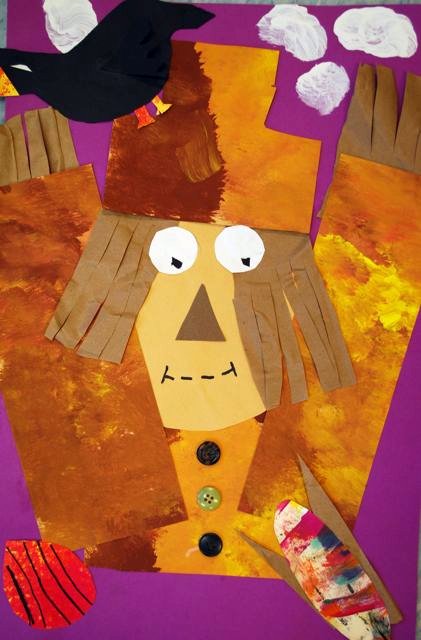 Directions
Green Corn Stalks. Create thin, green corn stalks with painted paper. Glue down strips vertically on the larger background paper. Add small pieces of oval painted paper to represent corn.
Scarecrow Shirt. Create the shirt for the scarecrow. Use a 9 x 12 piece of previously painted paper. Cut into 3 pieces – 6 x 9 piece for the chest area of the shirt and 2 pieces measuring 3 x 9 for the arms. Glue down the pieces.
Hat. Make a hat out of 6 x 9 piece of brown paper. Cut a square out in each upper side of the paper.
Head and Hands. Cut a larger circle for the head out of brown paper (or brown paper bag). Any scraps that are left over are perfect for the hair and hands. Cut fringe in scrap paper and glue the hands underneath the end pieces of the shirt. Glue small brown paper that has had a fringe cut into the ends and glue under the the hat and onto the face. Glue head down. Add a triangle nose, use a black marker (sharpie) to create a mouth and pupils in the eye.
Details. Glue down details such as pre-cut pumpkins, leaves, buttons and crows.
Option: Paint Clouds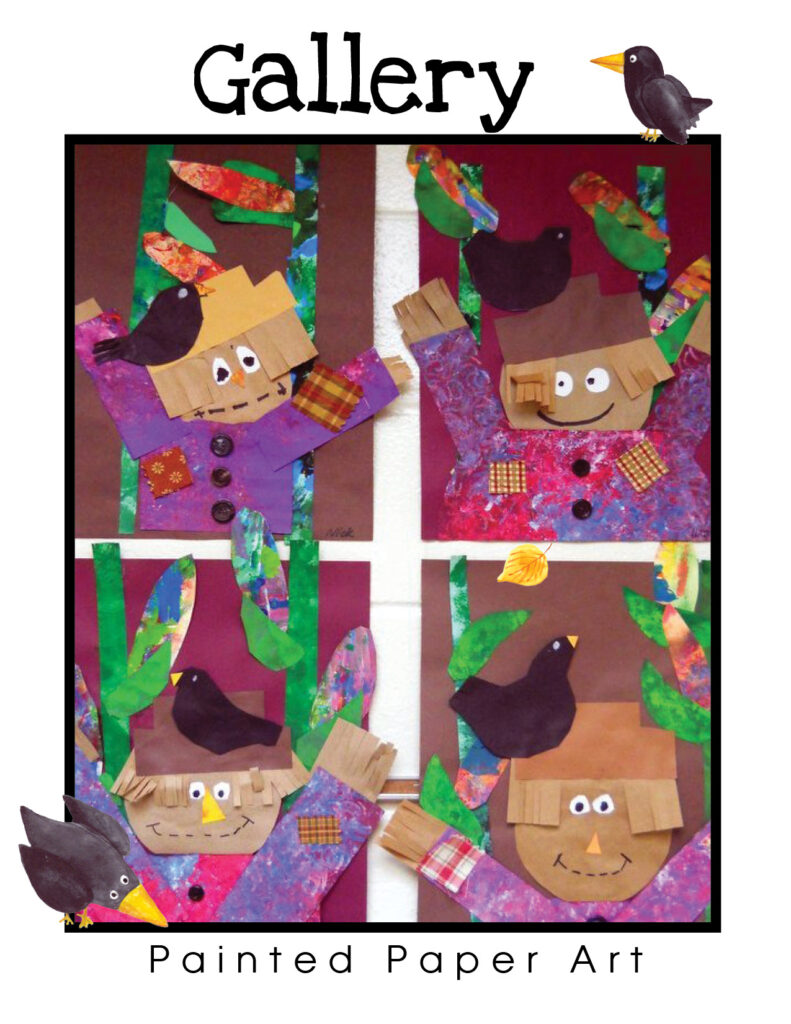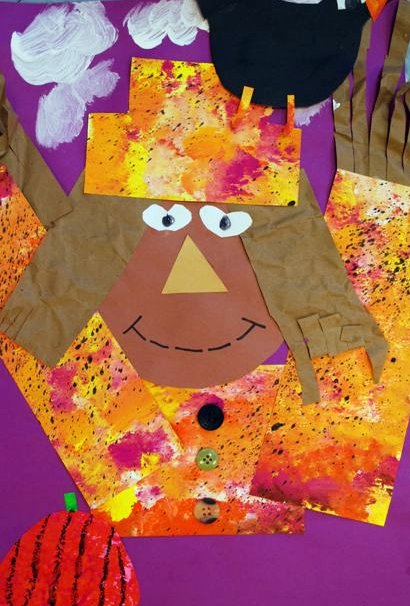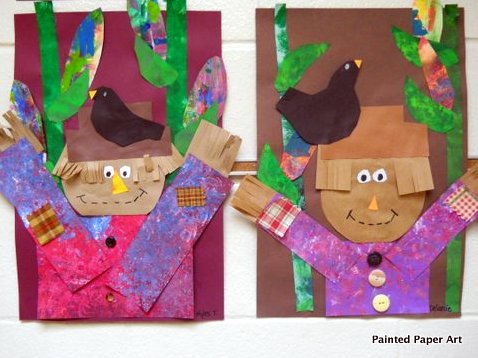 Enjoy the Autumn fun and keep on creating!