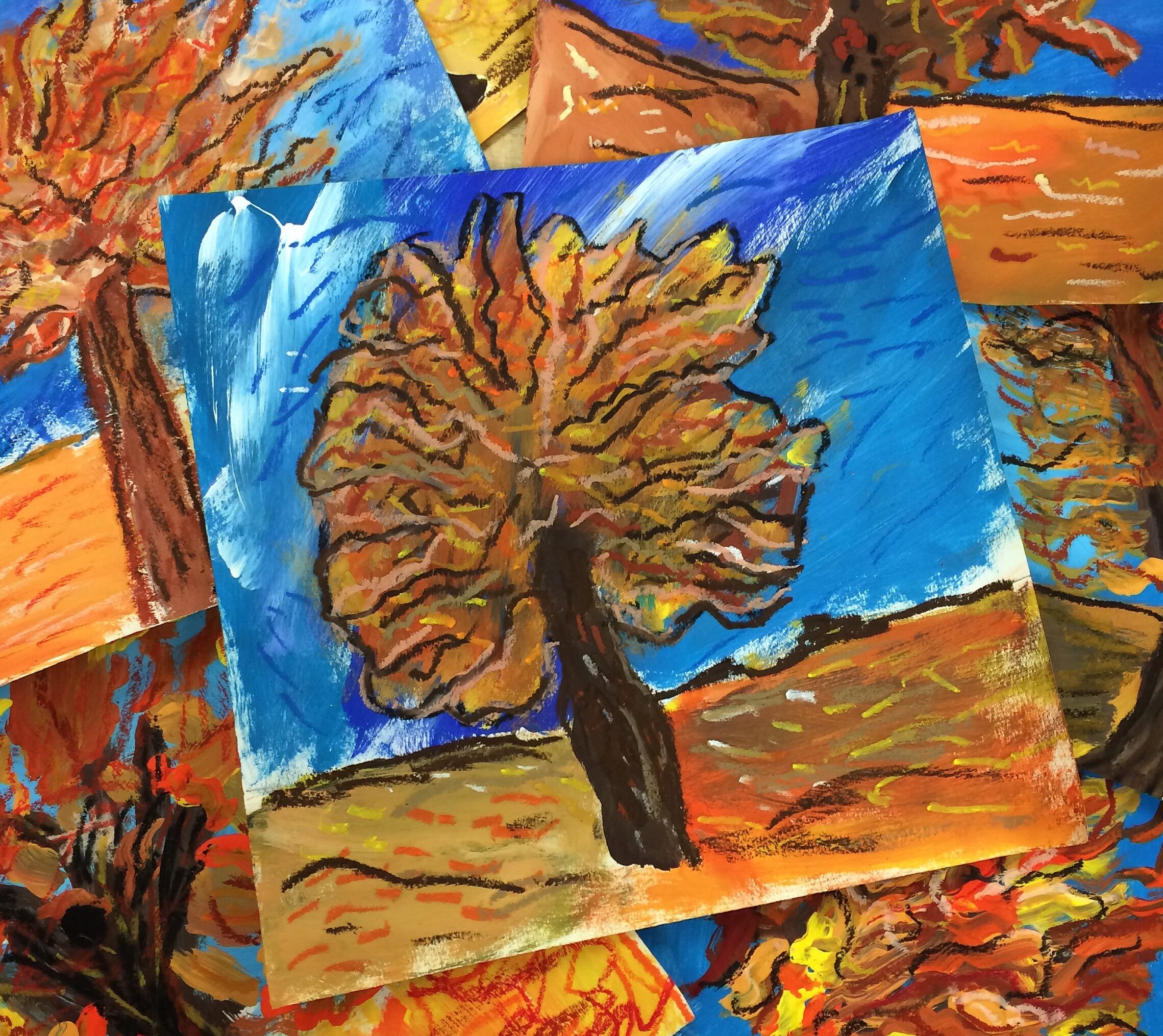 Vivid, Vibrant Van Gogh: A Fall Thematic Bundle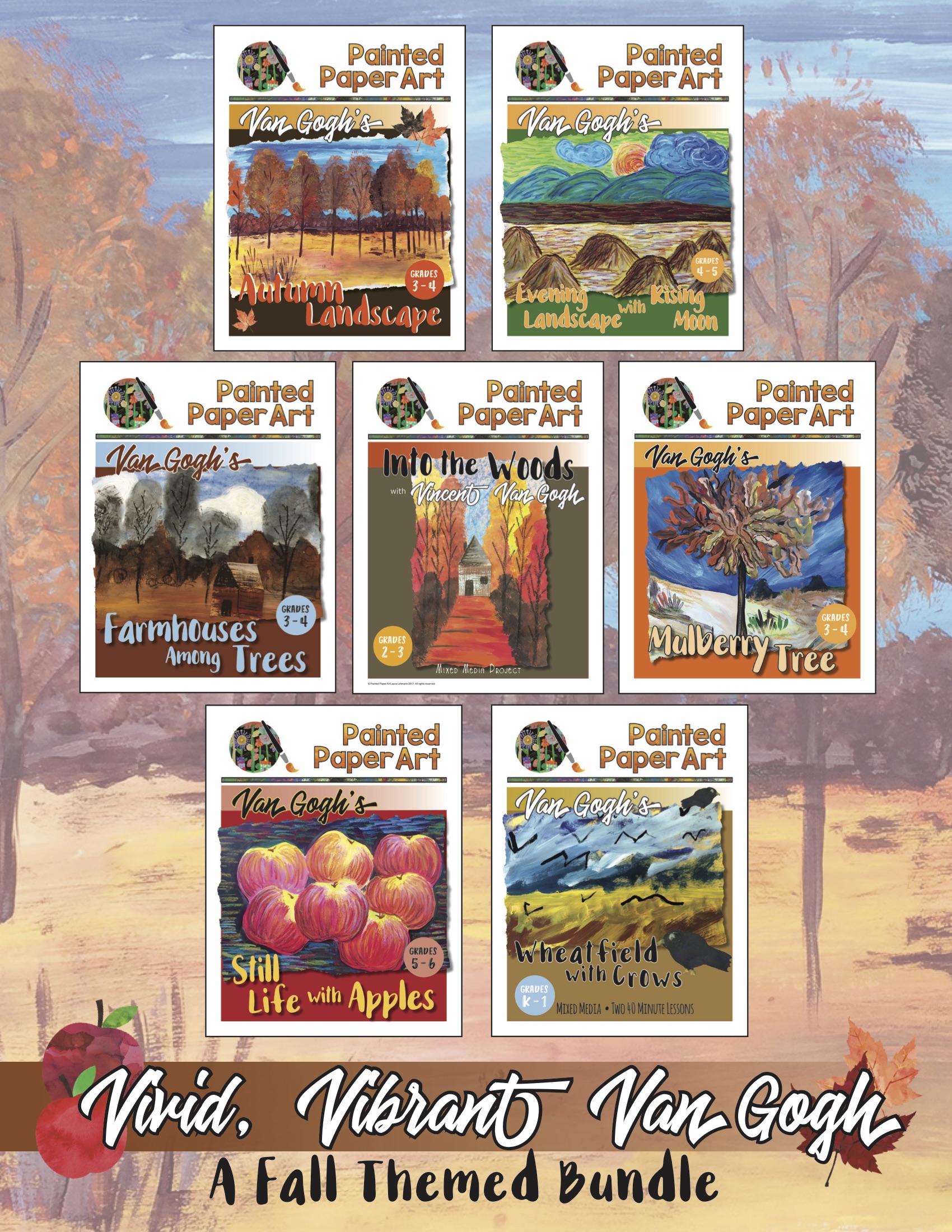 Vivid, Vibrant Van Gogh: A Fall bundle introduces children to the wonderful world of Van Gogh. Using his beautiful paintings as inspiration to understand the artist's painting style, children create their own paintings inspired by Van Gogh's famous artwork. These lessons are perfect examples of incorporating art history with basic art supplies to create the most beautiful works of art that every student will be proud of.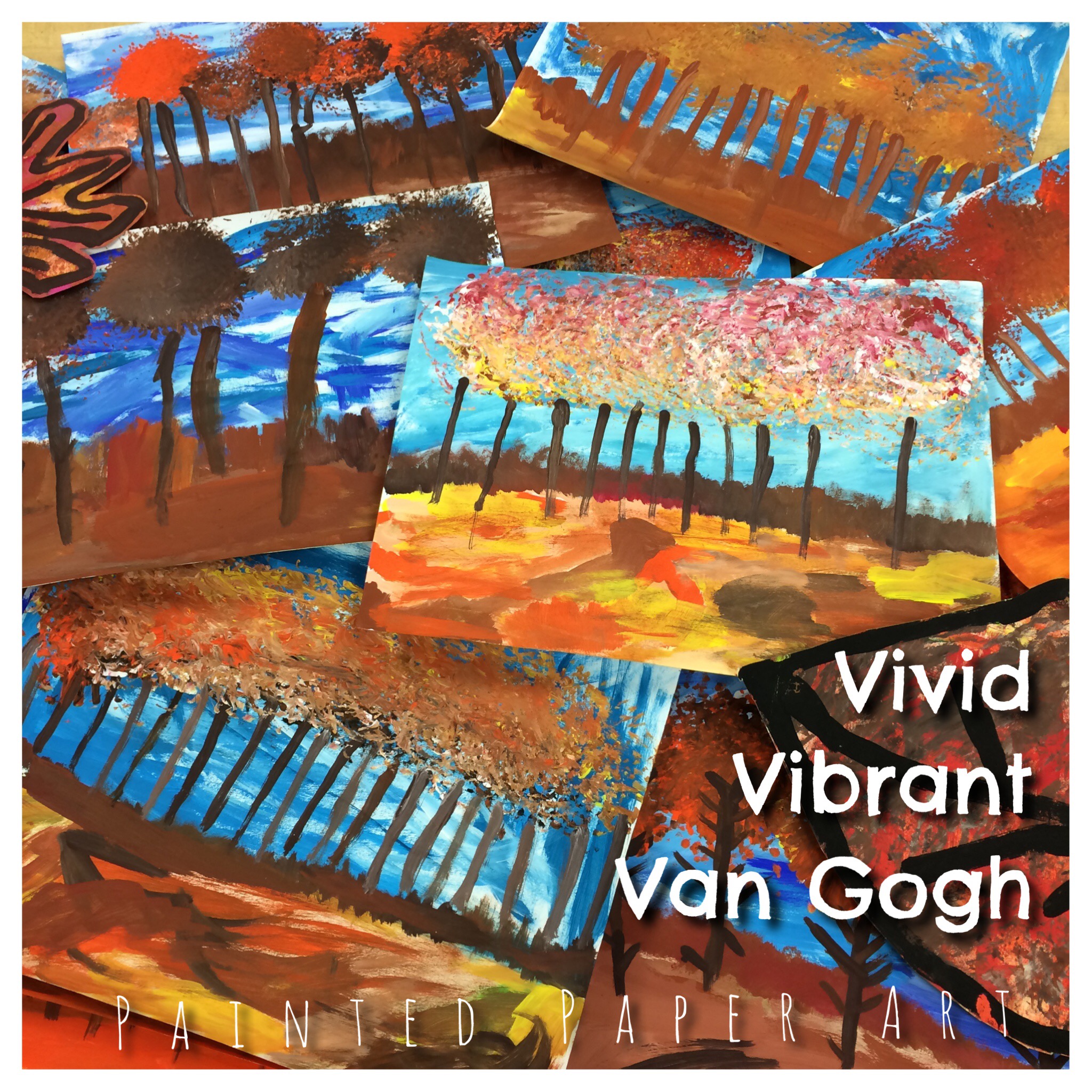 I have found over the past 20 plus years that creating thematic units from K-6 is more manageable for the classroom setting. You can gather inspirational pieces and books that can be used among grade levels which saves you time and preparation.
This bundle contains lessons for every grade level from K-6th.
All of the lessons can be completed in only two 50-minute classes.
These mixed media projects use oil pastels, tempera paints, chalks, sulphite paper, and construction paper along with painted paper scraps to create the most beautiful fall paintings any parent, grandparent or teacher would loved to frame.
These lessons are great for ages 6-12 but many of these lessons can be adapted for students when using these directions.
What's Inside:
The 96-page bundle includes: 7 Fun, Fall inspired Lesson Plans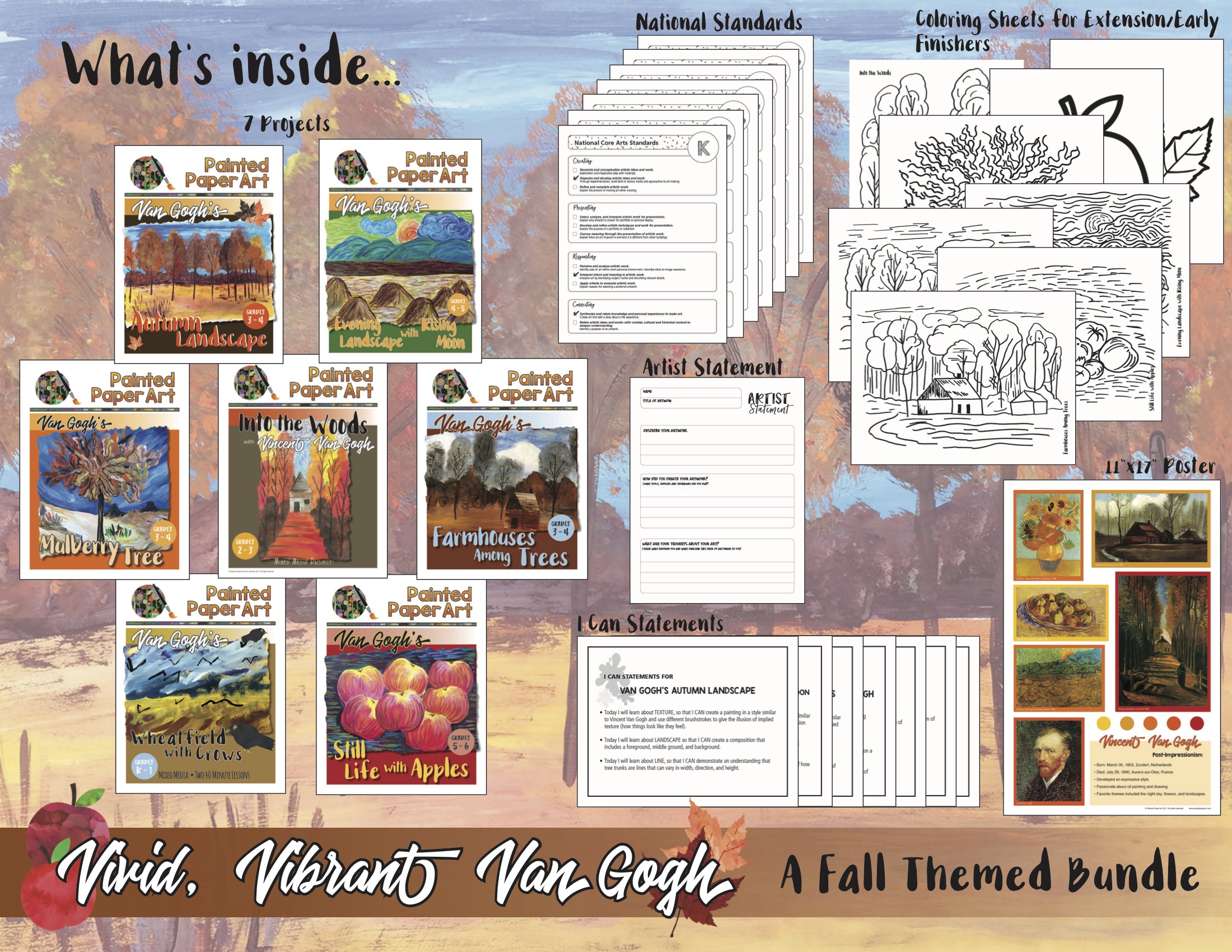 • Wheatfield with Crows (grades K – 1)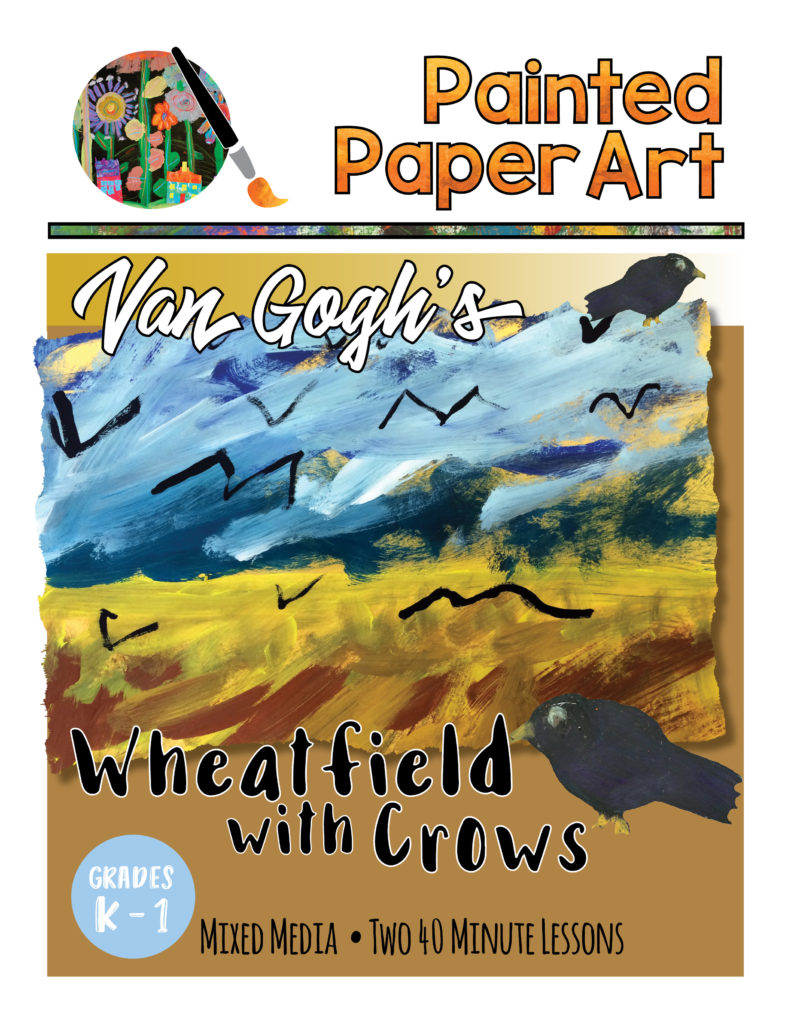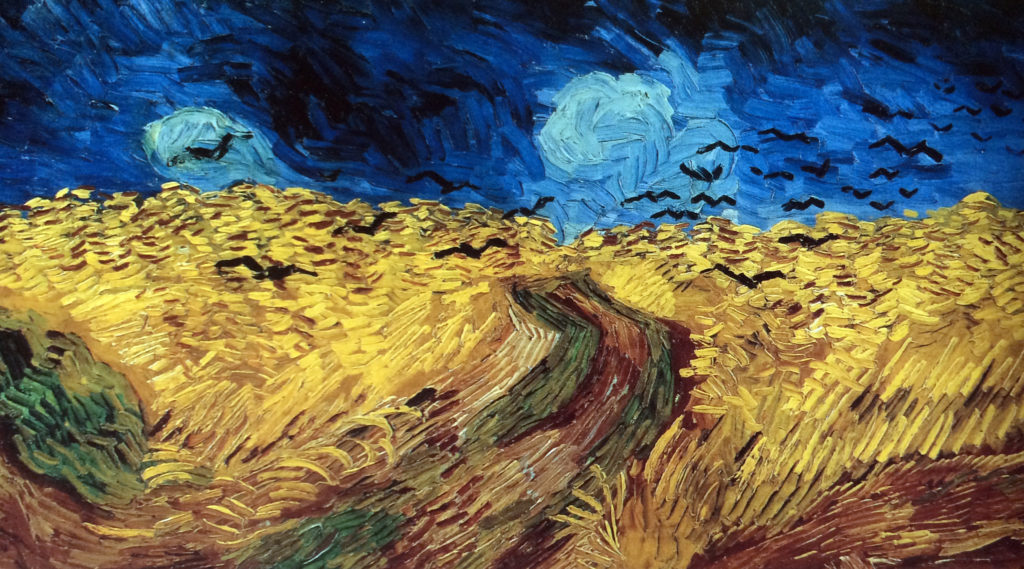 • Into the Woods with Van Gogh (grades 2 – 3)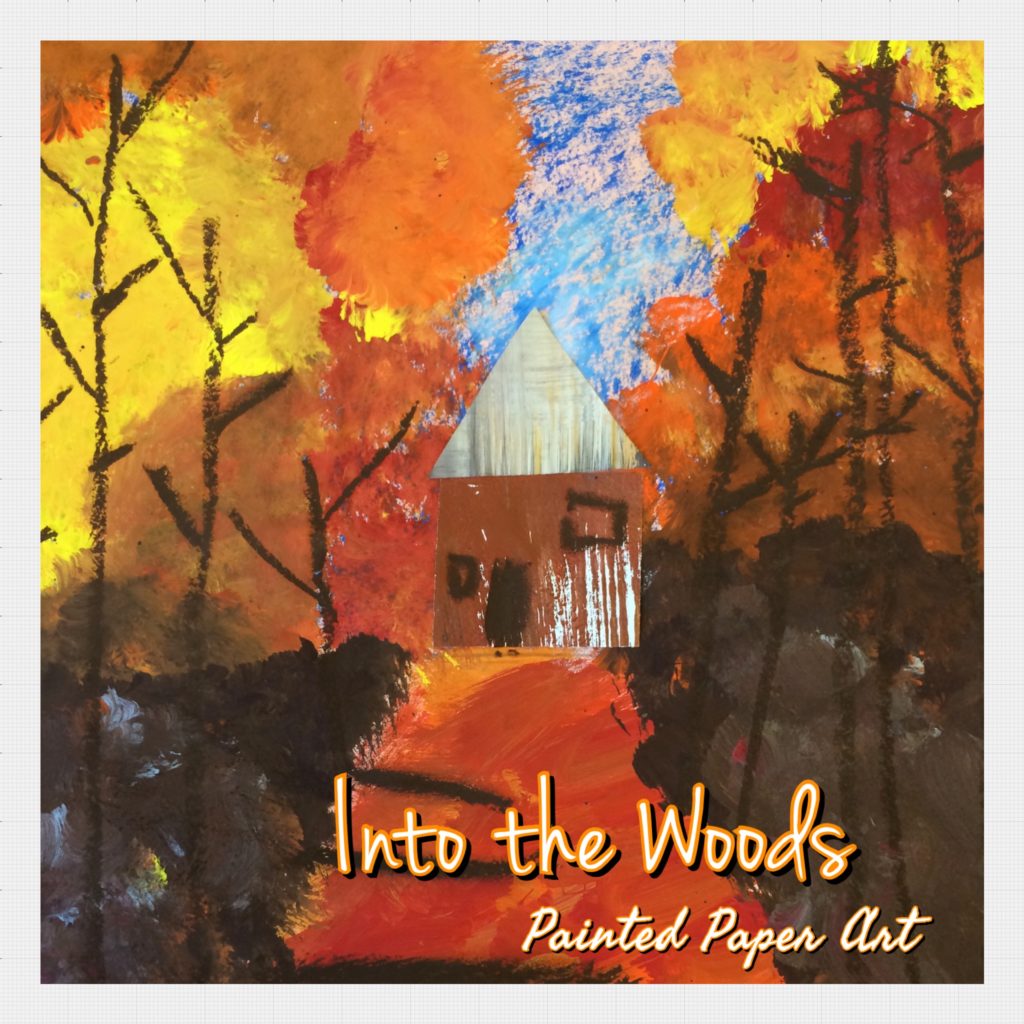 • Farmhouses Among Trees (grades 3 – 4)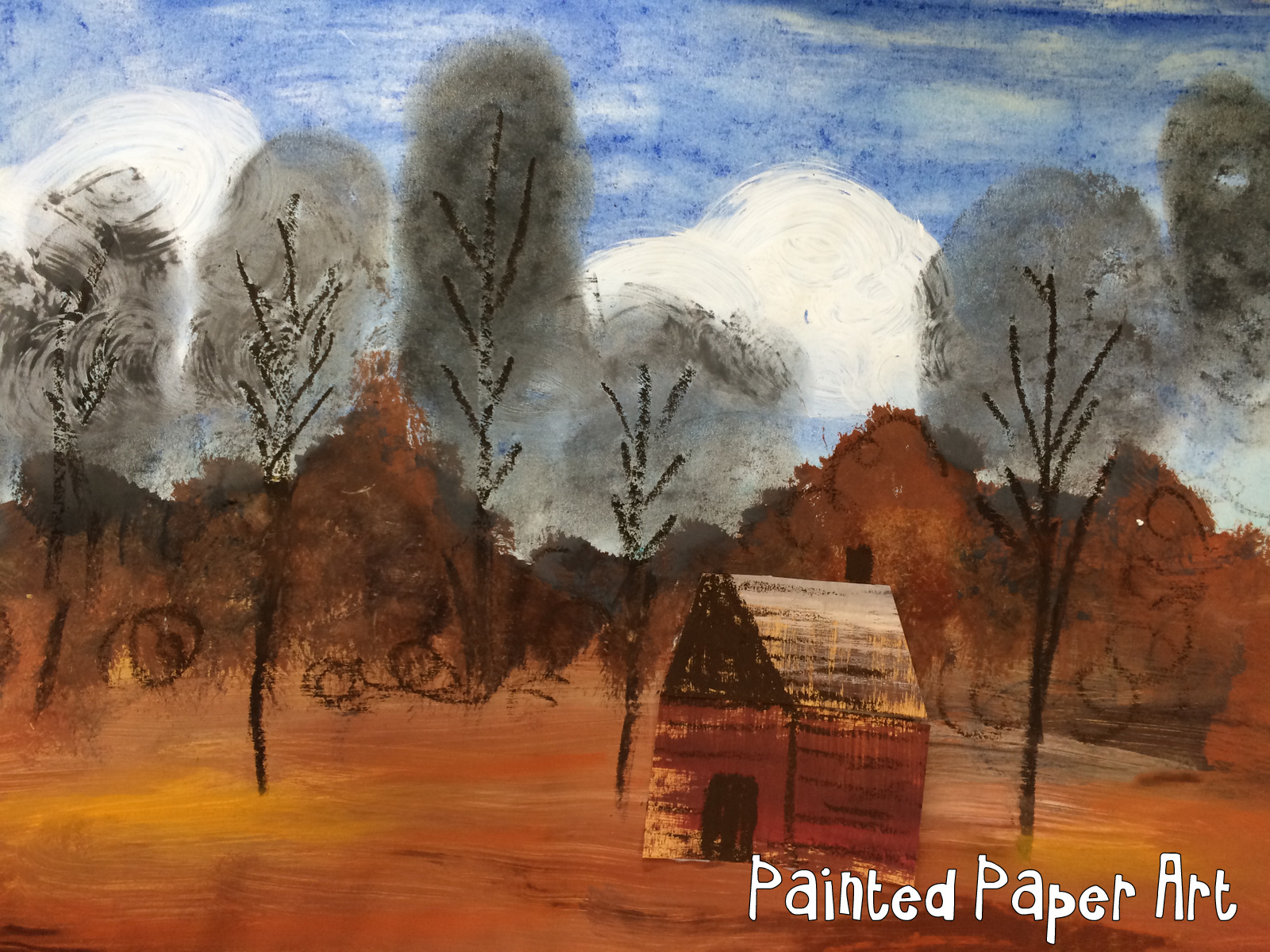 • Mulberry Tree (grades 3 – 4)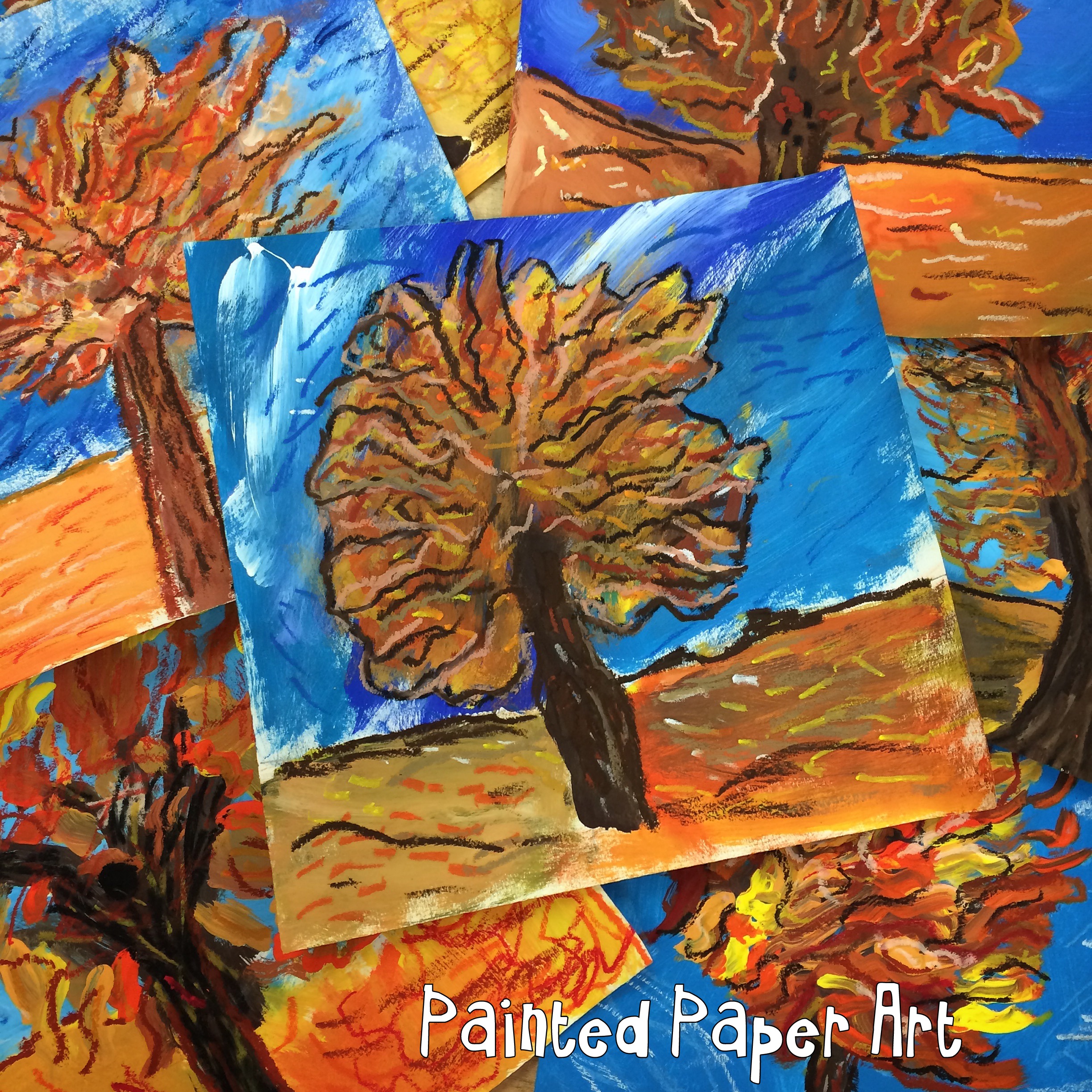 • Autumn Landscape (grades 3 – 4)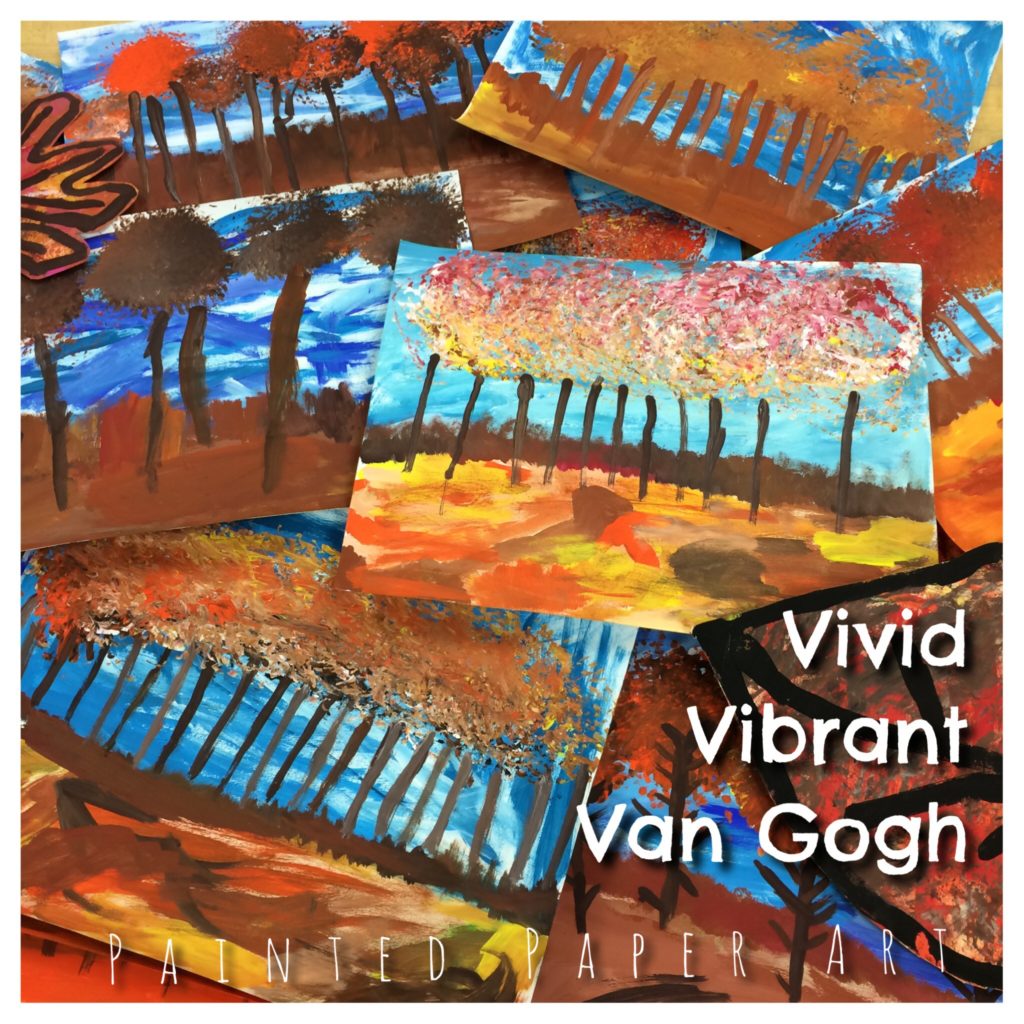 • Evening Landscape with Rising Moon (grades 4 – 5)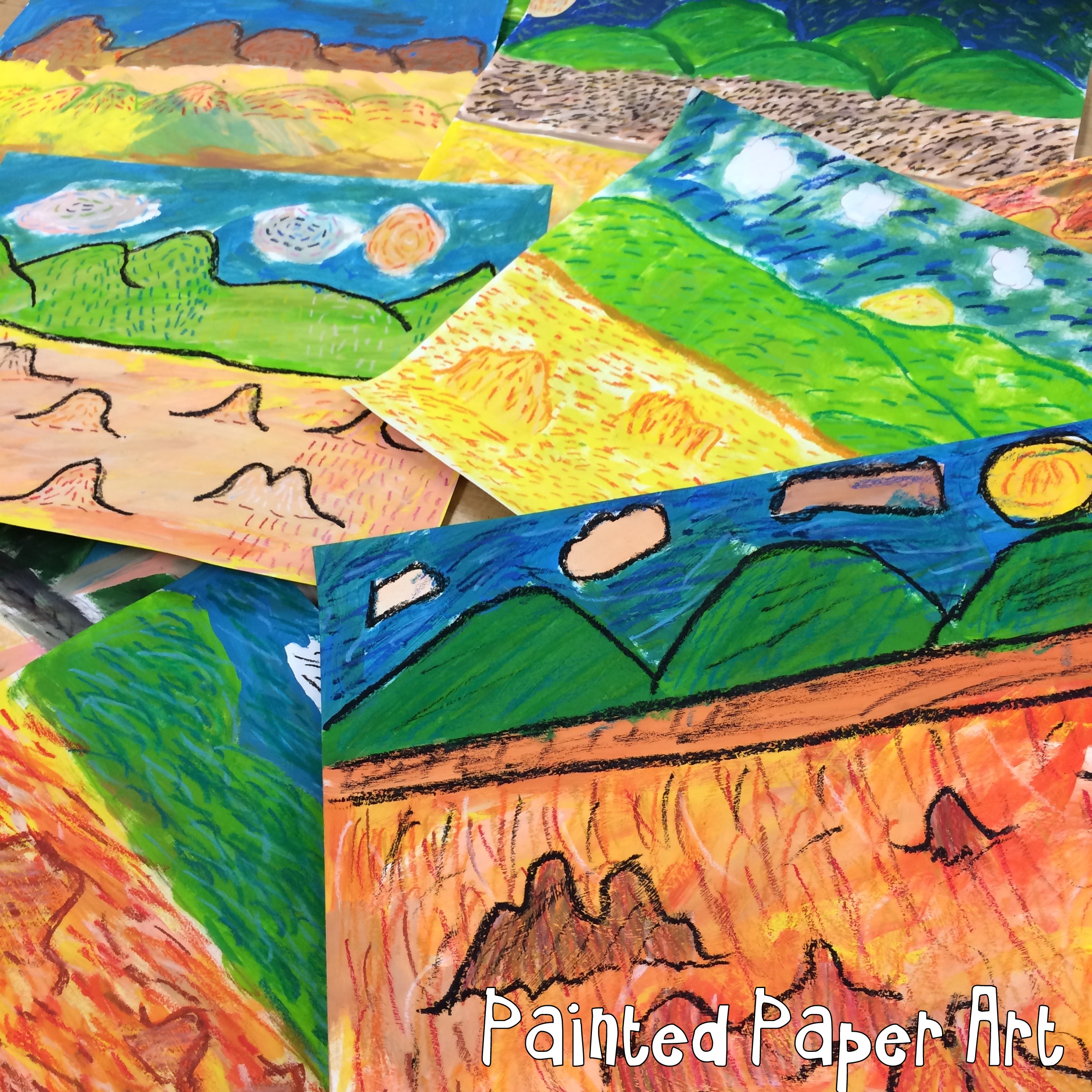 • Still Life with Apples (grades 5 – 6)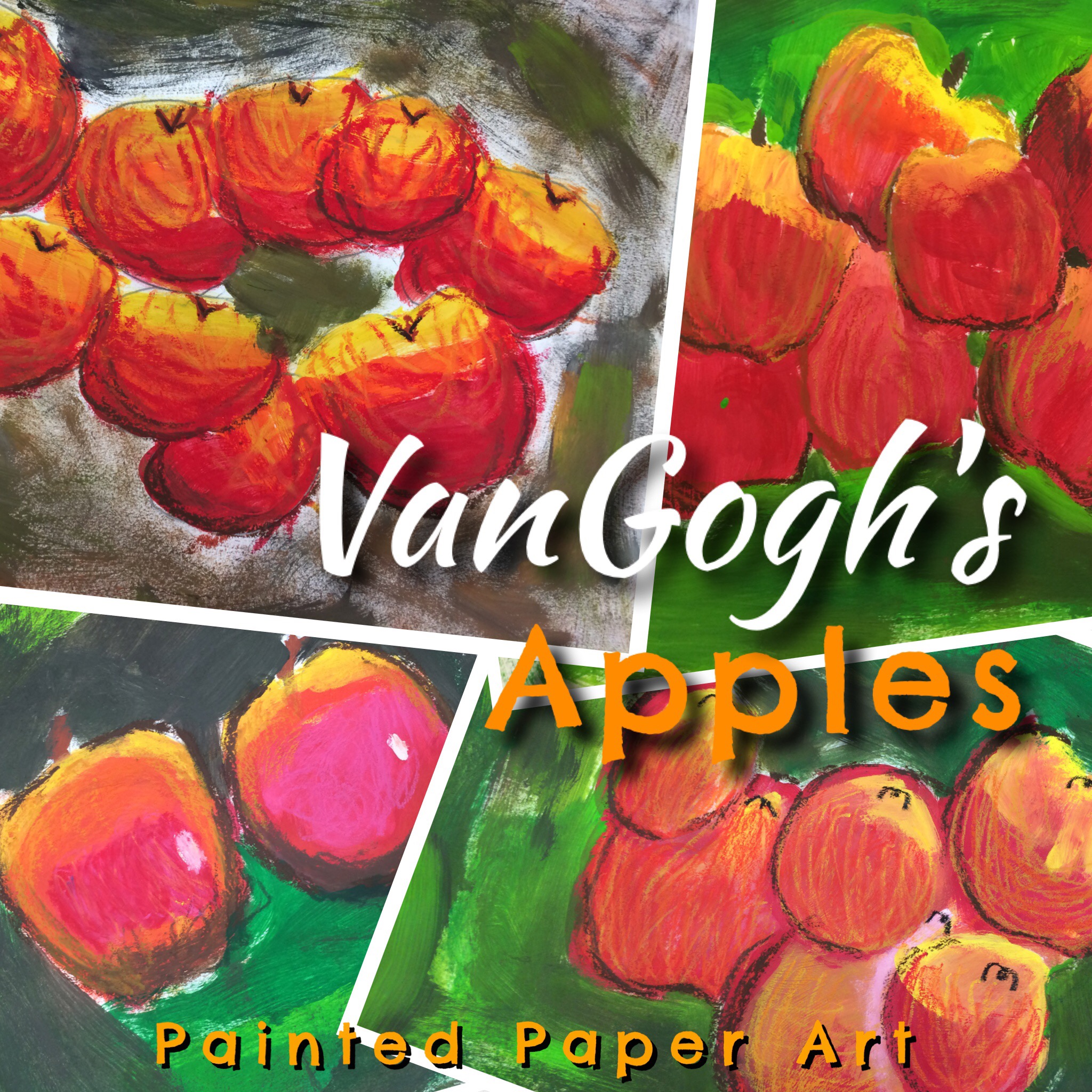 – Step by step full-color photo tutorials for each Van Gogh lesson
– Background information for each Van Gogh painting
– 11×17 Van Gogh FULL color poster
– Vocabulary for each lesson
– Learning objectives for each art lesson
– Supplies needed
– Artist Statement form
– I Can Statements for each lesson
– Student gallery
– "How to Make Painted Paper" Photo Tutorial
– National Core Art Standards Checklist
– Coloring Sheets Handouts to be used as an extension or for early finishers. Novice teachers can use a projector to project handout on smartboard for inspiration.
The inspiration for these delightful projects are paintings Vincent Van Gogh created in the fall. He really captures the beauty of Autumn in these particular pieces.
HELPFUL TIP ABOUT PRINTING THE FILE
I like to print out my lesson plans and store them with my Art Teacher planner. If you are concerned about printing you may want to print just the coloring sheets handouts. I've designed them in black and white so you can photocopy them inexpensively.
Thanks for stopping by and for letting Painted Paper Art be your top destination for art lessons.
Keep on Creating

SaveSave
SaveSave
SaveSaveSaveSave