We were inspired by the female Russian Artist, Natalia Goncharov, to create these lovely, colorful buildings inspired by the architecture commonly found in Russia. My 6th grade artists created their own Russian inspired buildings as part of a larger scale mural, just like Natalia created for the ballet theatre.
About the Artist:
Natalia Goncharova was a painter, illustrator, and set and costume designer born in 1881 into a well to do family in Nagaevo, Russia. Her father was an architect and a descendent of Aleksandr Pushkin, the famous poet, novelist and legendary Russian icon. When Natalia was a young girl she lived on her grandmother's large country estate, where she developed a lifelong love of village life and nature. Despite their elite family ties however, the family suffered financially. When Natalia was ten years old her father moved the family to Moscow to seek better financial opportunities.

In 1901, she began attending the Moscow Institute of Painting, Sculpture, and Architecture. She started by studying sculpture but later switched to painting, at the encouragement of her friend and fellow art student. At this time she was greatly influenced by her French contemporaries such as Cézanne, Gauguin, and Matisse while at the same time learning the incredible importance and value present in Russian art.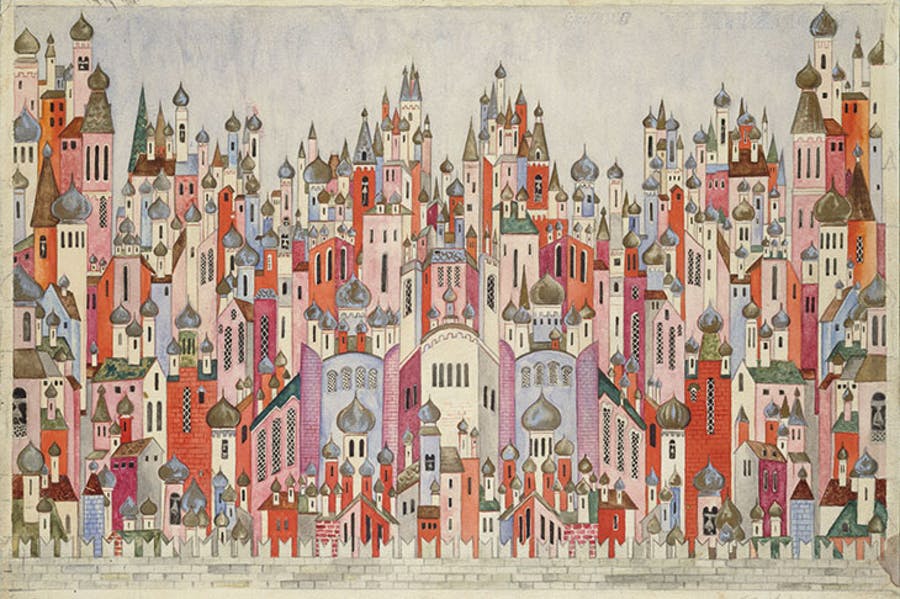 Her move to Paris in 1914 brought the opportunity to work in stage design for the local theater. This work influenced her paintings of the 1920's, and inspired her travels, particularly to Spain, a country she adored.

Supplies Needed
White Sulphite Paper
Tempera Paint
Paint Brushes
Pencils
Scissors
Steps for Creating
Draw out your buildings after looking at some inspirational photos of Natalia's theatre stage design.
Paint the buildings with tempera paint, making sure not to have the same color of building touch each other. Add fun patterns to the buildings such as the patterns in St. Basil's Cathedral. Check out this blog post for more inspirational patterns.
Outline the buildings and patterns with black tempera paint. Let dry.
Cut out and piece together all the buildings to create one large mural.
Add decorative items if desired. We added popular Russian items such as nesting dolls, flowers, and of course the wonderful St. Basil's Cathredal. Check out these other blog posts for more inspiration.