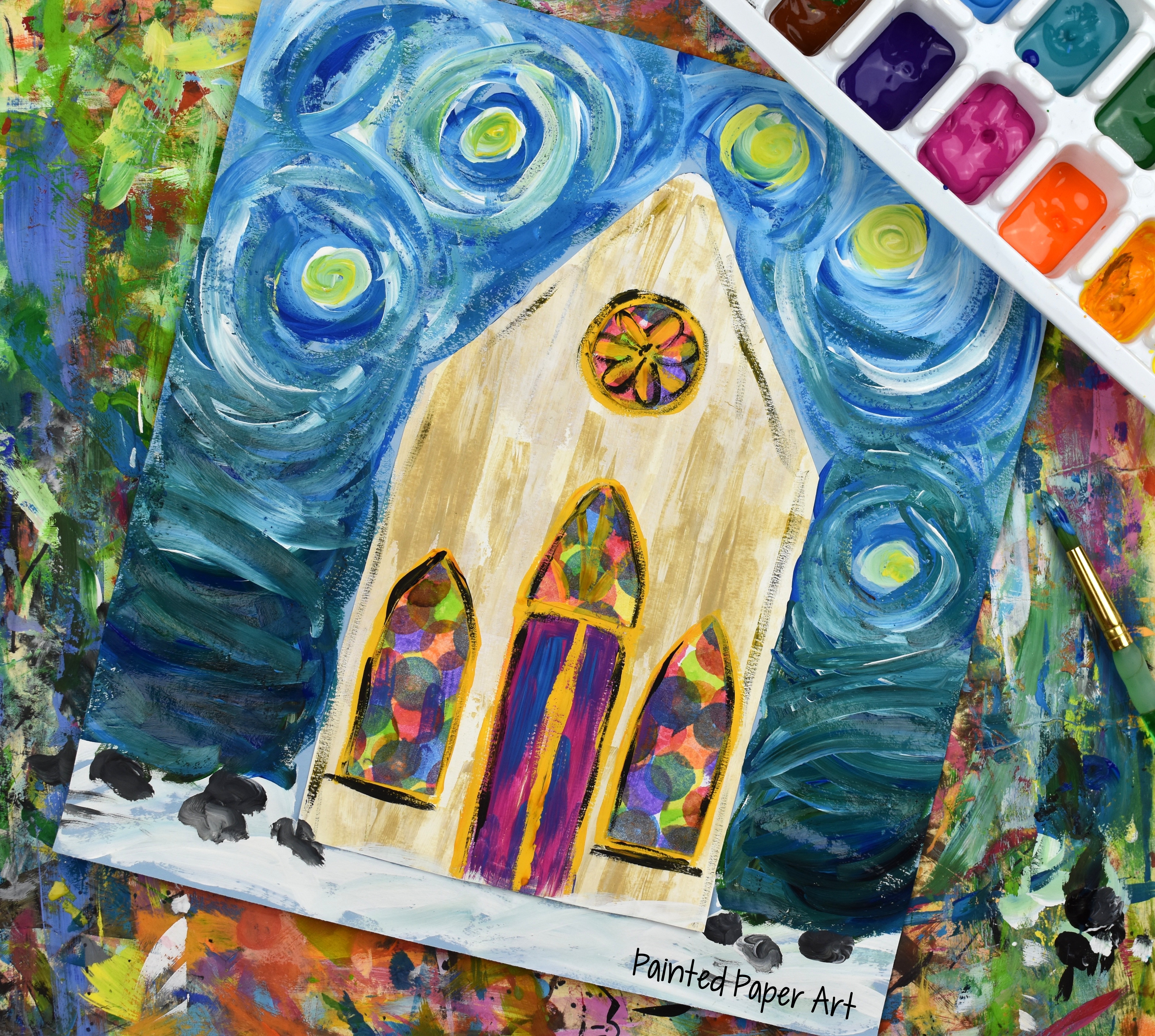 Silent Night, Starry Night
Our Inspiration: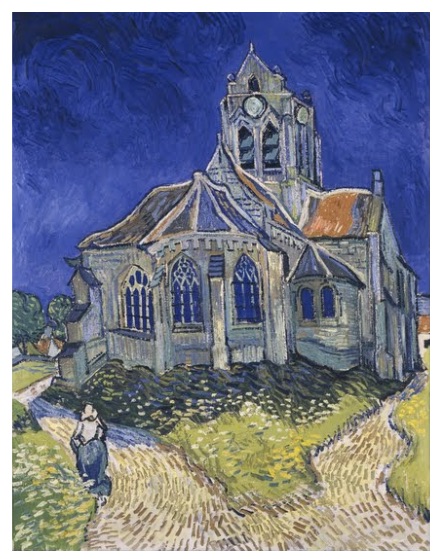 After staying in the south of France, in Arles, Vincent Van Gogh settled in Auvers-sur-Oise, a village outside of Paris. His brother Théo, concerned with Vincent's health, invited him to see Dr. Gachet. Dr. Gatchet was himself a painter and a friend of numerous artists, and agreed to treat Vincent. During the last two months of his life, Van Gogh created seventy paintings, over one per day, and a large number of drawings. This is the only painting representing in full the church in Auvers-sur-Oise. This church, built in the 13th century in the early Gothic style, has a Romanesque chapel on both sides. 
Creating Painted Paper
With white and tan tempera paint and a cardboard scraper, dip the cardboard scraper into the tempera paint and drag  across the paper in a vertical direction. This will create the background for the church walls. Let dry.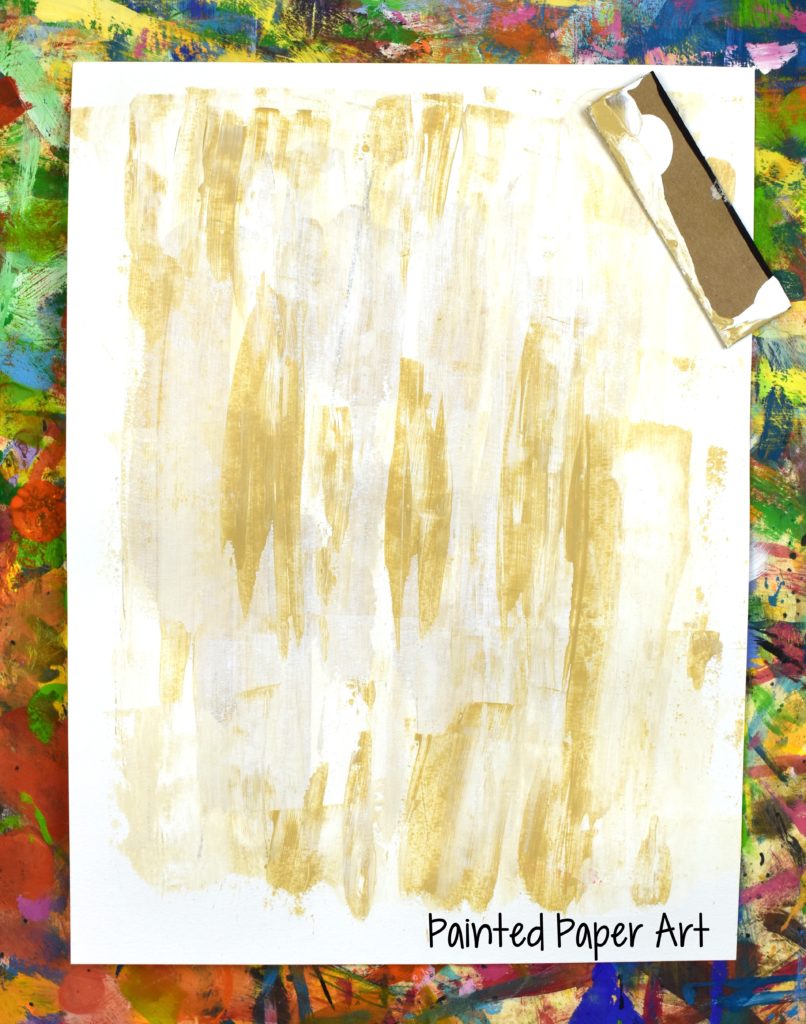 Stained Glass Windows
Use Do-a-Dot Art Stampers to create overlapping circles. Make sure to have enough dots covering your paper to create the various windows for your church.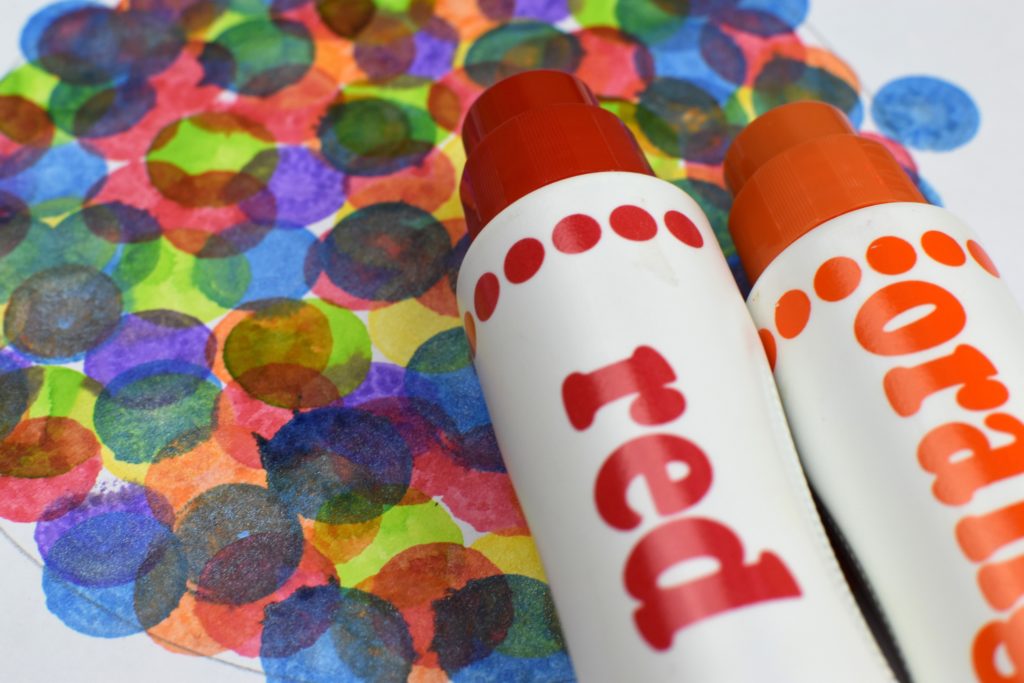 Creating the Church:
Using a pencil, draw a pointed roof on the the back of the painted paper. The sides of the paper will be the sides of the church. Two simple diagonal lines on the back of the paper work great.  Next, with the dotted paper cut a circle (rose) window for the peak. Cut another small piece for the arched window over the door. Cut 2 large arched windows, one for each side of the door, to create a  symmetrical building. Glue the windows into place. Glue sponges work great for this project.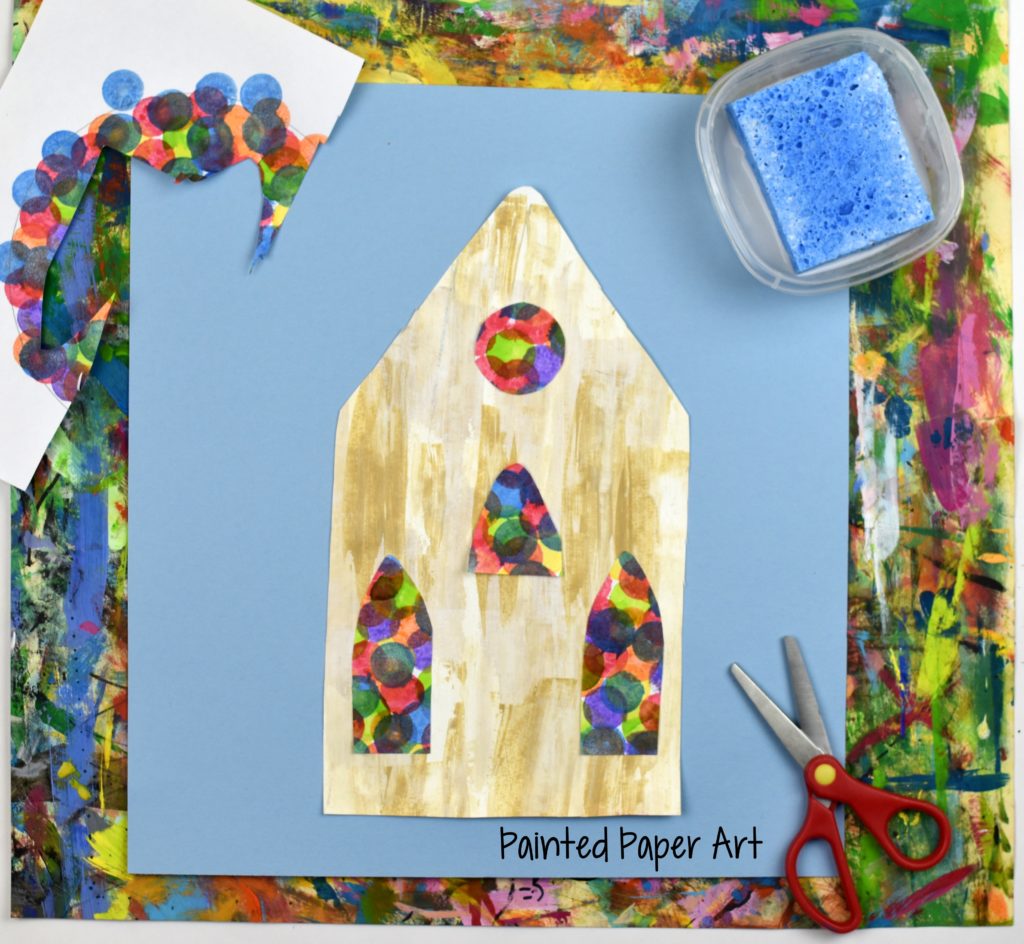 Painting the Background and Sky:
Use tempera paint to add snow on the ground. Also add a brightly colored door in the center of the church under the smaller arched window. Outline the windows, doors and edge of the church with tempera and a dry brush (a brush with not a lot of paint on it). Next, add overlapping swirls and stars in the sky. Refer to Van Gogh's Starry, Starry Night.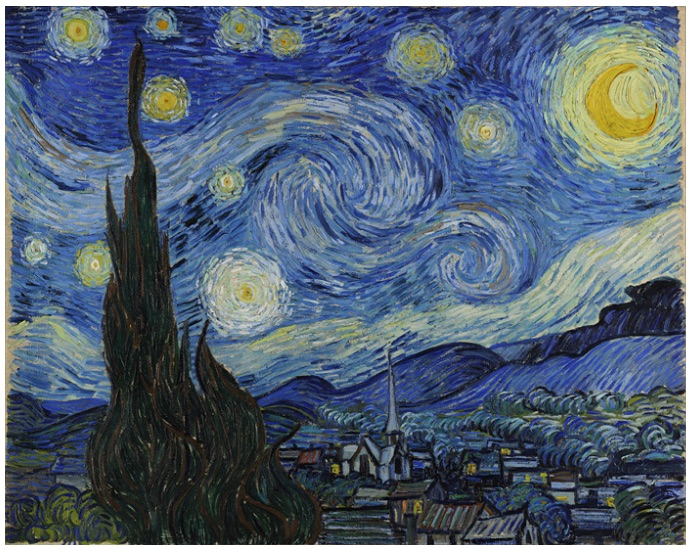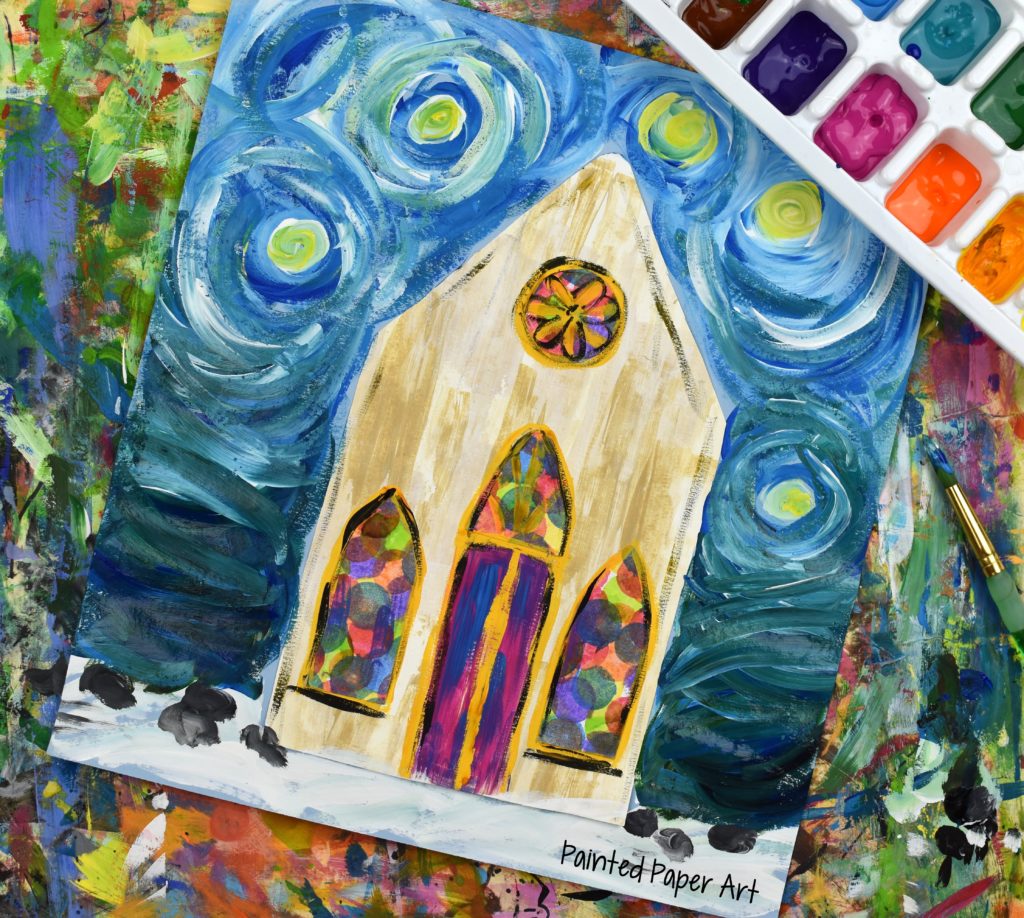 Painting the Snowflakes:
Paint small dots across the painting using white tempera paint and a clean brush.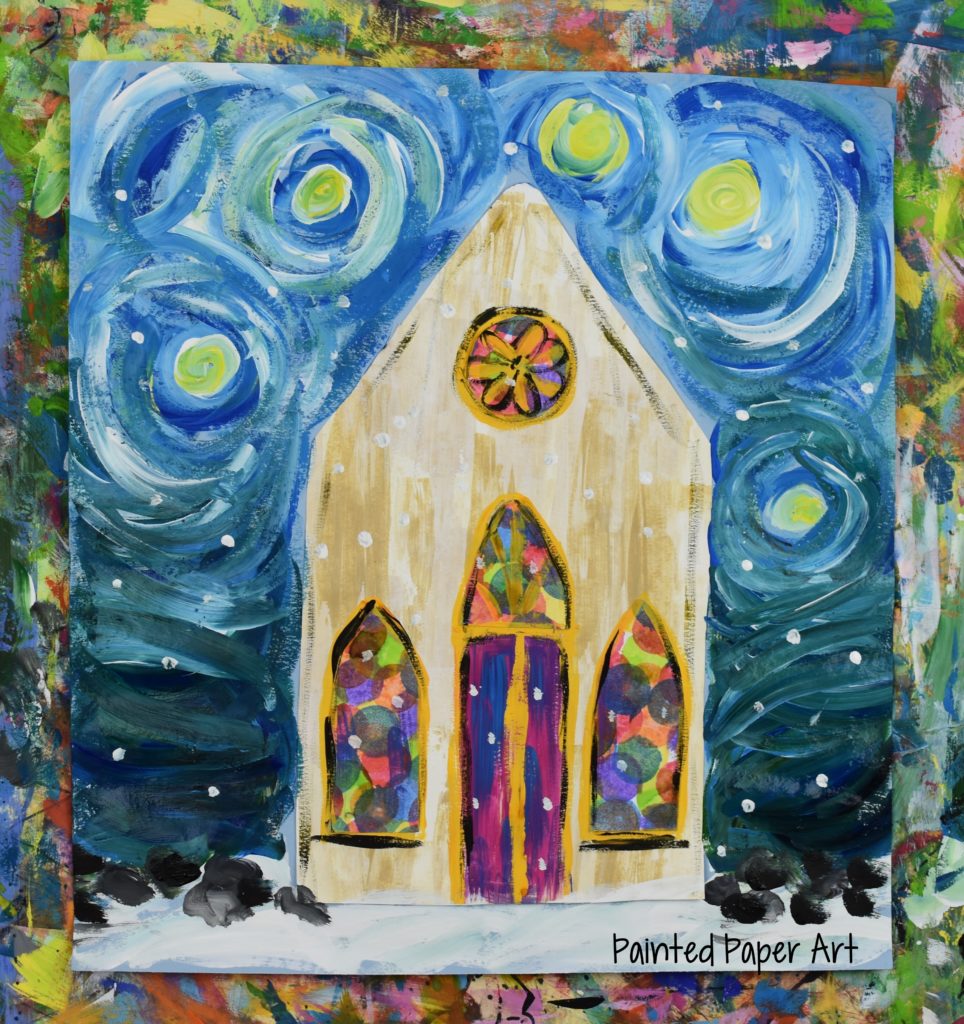 Materials Needed:
Construction paper for background
White Sulphite Paper
Pencil
Tempera Paint
Scissors
Glue Sponges
Paint Brushes
Placemats
Do A Dot Markers
Display with large snowflakes and enjoy!
Keep on creating!