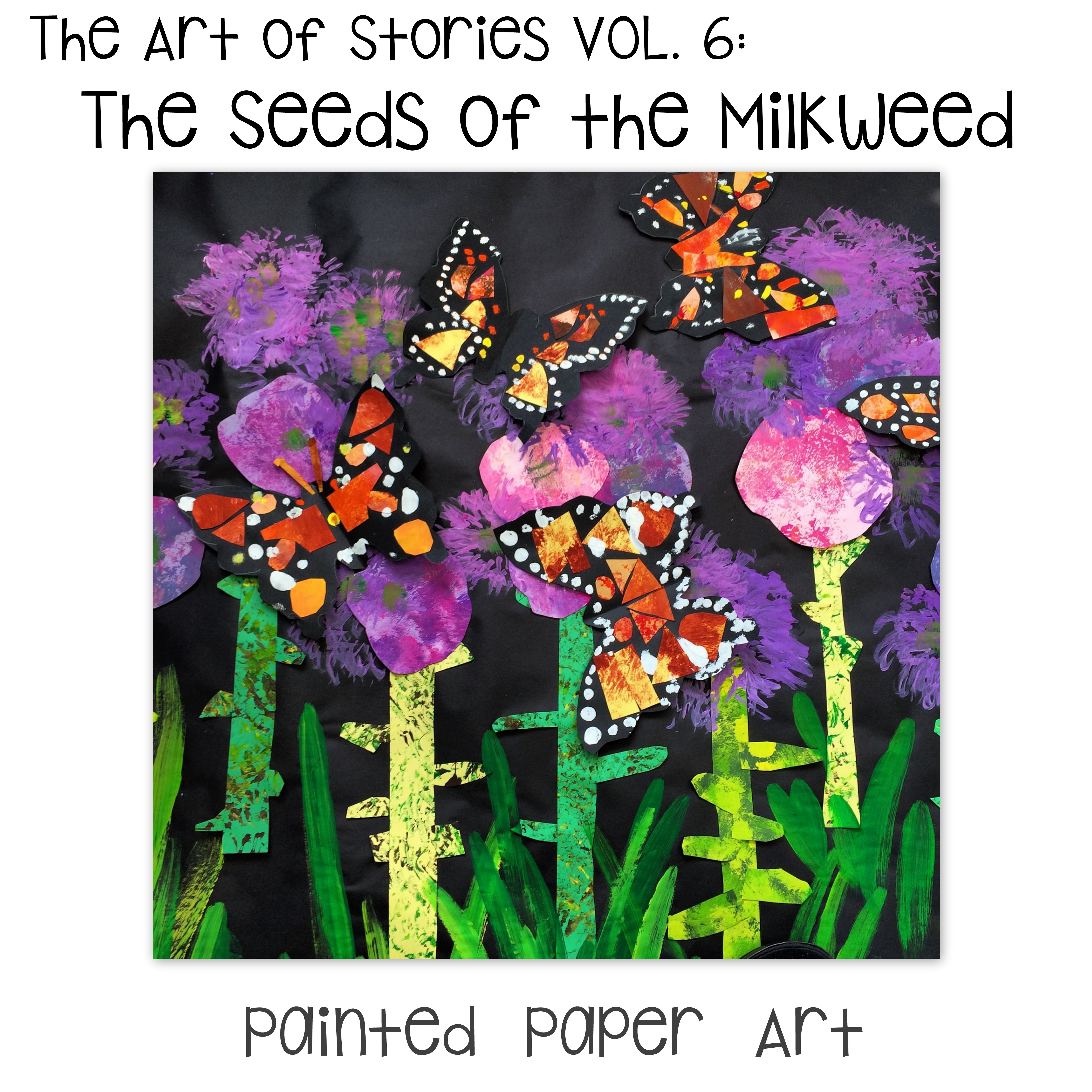 On our latest family camping trip in the Upper Peninsula of Michigan, we came across some Monarch Butterflies which were floating above some tall, purple flowers known as milkweed plants. 
Did you know August is Monarch Butterfly Migration month in Michigan? These butterflies make the journey from the central Upper Peninsula of Michigan all the way down to the Sierra Madre Mountains in Mexico, 1900 miles away. Traveling south for warmer weather, monarchs can be seen gathering in large numbers in the Hiawatha National Forest.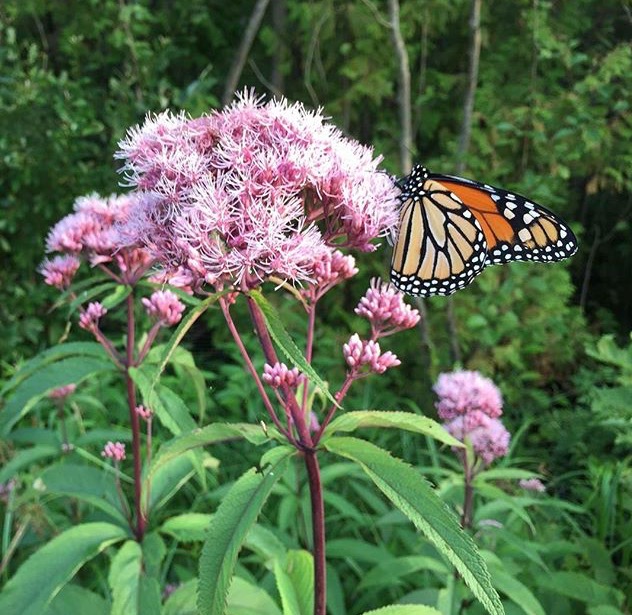 I found this adorable book a couple years ago, at one of the Scholastic book fairs held at my school. I knew my students would love this book so I developed a fun, colorful project that incorporates literature, science, and of course painted paper that we created in Art class.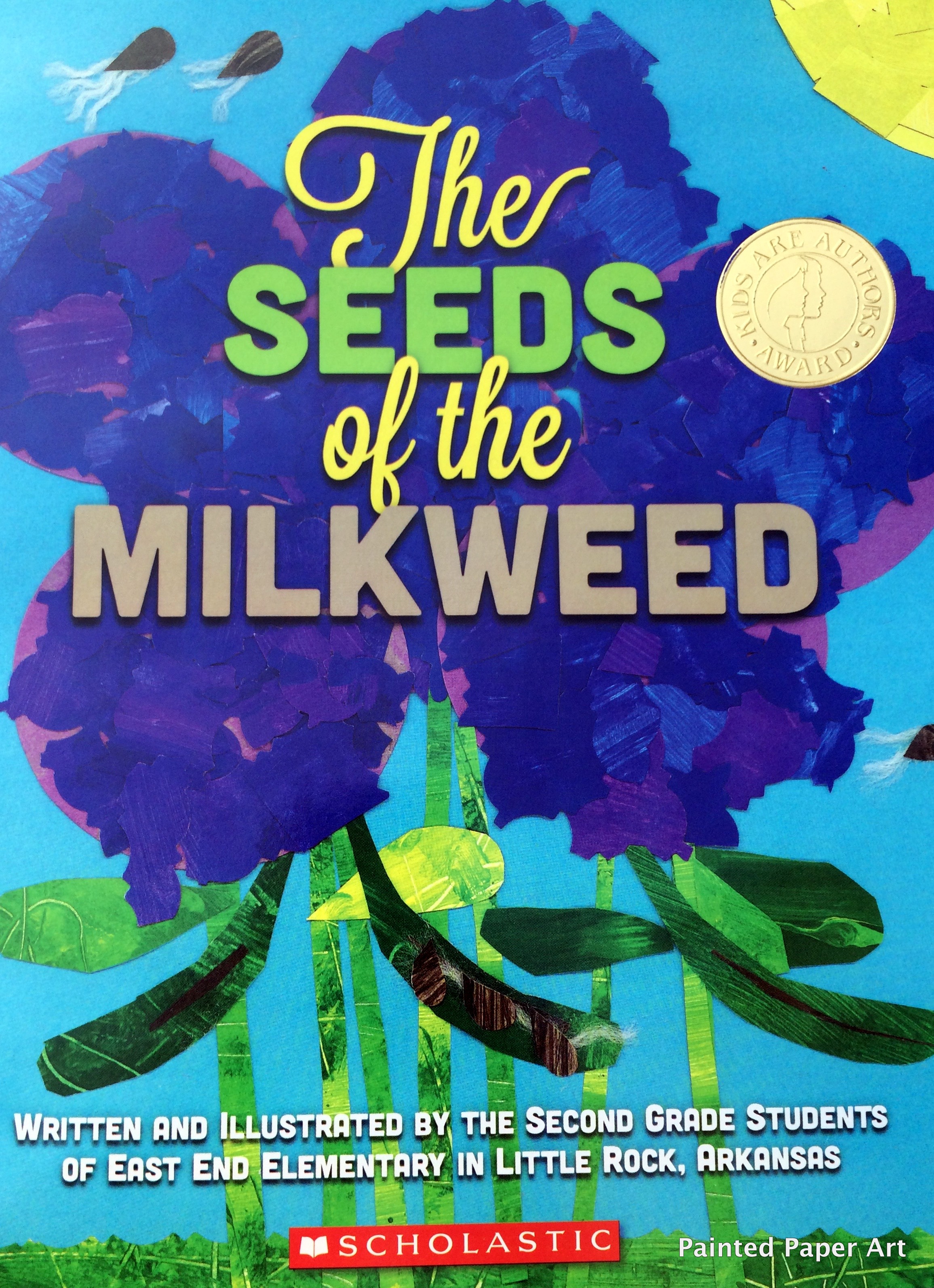 Creating the Milkweed Plant
After reading the book, we discussed the life cycle of a Monarch Butterfly and proceeded to create the HABITAT for our butterfly. Using a large piece of black display paper as the background, students glued down strips of previously painted paper to create the stems and leaves of the milkweed plant. The stems were glued down in various heights for a more realistic look. To create the petals of the milkweed, purple paint with a little white added to it created a TINT and was applied to the top of the stems, using large paint brushes. I suggested that the students hop their brushes around in a circle to create the petals of the milkweed plant. Students also added flower shapes with painted paper to add more interest and layered the paint on top. Let dry.  (Hint: Here's a blog post of how to create painted paper.)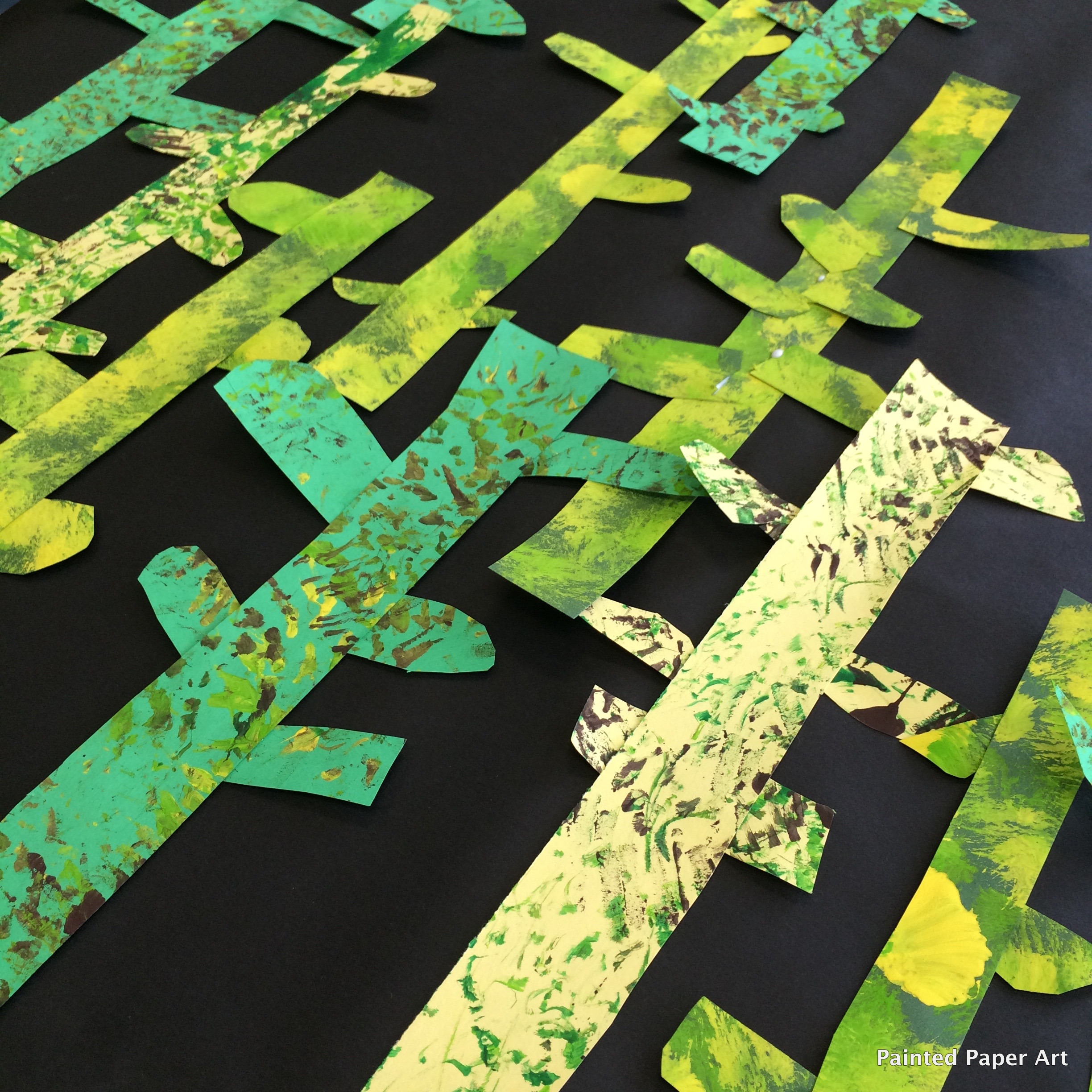 Creating the Monarch
We discussed how Monarchs are SYMMETRICAL in PATTERN and that simple SHAPES work great to form patterns. When creating patterns, folding a piece of paper in half and drawing or cutting out a shape will give you 2 exact shapes. The kids love learning this process. We joke "let the paper work for you".  Cut an 8″ x 8″ piece of black construction paper to create the background of the butterfly. Some students needed a template to make their butterfly pattern. You can download the FREE template here.
We also discussed the Monarchs colors in shades of ORANGES and REDS. We used previously painted paper to create the colorful butterfly designs. 
After the design shapes were glued down in a SYMMETRICAL PATTERN, students used small brushes and white paint to create the white dots on the butterfly. Let dry.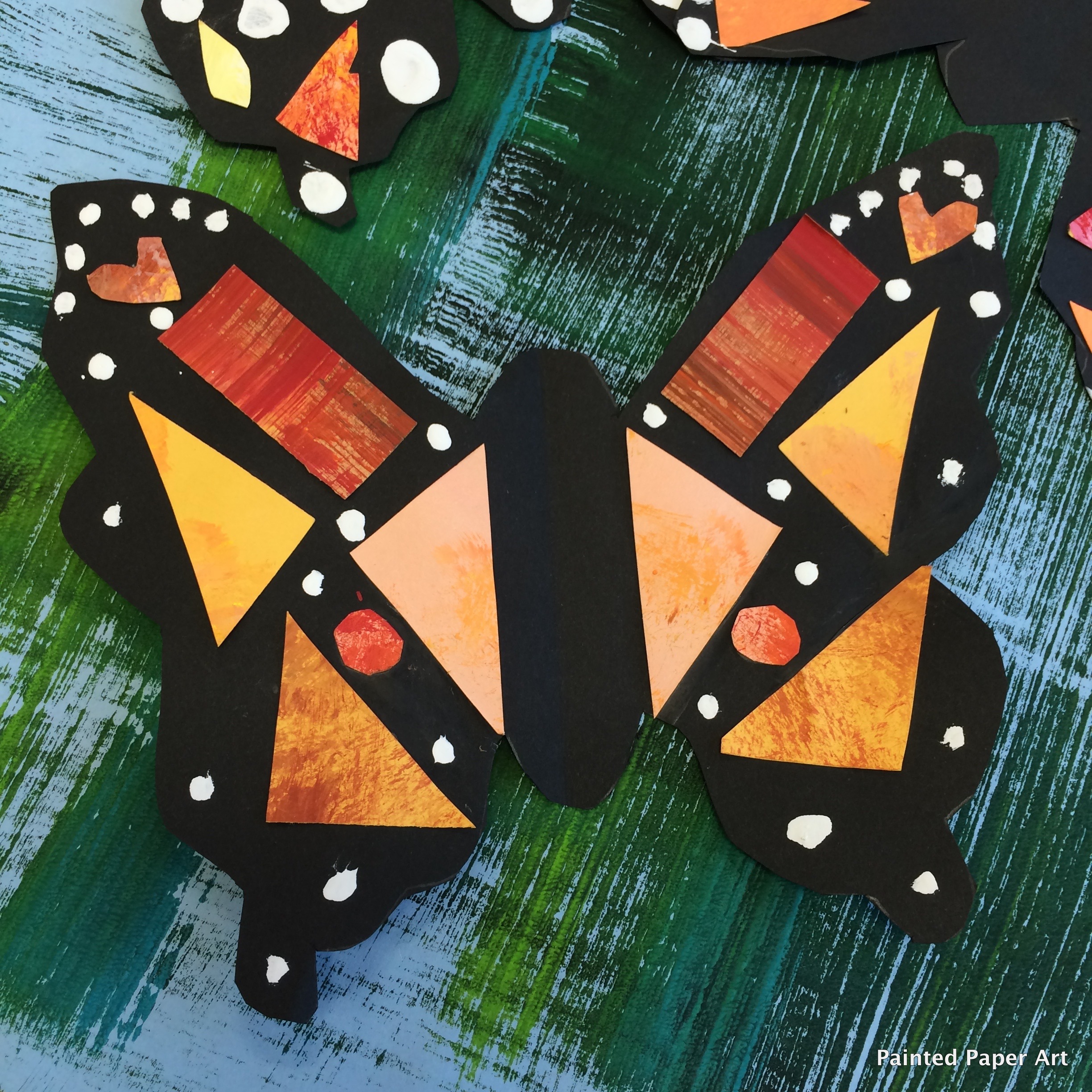 Once the butterflies were dried, we glued them on to the milkweed plants to create a large mural. We then displayed them in our hallway. It's such a bright and colorful display, people can't help but smile.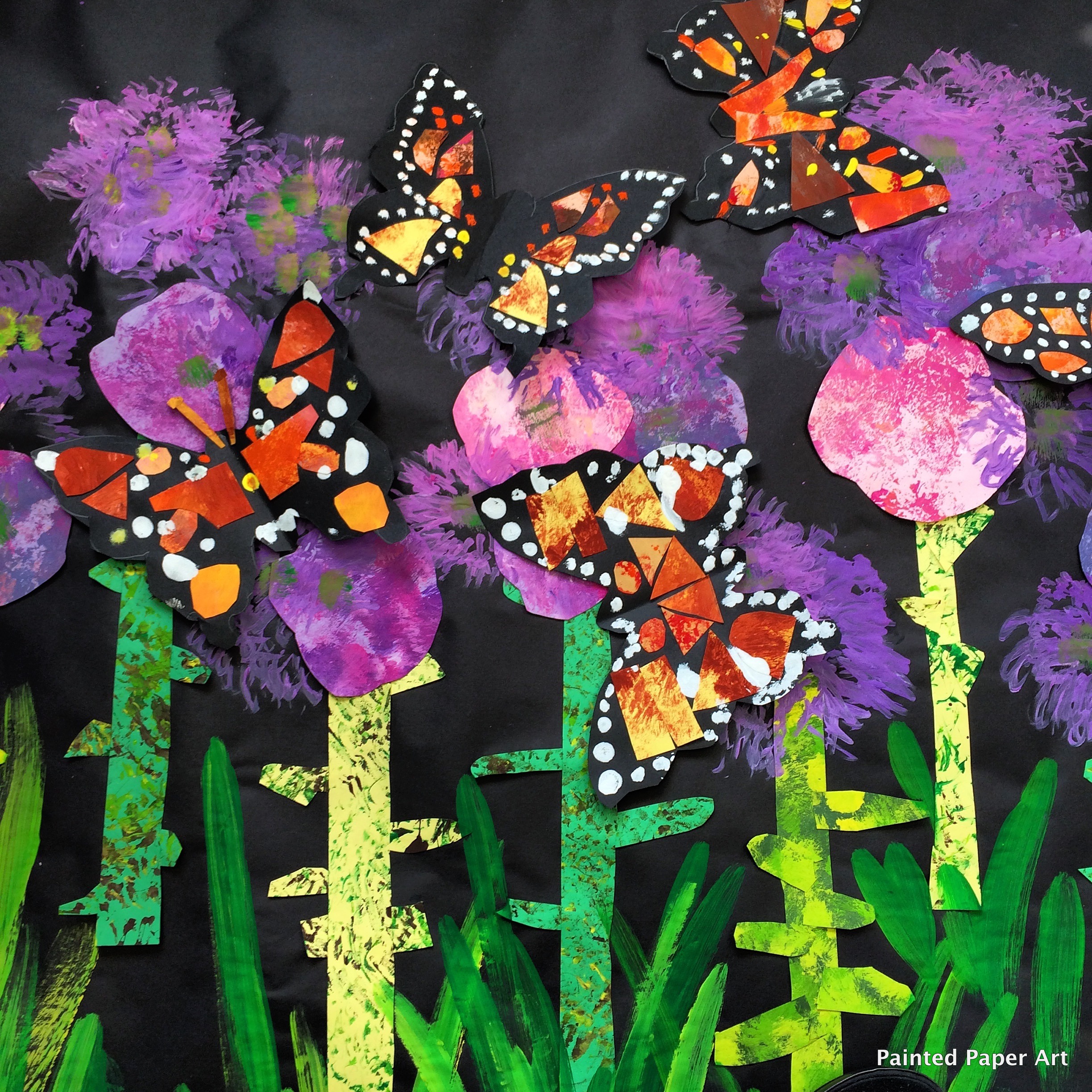 If you create this or any other Painted Paper Art projects, please post them in my Painted Paper Art on instagram with the hashtag  #PPAprojects.
Materials you will need:
Large Black Display Paper
Construction Paper: Yellow & Green to create Milkweed Plant's stems and leaves.
Construction Paper: Black cut to size 8″ x 8″
Green, Brown, Yellow, Purple, White, Orange, Red tempera paints.
Paint brushes: Large and small
Glue, Scissors, Pencils
Keep on Creating!

SaveSave
SaveSave
SaveSave
SaveSave
SaveSave
SaveSave