Painted Paper Art's Full Color K-12 Art Teacher Planner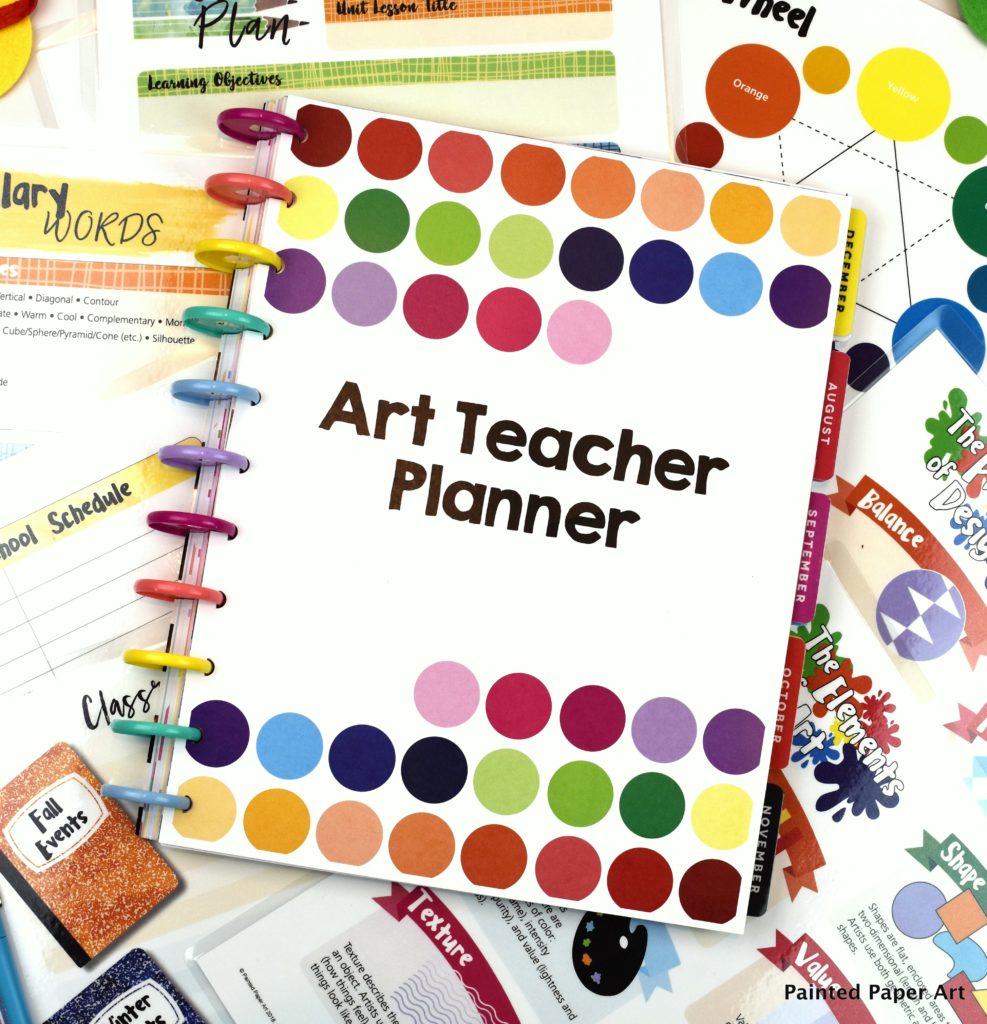 – Just Download and Print or Save Digitally!
After creating the Art Teacher planner last year in a black and white format, I wanted to create a color version as well. Most planners out there are not tailored to us art teachers. I mean, who has a schedule like ours? I just don't want a calendar, nor do I want to pay a ton of money for a high end planner. Plus, I need to have something to turn in for my evaluations. Sound familiar? Planning your art program while organizing your life has never been easier and NOW in COLOR! Plus a few new items included to promote a studio atmosphere.
What's inside this 114 page planner:
• Color Cover (front and back) That you can personalize! 
• Monthly Calendars (12 months:) With FREE Updates!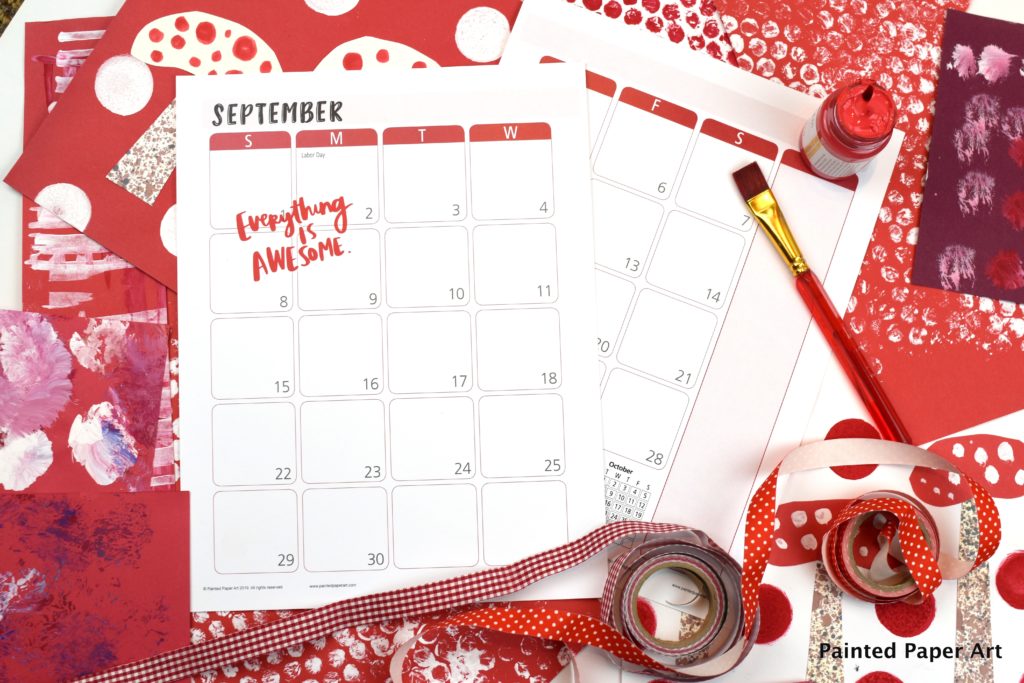 I print only the months on heavyweight cardstock at my local Office Max. Then I add decorative touches to personalize the planner. The planner is a perfect way to fill your creative soul.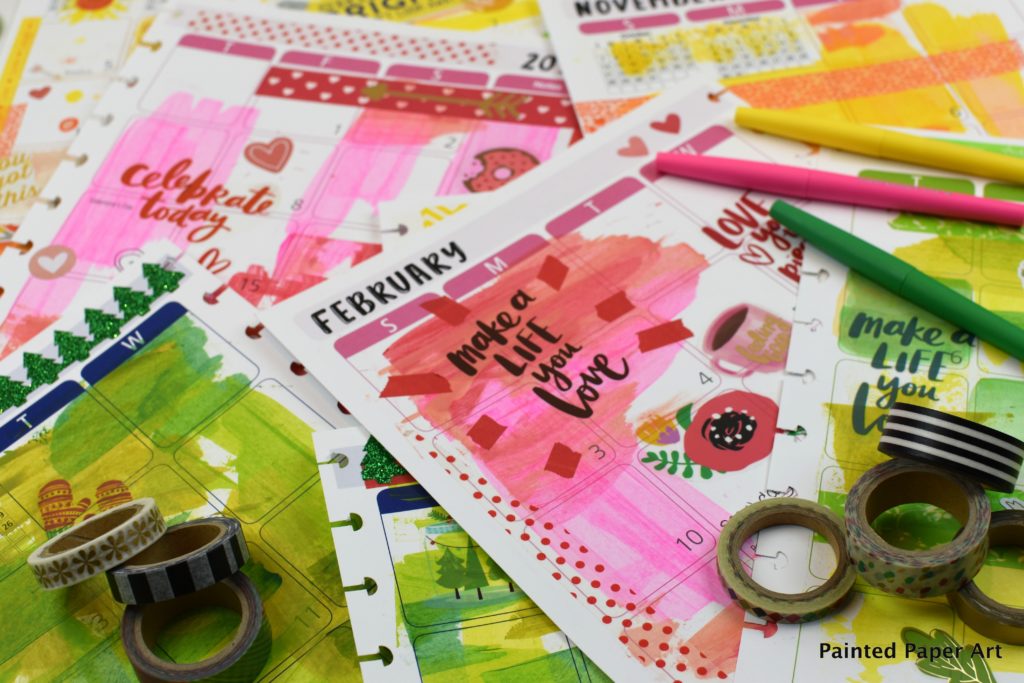 • Mini-organization chart– helps you organize your ideas before each month. Contains four, fun sections to jot down your thoughts and goals.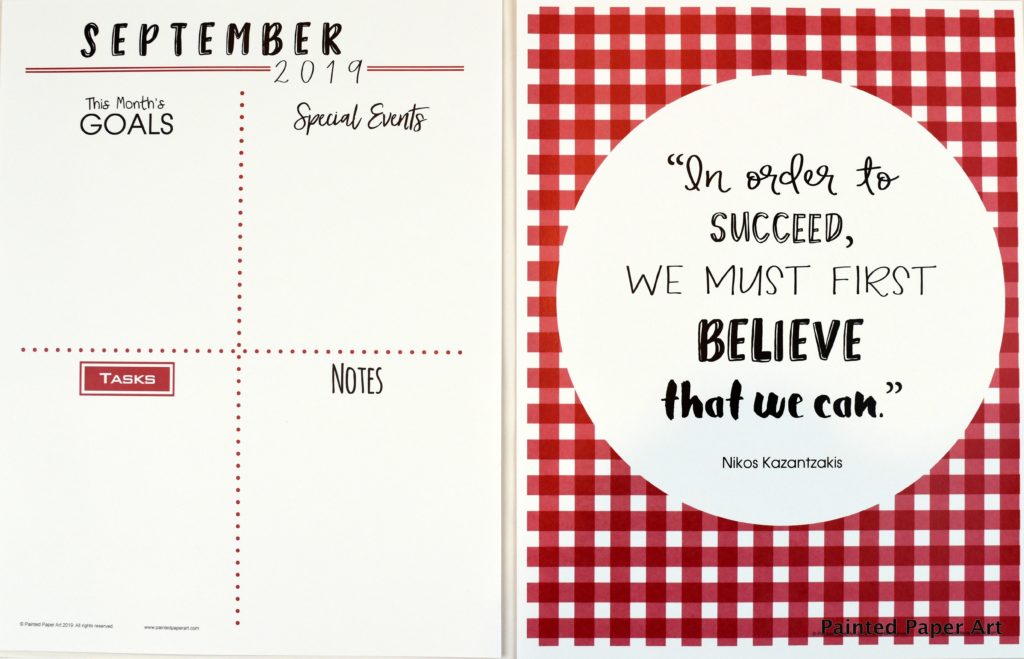 • Reproducible Monthly Inspirational Mini-posters – print, color and display in your classroom!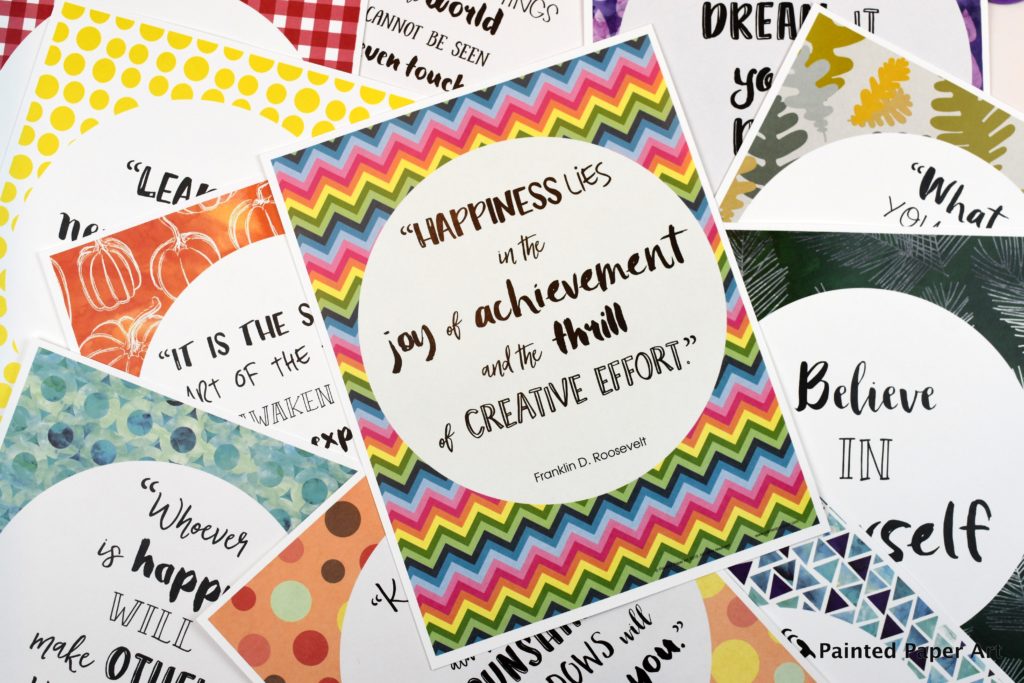 • Studio Habits of Mind Poster Set – Print and display these Studio Habits of Mind in your classroom or studio. These posters are a perfect way to start the year off with your students. 8 in each set.
~ 8.5″ x 11″
~ 11″ x 17″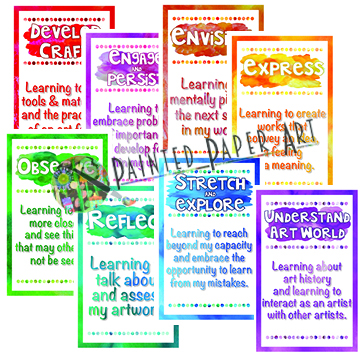 FILLABLE FORMS
(customizable with your own fonts and reader enabled to save typed data)
• Planner cover – enter whatever text you like on the cover, teacher's name, school year, etc. Make it your own!
• Quick Reference Info Pages – enter personal info like phone numbers, email address, contacts, etc. These pages contain fillable fields which allow data to be typed and saved in the PDF file.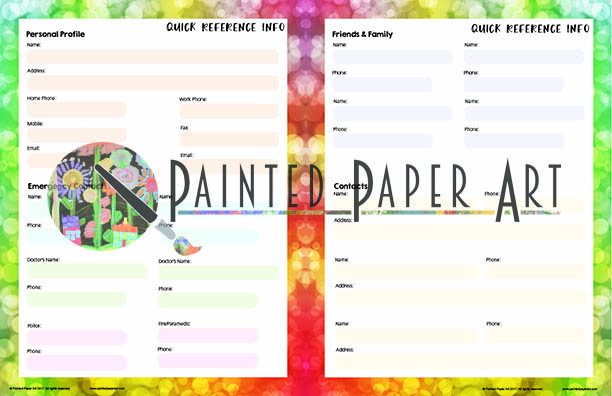 • Weekly Plans for both 7 class and 11 class schedules – Included in this planner is your choice of two weekly plan layouts (7 class and 11 class) for you to document your lessons and schedule. These pages contain fillable fields in the PDF file. If using this planner digitally, you can save time by cutting, copying and pasting data, especially if you might repeat lessons with different classes.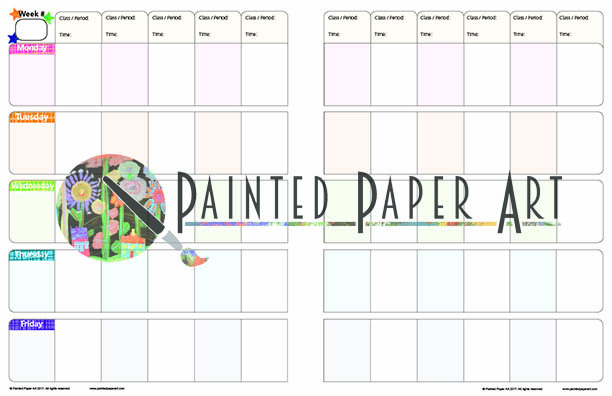 • Individual lesson plan checklist – Need to create individual lesson plans? We have created a simple lesson plan form containing checklists of various items that your lesson must address including materials, assessments, modifications, elements and principles of art to name just a few. This section also has fillable fields in the PDF file.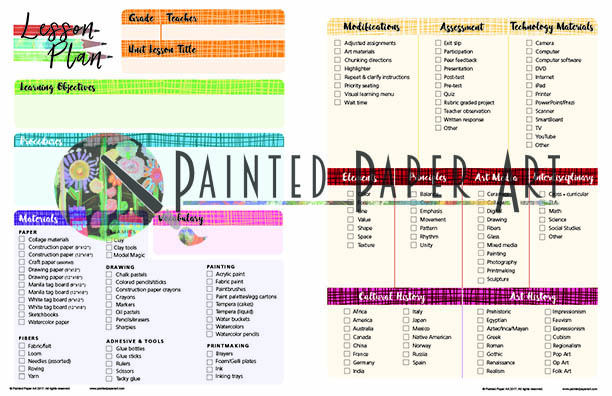 • Grade Sheet – I have included 32 slots for student names along with date/week fields and assignment fields. Reproduce as many sheets as you need for your own specialized Art Planner. If using digitally, these pages contain fillable fields for entering and saving data.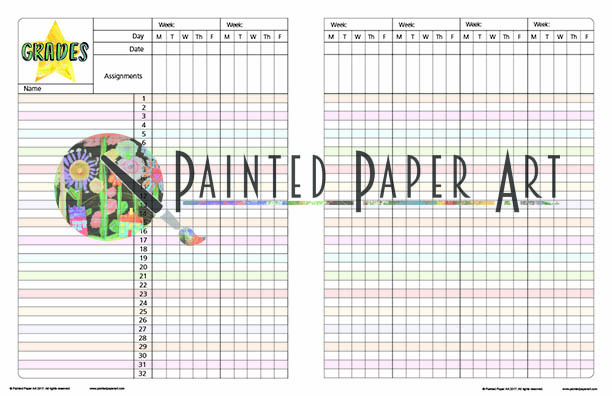 I've also included the 7 class and 11 class weekly plans, the individual lesson plan checklist and grades sections as stand alone PDF files as well. These also contain the fillable fields and are reader enabled for saving typed data. These individual PDF files can be used or printed as needed. Use the free Adobe Acrobat Reader for best results.
REPRODUCIBLE PAGES and HANDOUTS
• Habits of the Mind 8.5″ x 11″ handout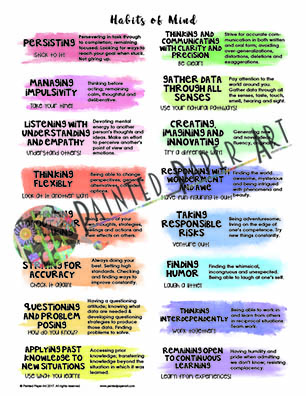 • Parent Contact Sheet – use to document conversations, letters sent home, etc.
• Classroom Events – great for documenting class parties, early dismissals, programs and field trips.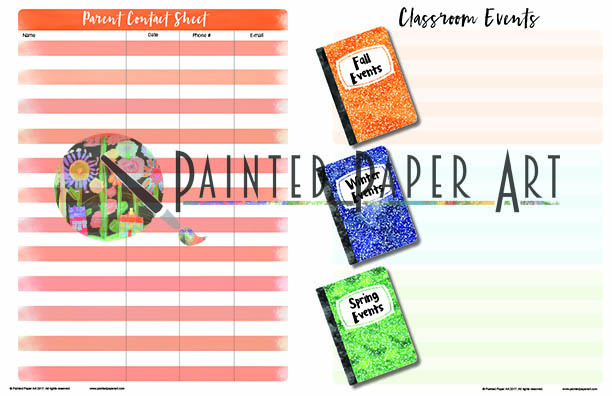 • Substitute Notes – helpful information for your substitute but specifically designed for the Art Specialist.
• Vocabulary Words – these are a great companion with my colorful word wall. Use these sheets as a helpful planning guide for lessons in your Scope and Sequence or reproduce them for classroom use.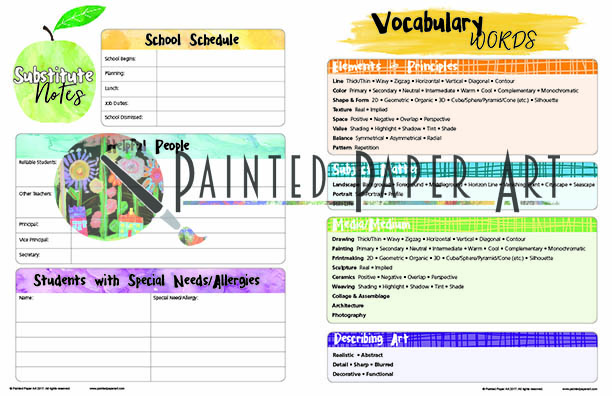 • Artist Statement – perfect for your artists to document their thoughts and feelings about their artwork. Just take this handout out of your planner and make additional copies or just print from the PDF on your computer.
• Art Room Sign Out Sheet – record who is leaving the room and at what time.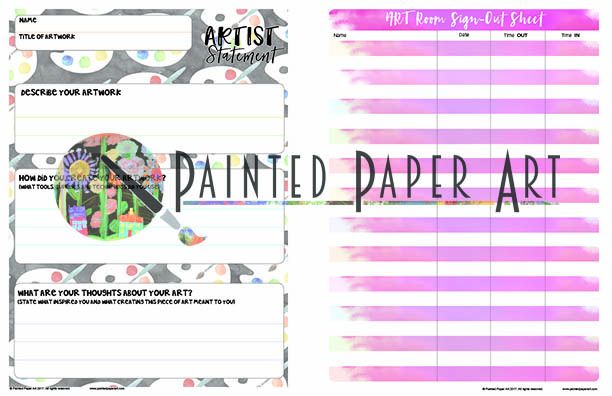 • Art Room Layout – I get asked every year to create a new layout page for my custodians. I am tired of the little pencil scratches on paper so we designed this to print, cut out, and arrange your classroom.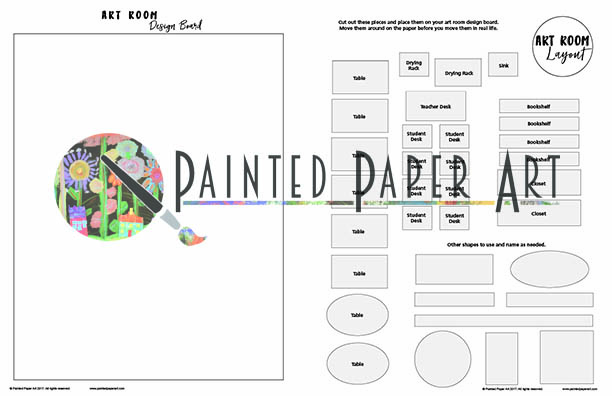 • The Elements of Art
• The Principles of Design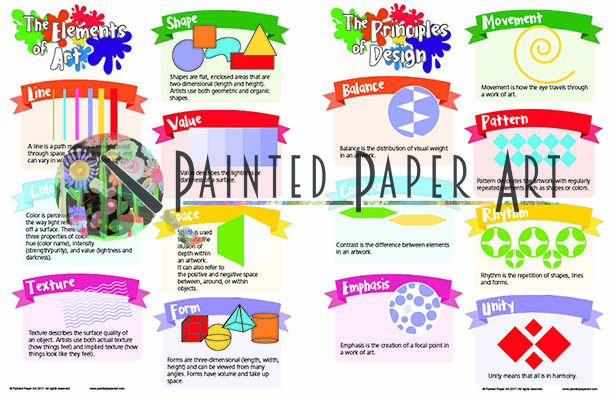 • Art Supply List
• Classroom Inventory log – will aid in your supply ordering and make sure you don't run out of your important materials.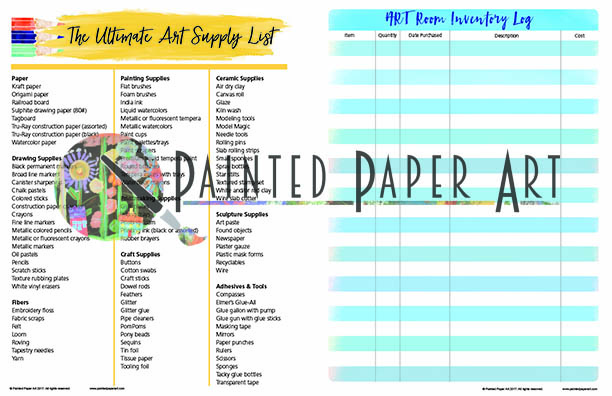 • Color Wheel Handout – contains all the key terms for teaching color theory.
• Prep, To Do, Blog and Email Clip Boards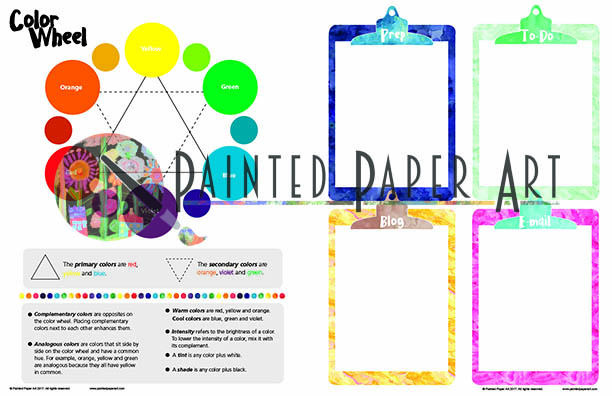 • National Art Standards Checklist – to help aid in your scope & sequence, along with your individual lesson plans, I have included the National Art Standards Checklist for grades Kindergarten thru High School. I use this simplified checklist myself and have included it in many of the lessons I have available on Teachers Pay Teachers. It is quite helpful when preparing your lessons.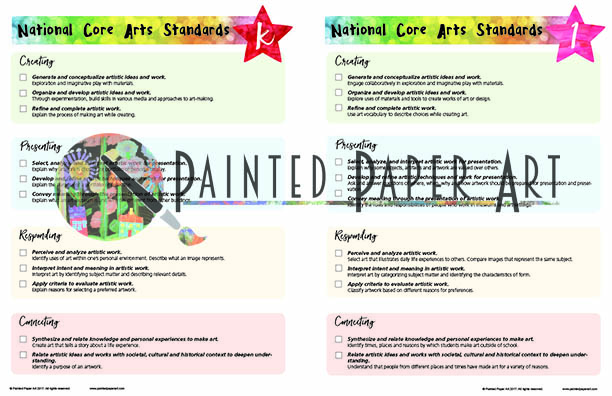 • Scope and Sequence – here is something that will help in planning out your school year and curriculum. The Scope and Sequence pages for grades K thru High School are intended as worksheets for you to write down lesson ideas based on The Elements of Art, The Principles of Design, Art History, or Thematic Units. It is also a place to write down what you have already taught and what lessons are coming up next. This aids in not repeating the same subject matter, artist, culture, or art historical time period. This is a great tool to gather your topics for themes and to build projects. This is the foundation block of your art program.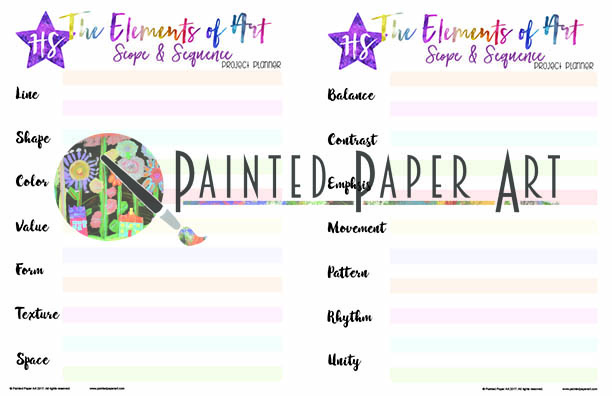 PRINTING and ASSEMBLING
The planner pages are 8.5″ x 11″. It can be printed single-sided but was designed to be printed double-sided for coil binding or use in a 3 ring binder, or with Happy Planner Rings. Many of the sections are setup as spreads spanning across two pages.
When printing the stand alone PDF files, I recommend printing them single-sided.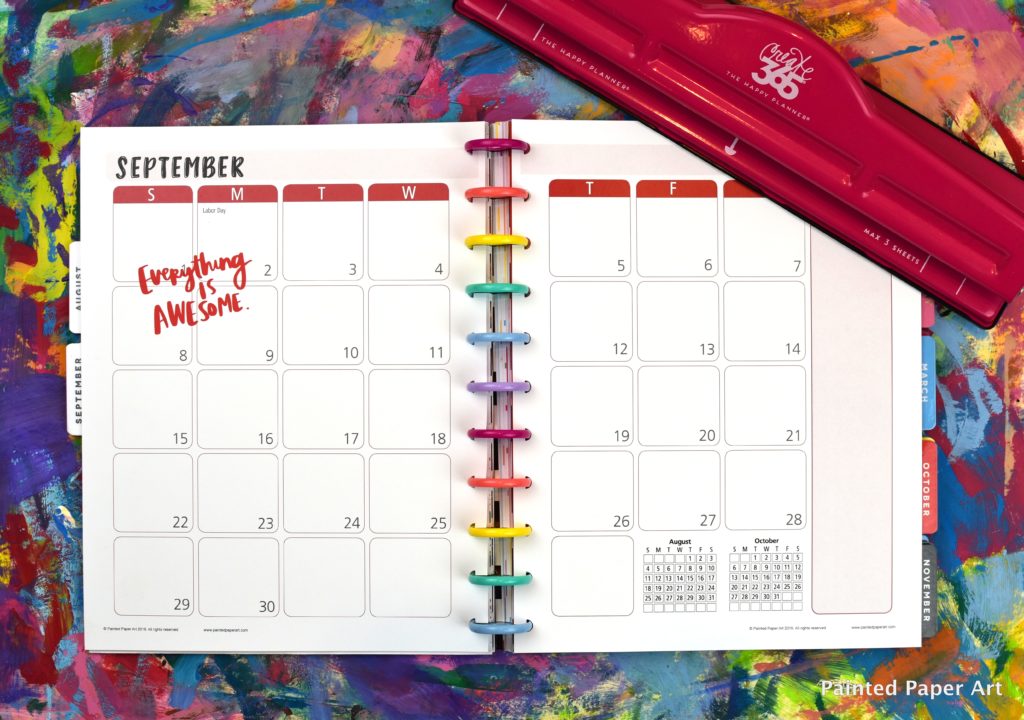 Assembling the planner: I purchased the Happy Planner 11 hole punch and rainbow arc rings at Michaels. (Make sure to grab them when they are on sale.) 
Another way to assemble the planner is with some inexpensive items. I suggest assembling your planner with a 1.5 inch, 3 ring binder with a clear pocket on the front. Here you can slide in your cover. That is the beauty of a digital planner, you can type in your information, print and assemble your planner the way you want. 
PDFs
These PDF files were created on a Mac running OS X El Capitan version 10.11 using Abobe Acrobat X software. Files were tested using both the free Adobe Acrobat Reader 9 and free Adobe Acrobat Reader DC. To ensure proper display of the planner and functionality of the fillable pages, I recommend using the free Acrobat Reader software. This can be downloaded from the Adobe website. Use of any other PDF software, such as Mac Preview, may result in data not being displayed correctly.
For best results, I recommend downloading, accessing and printing these files via a desktop or laptop computer. While accessing the files on an iPad worked for us, we cannot guarantee how they will behave on tablet or smartphone devices.
This item is a paid digital download from my TpT store Painted Paper Art.
As such, it is for use in one classroom only. This item is also bound by copyright laws. Redistributing, editing, selling, or posting this item (or any part thereof) on the Internet are all strictly prohibited without first gaining permission from the author. Violations are subject to the penalties of the Digital Millennium Copyright Act. Please contact me if you wish to be granted special permissions.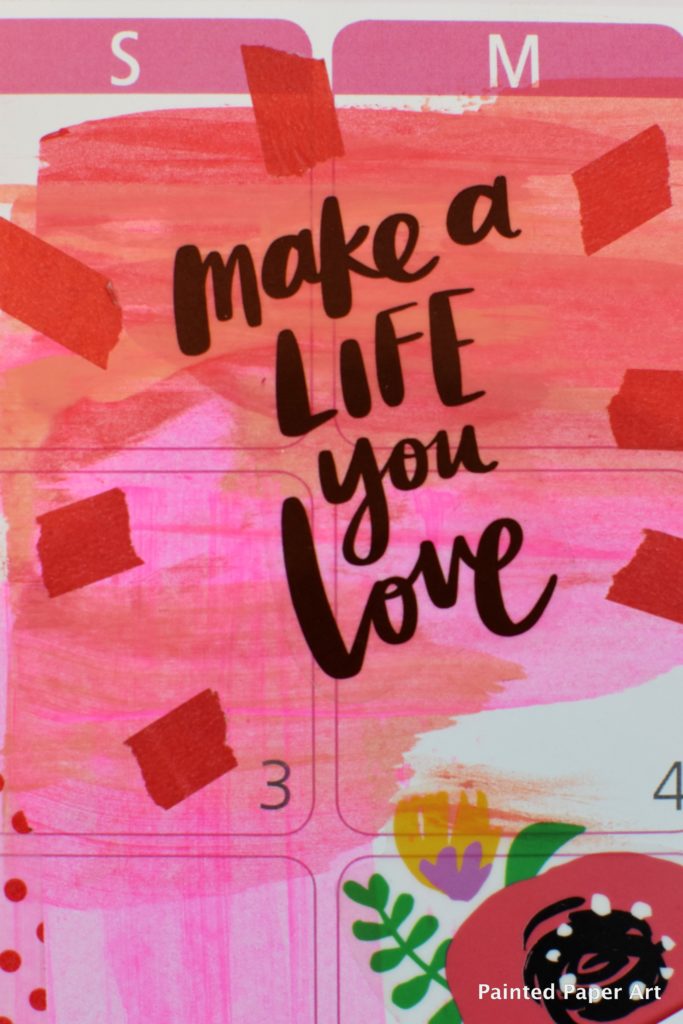 Thanks for stopping by and for letting Painted Paper Art be your top destination for art lessons and materials.
Keep on Creating!

SaveSave
SaveSaveSaveSave
SaveSave
SaveSave
SaveSaveSaveSaveSaveSaveSaveSave
SaveSaveSaveSave
SaveSave
SaveSave
SaveSaveSaveSaveSaveSave
SaveSave
SaveSave
SaveSave
SaveSave
SaveSave
SaveSave
SaveSave