The Original Art Teacher Planner
by Painted Paper Art
Planners have always been a love of mine. I love looking at all the beautiful ones available out there to purchase. The only problem is they are not tailored to us art teachers. I mean, who has a schedule like ours? I just don't want a calendar, nor do I want to pay a ton of money for a high end planner. Plus, I need to have something to turn in for my evaluations. Sound familiar? So after a year of brainstorming ideas and testing out what my planner needed, I have decided to design one especially for Art Teachers! Planning your art program while organizing your life has never been easier!
What's Inside?
• Monthly Calendars – 19 months: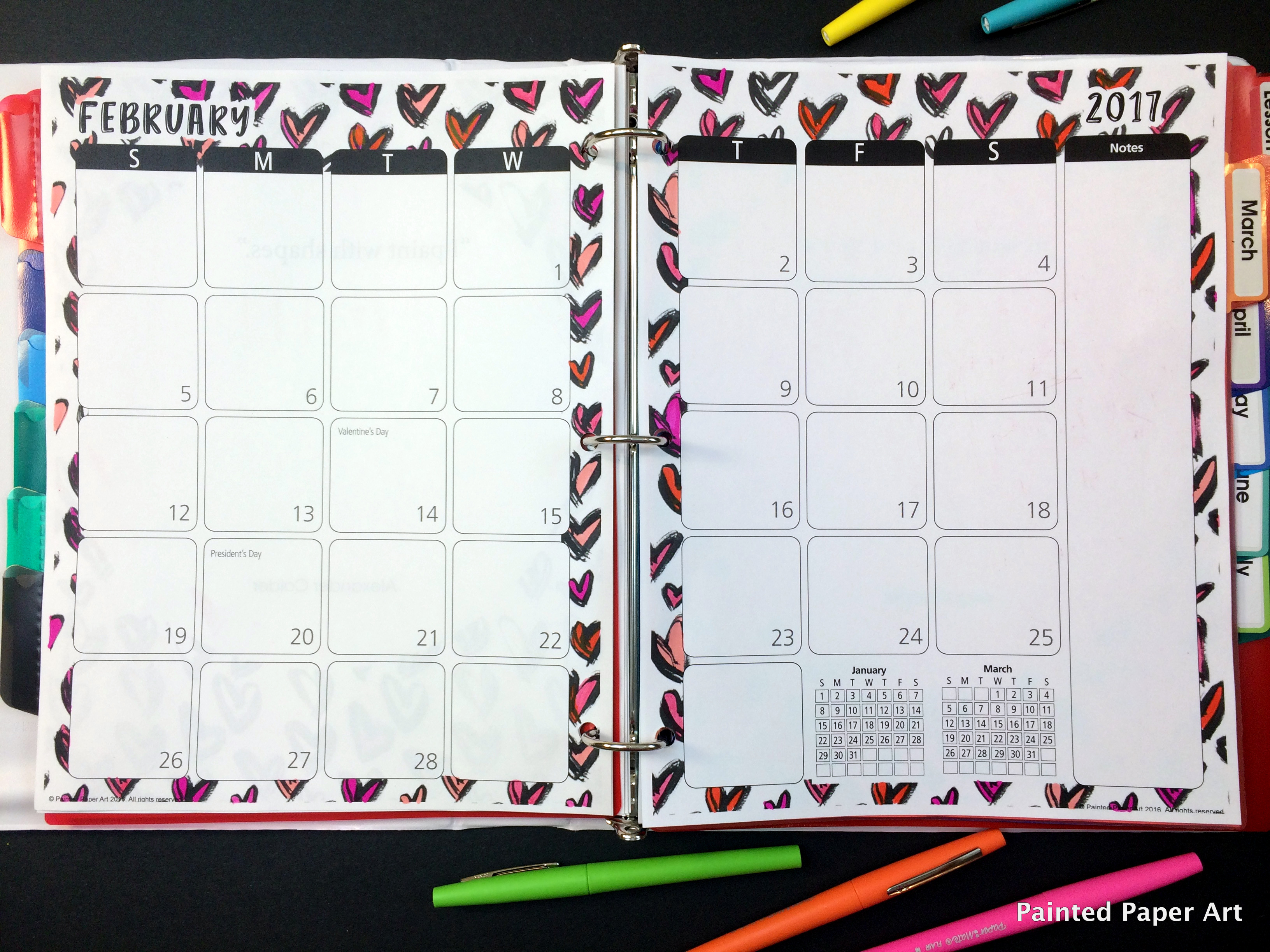 •Mini-organization chart– helps you organize your ideas before each month. Contains four, fun sections to jot down your thoughts and goals.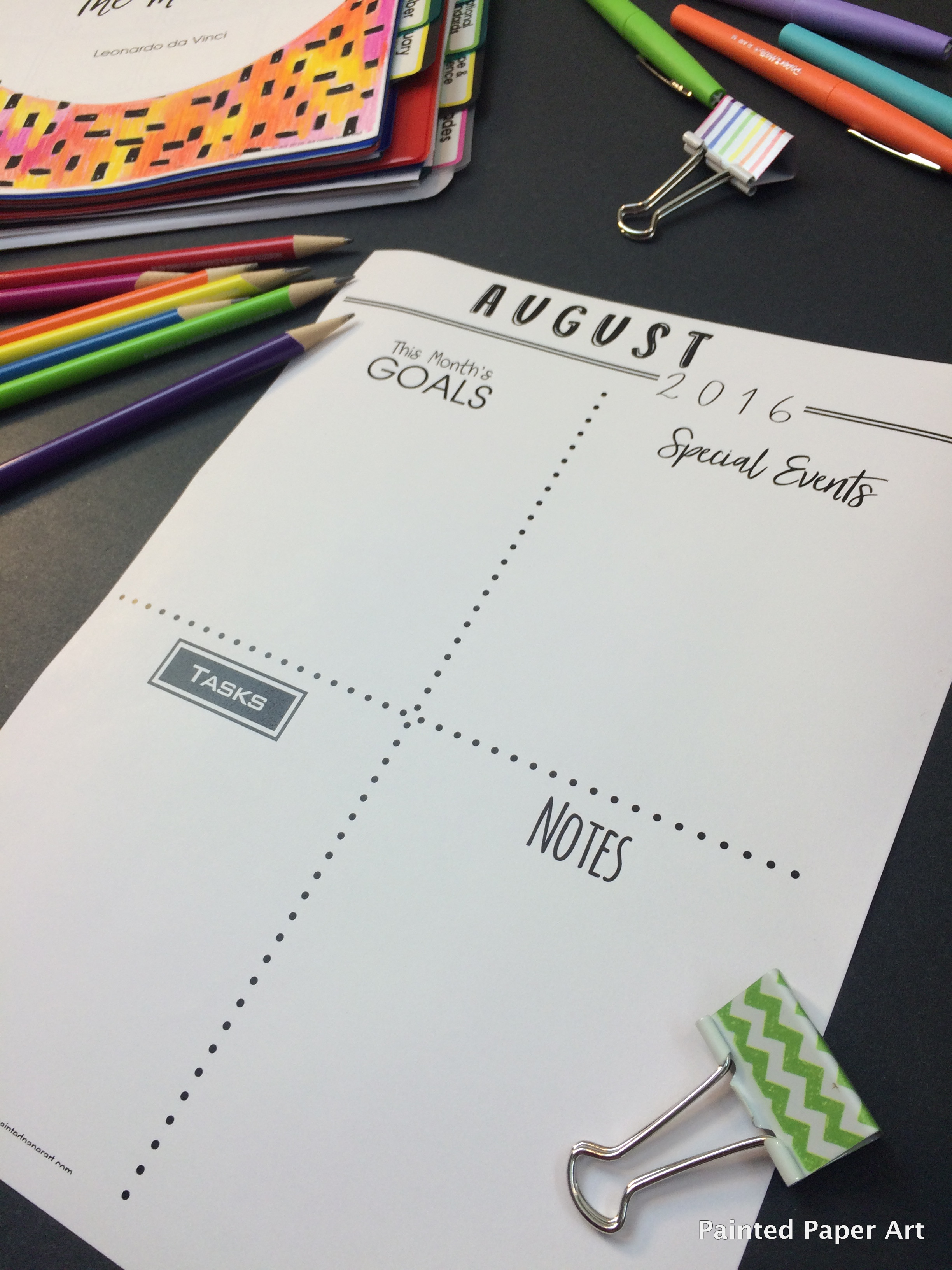 •Reproducible monthly inspirational mini-posters – print, color and display in your classroom if you desire!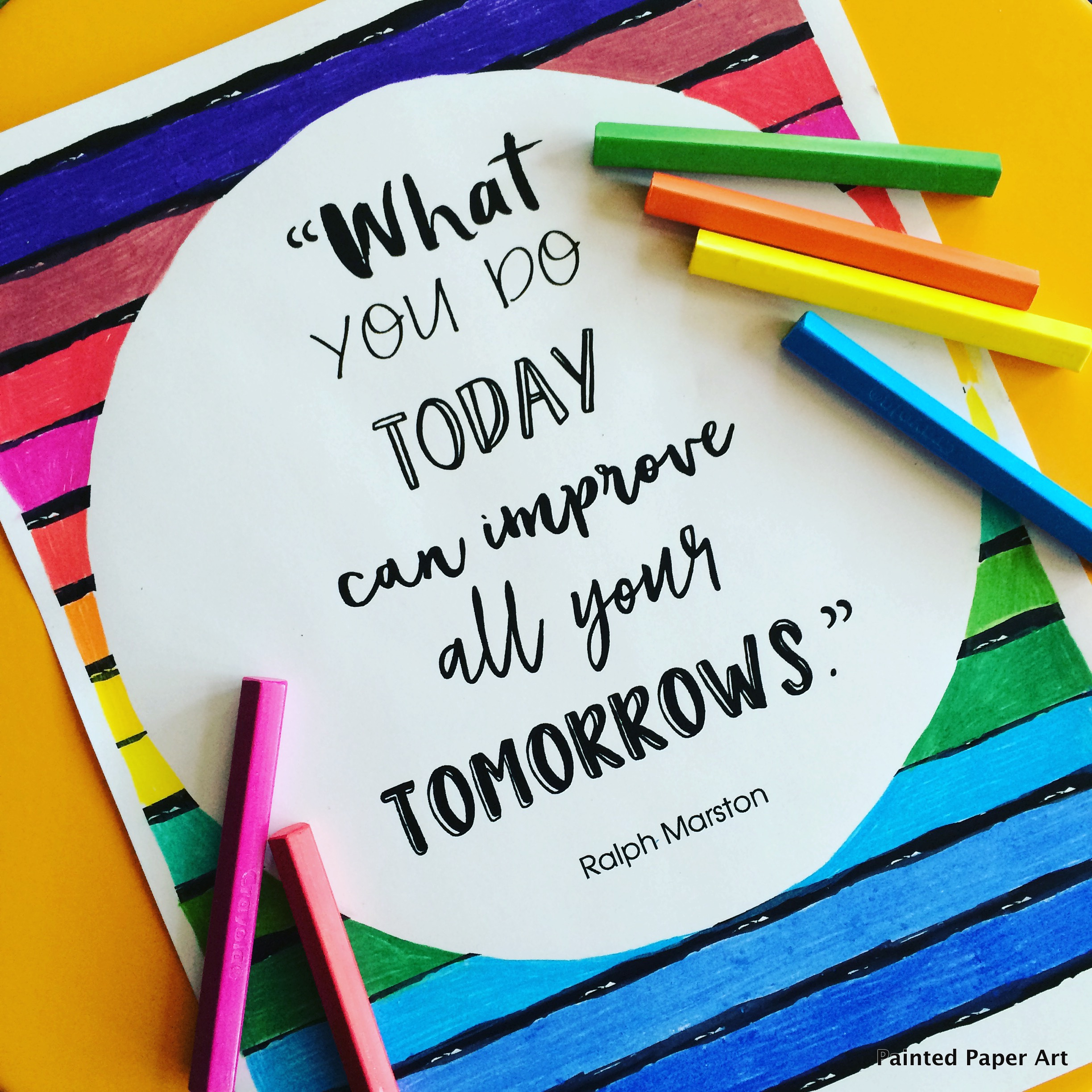 Art teachers are creative people, so we designed each month with a different black and white pattern to decorate  and color how you want! Don't have the time to decorate? Leave it in its black and white design and use colorful fine markers to fill your appointments in each month's calendar.
Weekly Fillable Lesson Plans Form
•Weekly Plans for both 7 class and 11 class schedules – Included in this planner is a weekly lesson plan for you to document your schedule. For greater ease the weekly lesson plan sheet is fillable. Save time by cutting, copying and pasting, especially if you might repeat lessons with different classes. Included are 2 different weekly lesson plan formats. Choose from 7 sections or 11 sections for each day of the week. 
Individual Fillable Lesson Plan Form and Checklist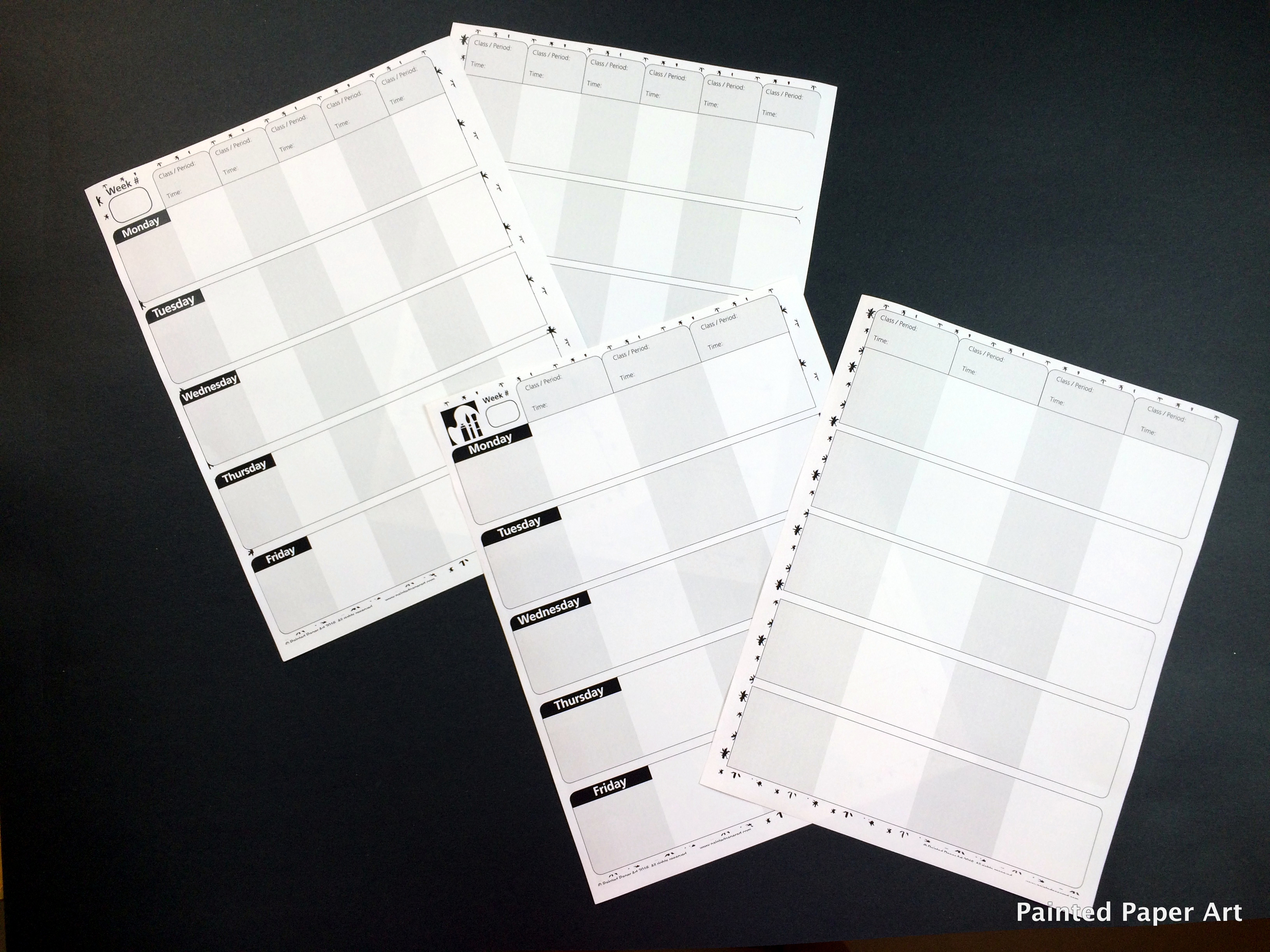 Need to create individual lesson plans? We have created a simple lesson plan form containing checklists of various items that your lesson must address including materials, assessments, modifications, elements and principals of art to name just a few. Time is precious to us all so these fillable lesson plans need to be concise and the checklist boxes do just that.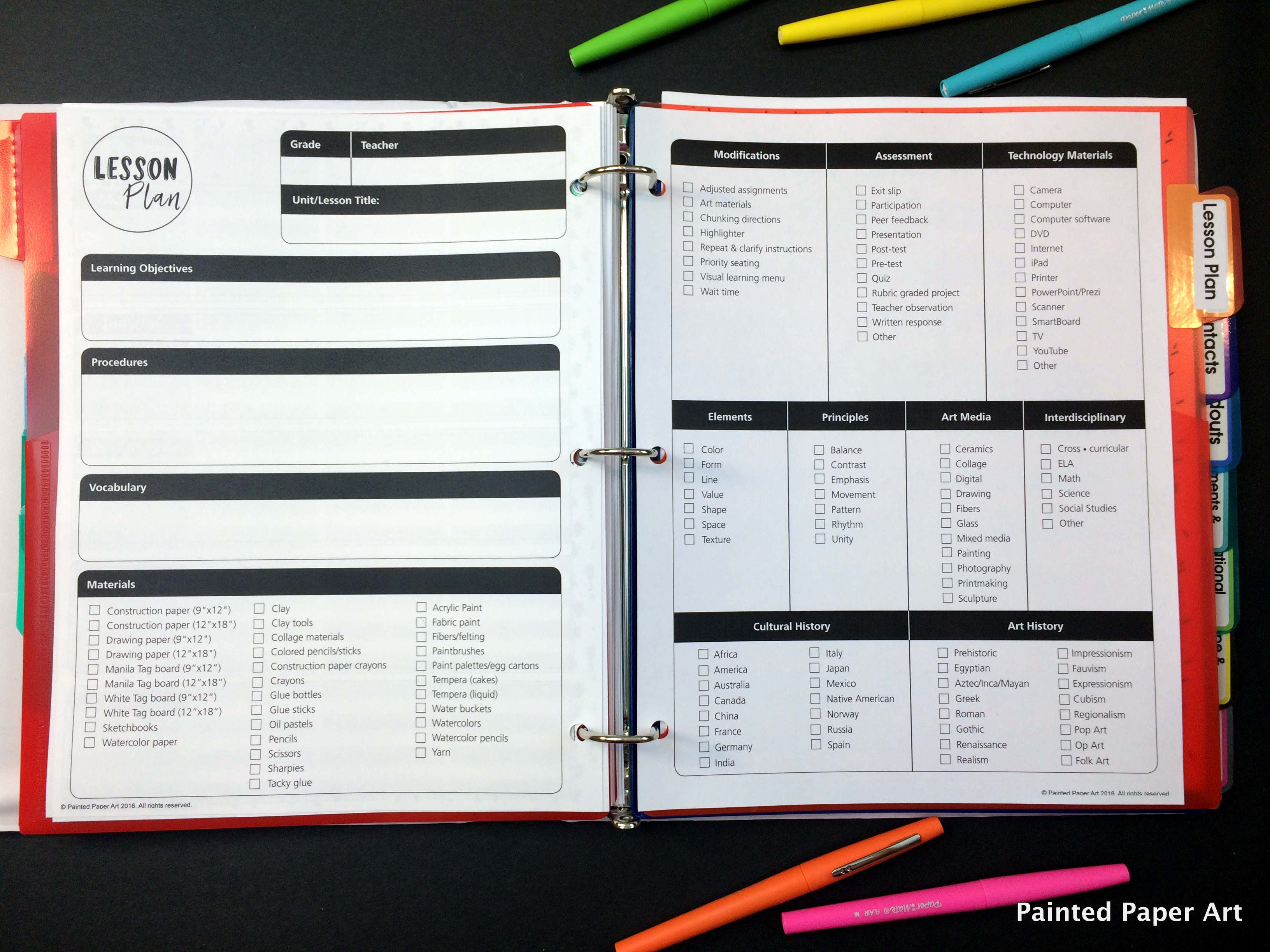 Reproducible Handouts
These handouts are a necessity in my Art Room:
•Art Room Sign Out Sheet – know who is leaving the room, when and what time.
•Classroom events – this page is great for documenting class parties, early dismissals, programs and field trips that effect your classes.
•Vocabulary Words – these tie in with my colorful word wall. Use these sheets as a helpful planning guide for lessons in your Scope and Sequence or reproduce for classroom use.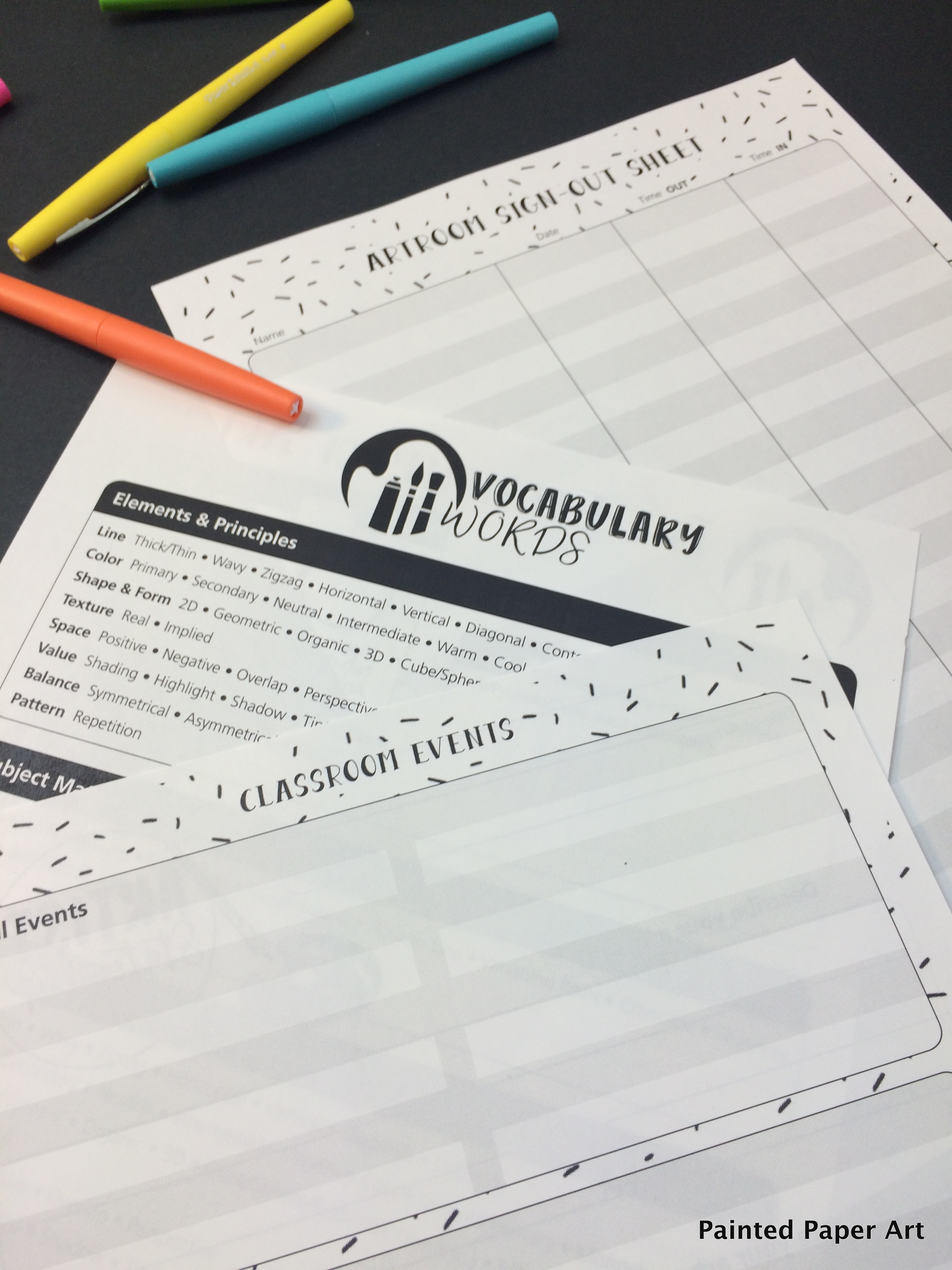 •Parent Contact Sheet – important when you need to document conversations, letters sent home, etc.
•Artist Statements – perfect for your artists to document their thoughts and feelings about their artwork. Just take this handout out of your planner and copy the amount you need or just print from your pdf from the computer.

•Substitute Notes – helpful information for your substitute but designed for the Art Specialist.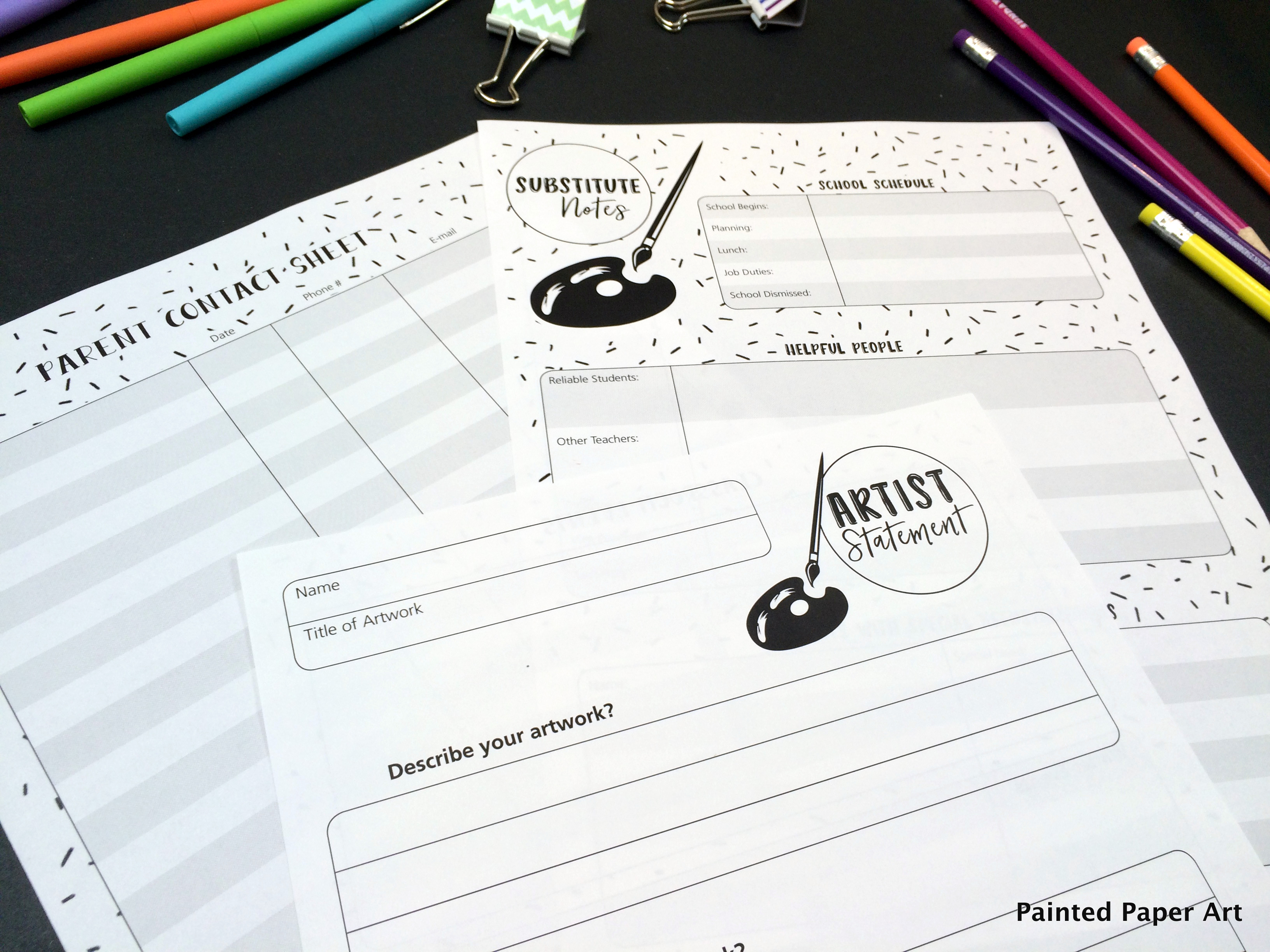 •Art Room Layout – I get asked every year to create a new layout page for my custodians. I am tired of the little pencil scratches on paper so we designed this so you can print, cut out and arrange your classroom.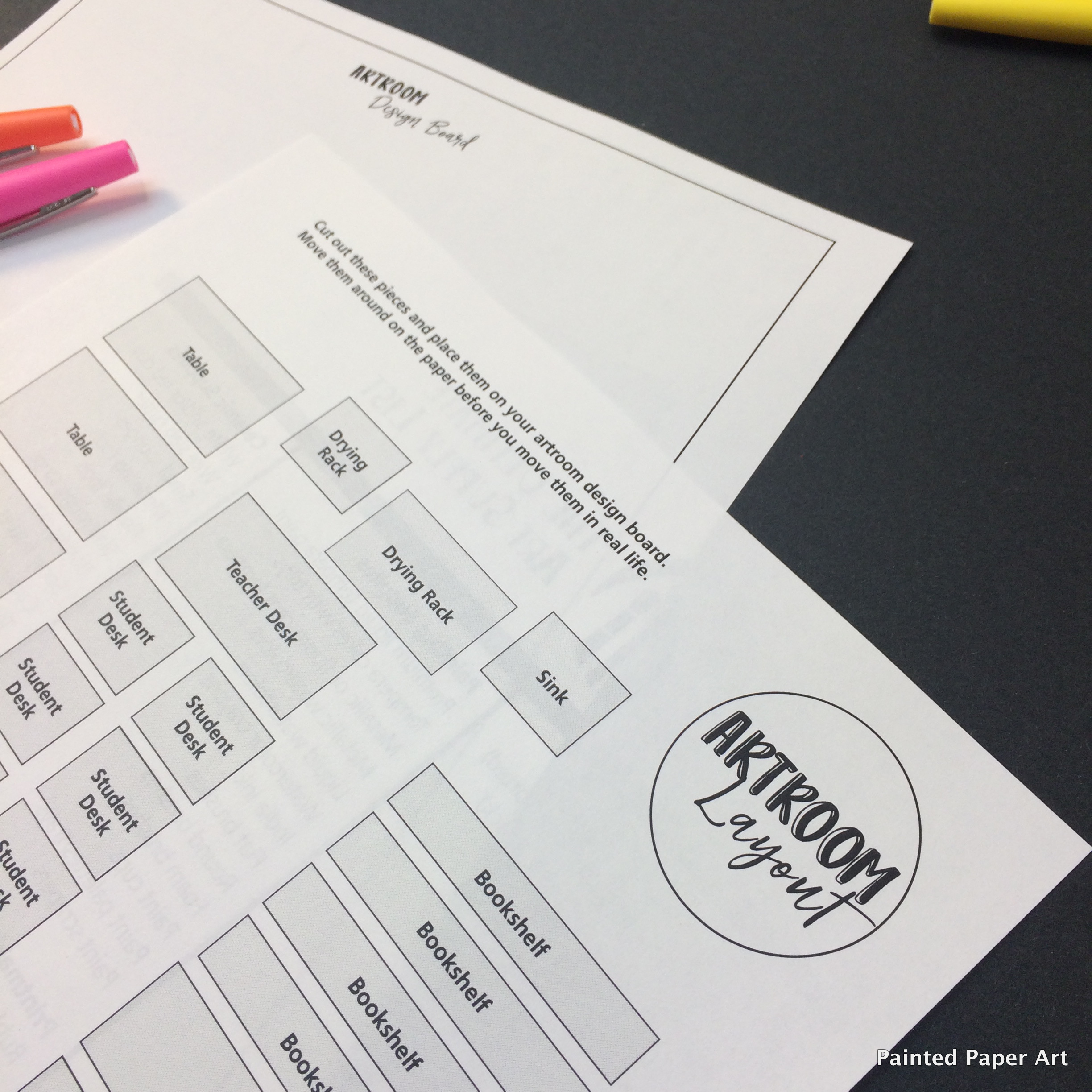 Also included are these must have handouts!
•The Elements of Art
•The Principles of Design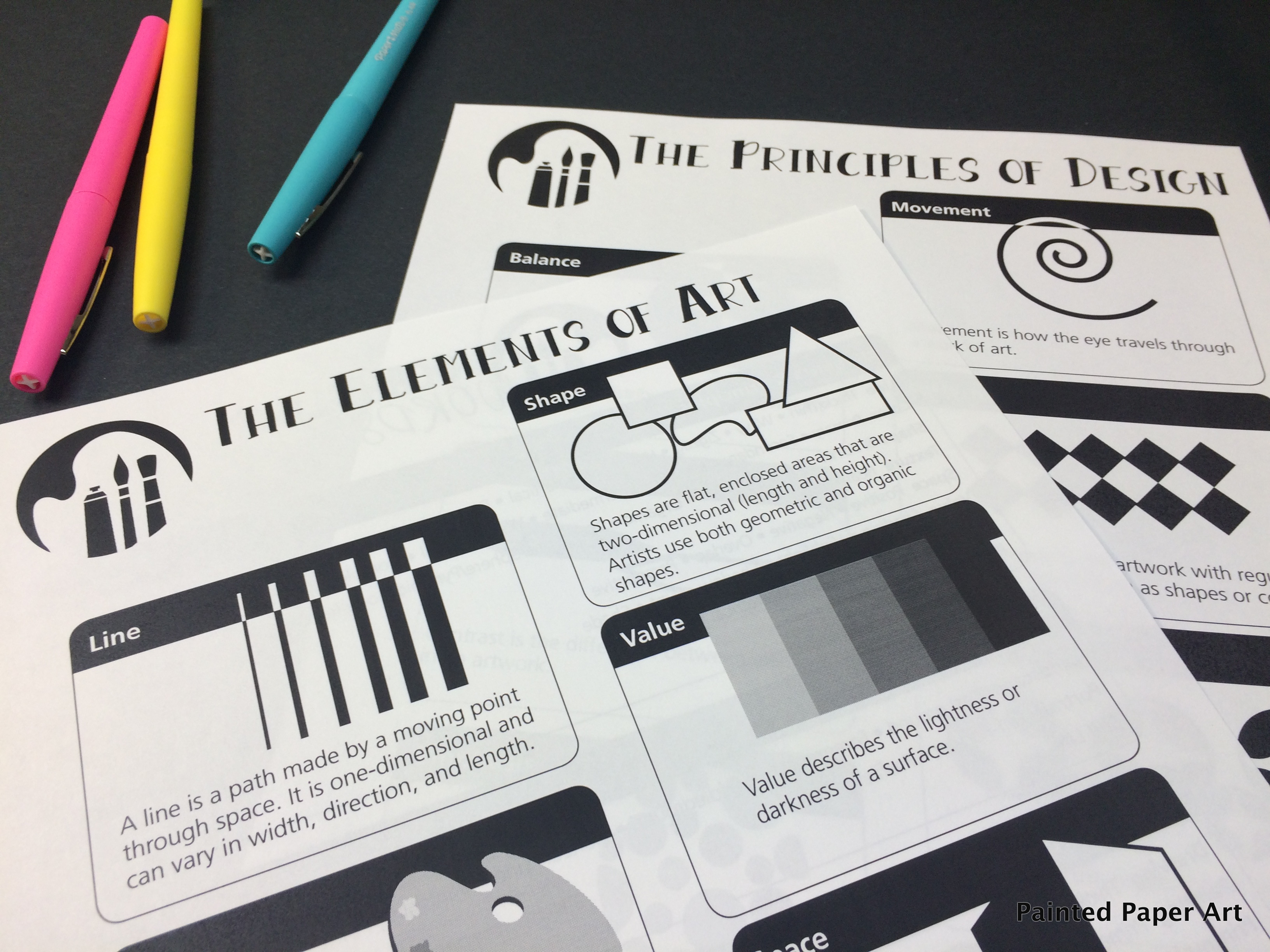 Don't know what to order? The Ultimate Art Supply List along with Classroom Inventory Log will aid in your supply ordering and make sure you don't run out of your important materials.
•Color Wheel handout contains all the key terms for teaching color theory.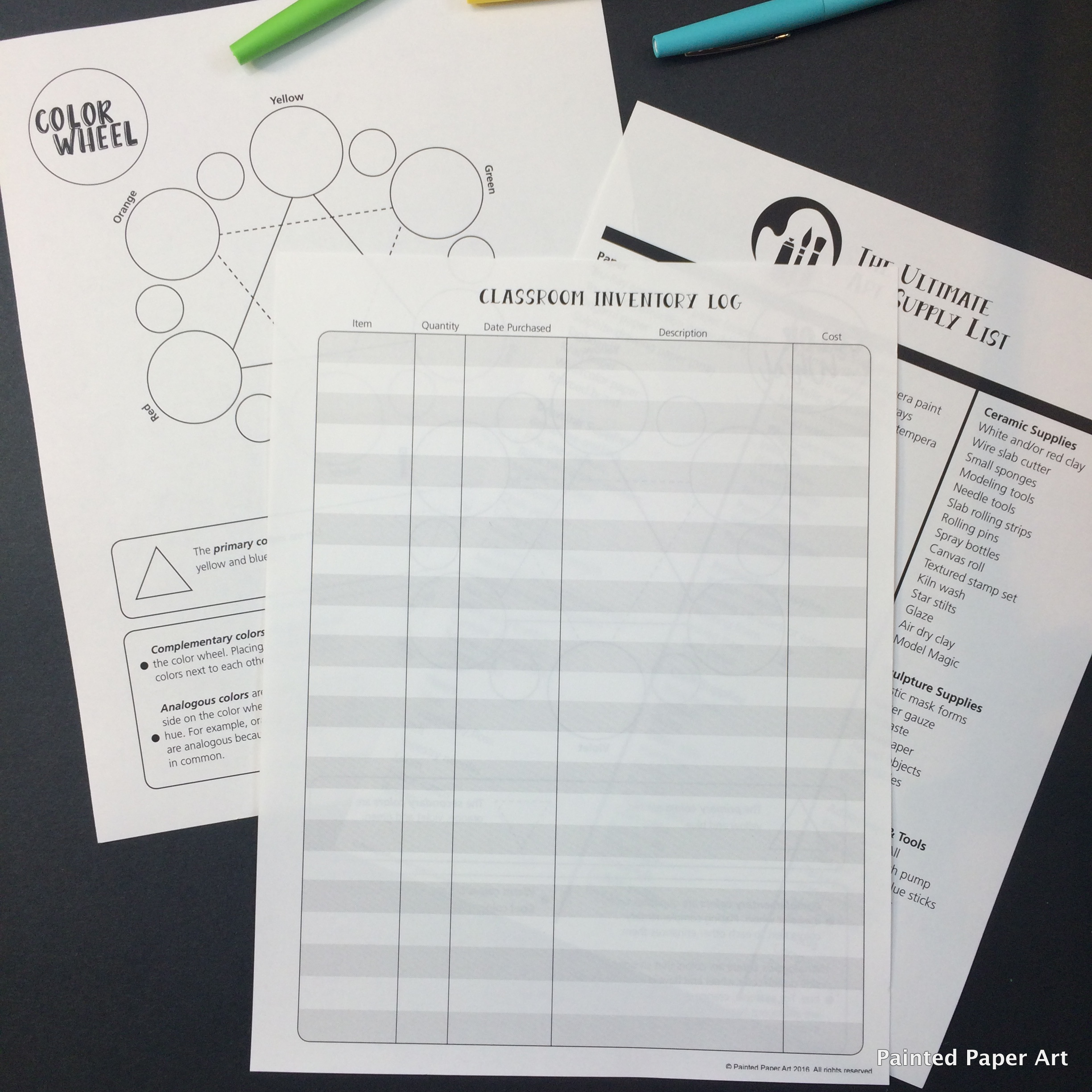 Plus
•A Notes page to write down notes and important tidbits.
National Art Standards Checklist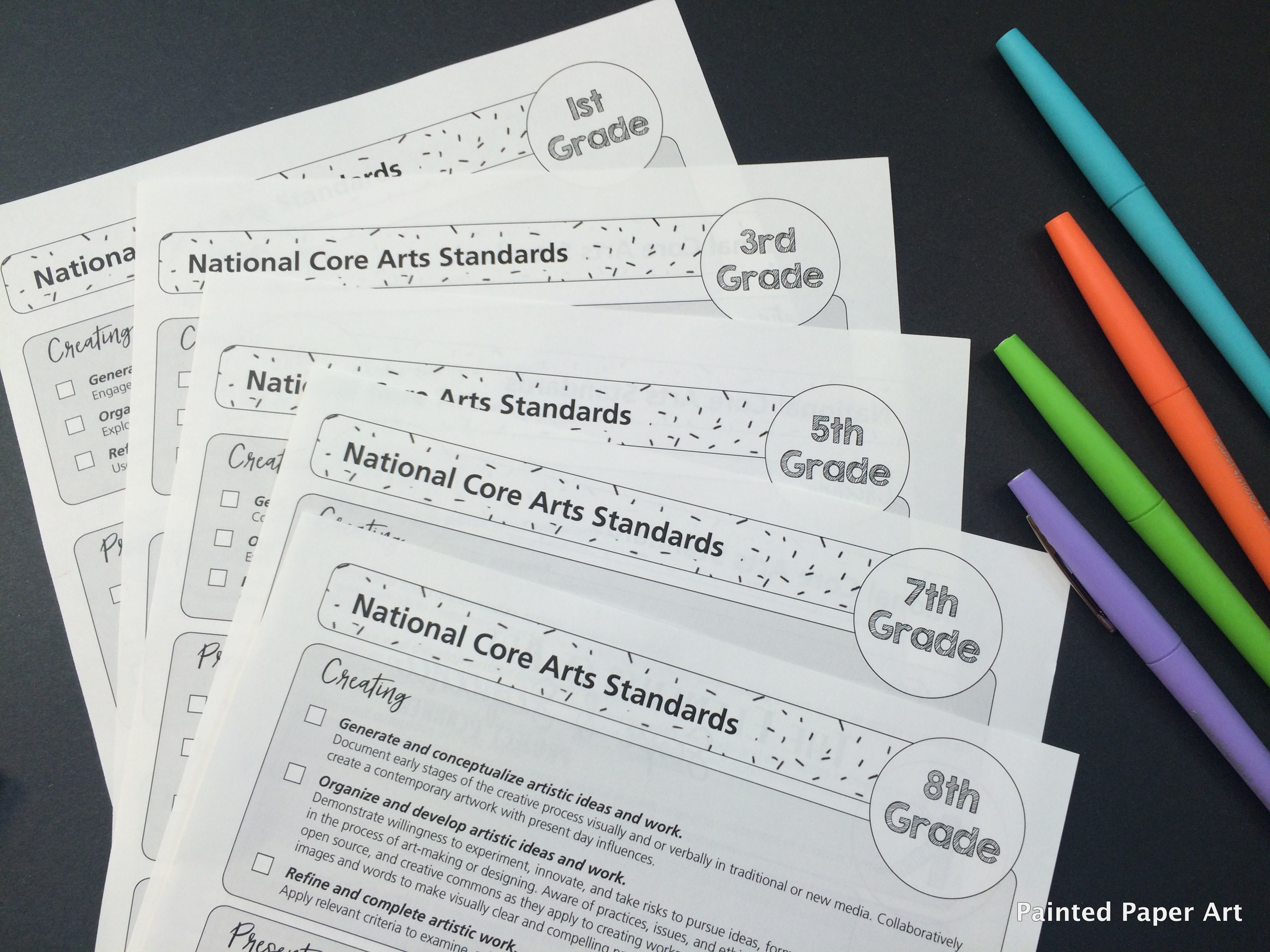 To help aid in your scope and sequence, along with your individual lesson plans, I have included the National Art Standards Checklist. I use this simplified checklist and it has been included in many of my lessons available on Teachers Pay Teachers. It is quite helpful when preparing your lessons.
Scope and Sequence – Pacing Guide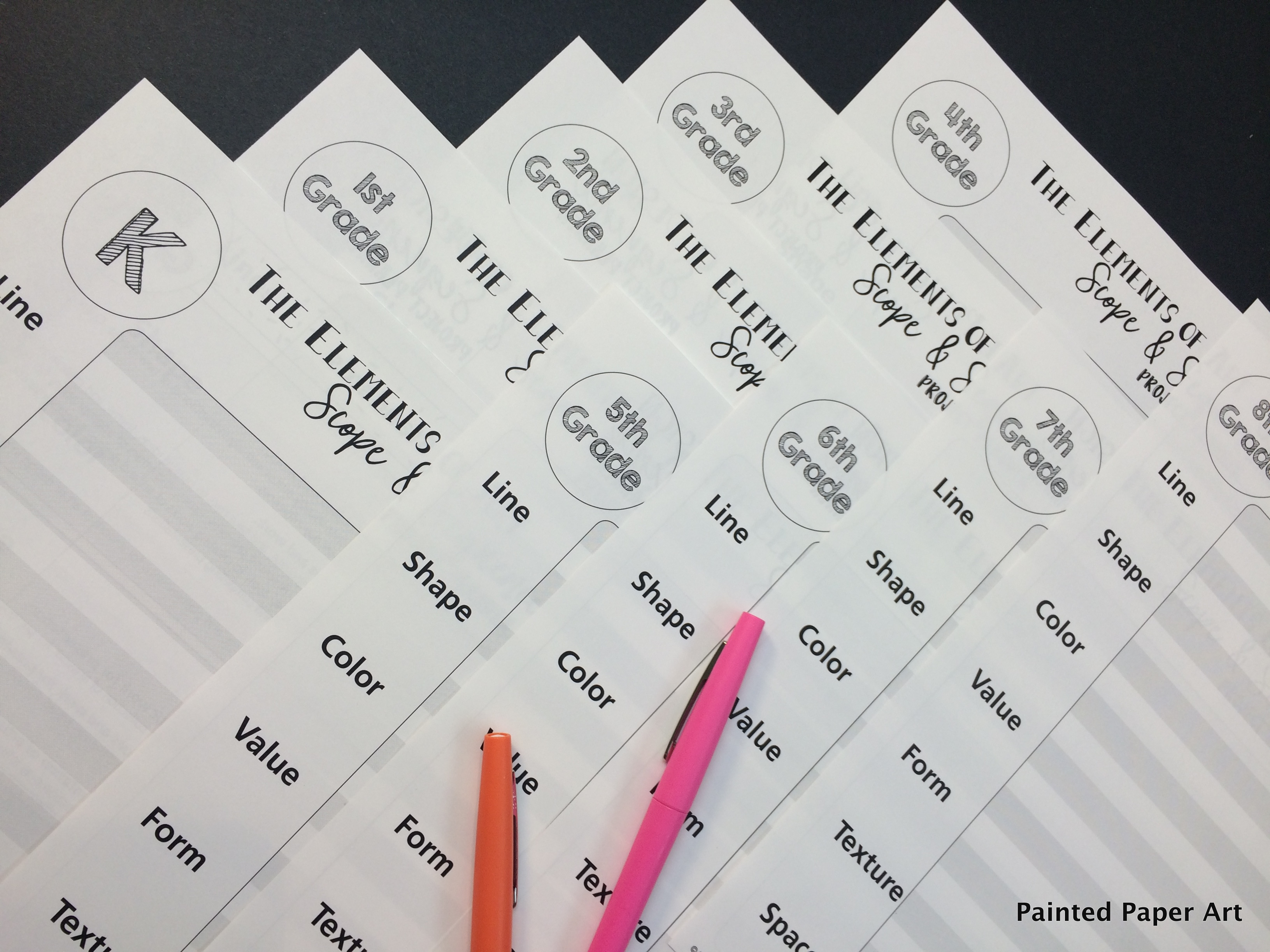 Remember, this Art Teacher Planner is to help keep you organized. Here is something that will help in planning out your school year and curriculum. Scope and Sequence. The Scope and Sequence pages are intended as worksheets for you to write down lesson ideas based on The Elements of Art, The Principles of Design, Art History, or Thematic Units. It is also a place to write down what you have already taught and what lessons are next. This aids in not repeating the same subject matter, or artist, culture or art historical time period. This is a great tool to gather your topics for themes and build projects. This is the foundation blocks of your art program.
•FILABLE Grade Sheets
I always hated that I had more students than slots. I have included 32 slots for student names along with Dates/Week and Assignments. This was very important to my planner since I also teach middle school. Reproduce as many sheets as you need for your own specialized Art Planner.
When printing I suggest using at least 28lb paper. The thicker paper is more durable. The planner is laid out to print front and back on 8.5″ x 11″ paper. You can choose to print single sided if so desired.

Assembling The Art Teacher Planner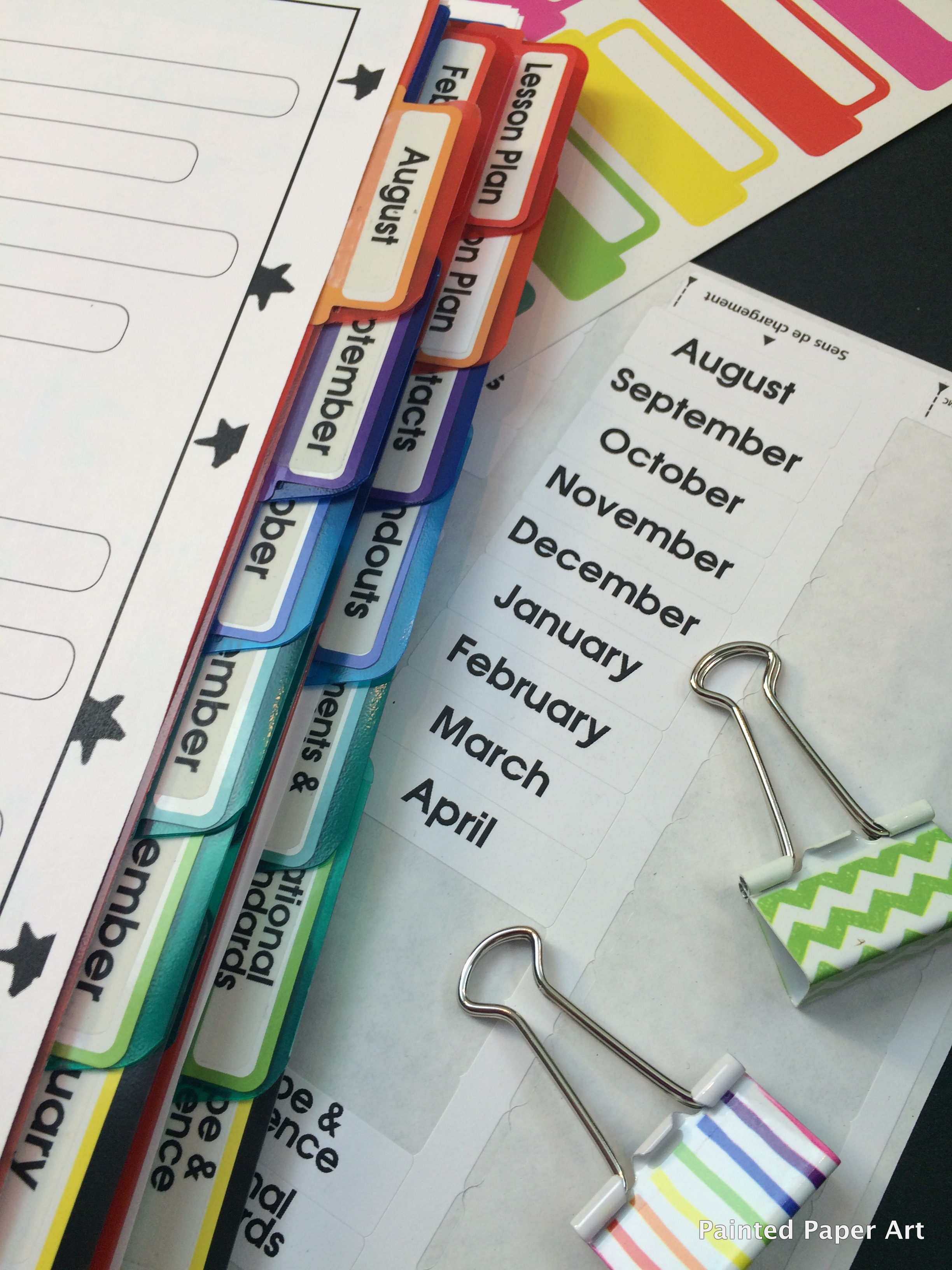 I suggest some inexpensive items to complete assembling your planner. I purchased a 1.5 inch 3 ring binder with clear pockets on the front. Here you can slide in your cover. Also, I printed out some small labels for color coded index dividers with and without pockets.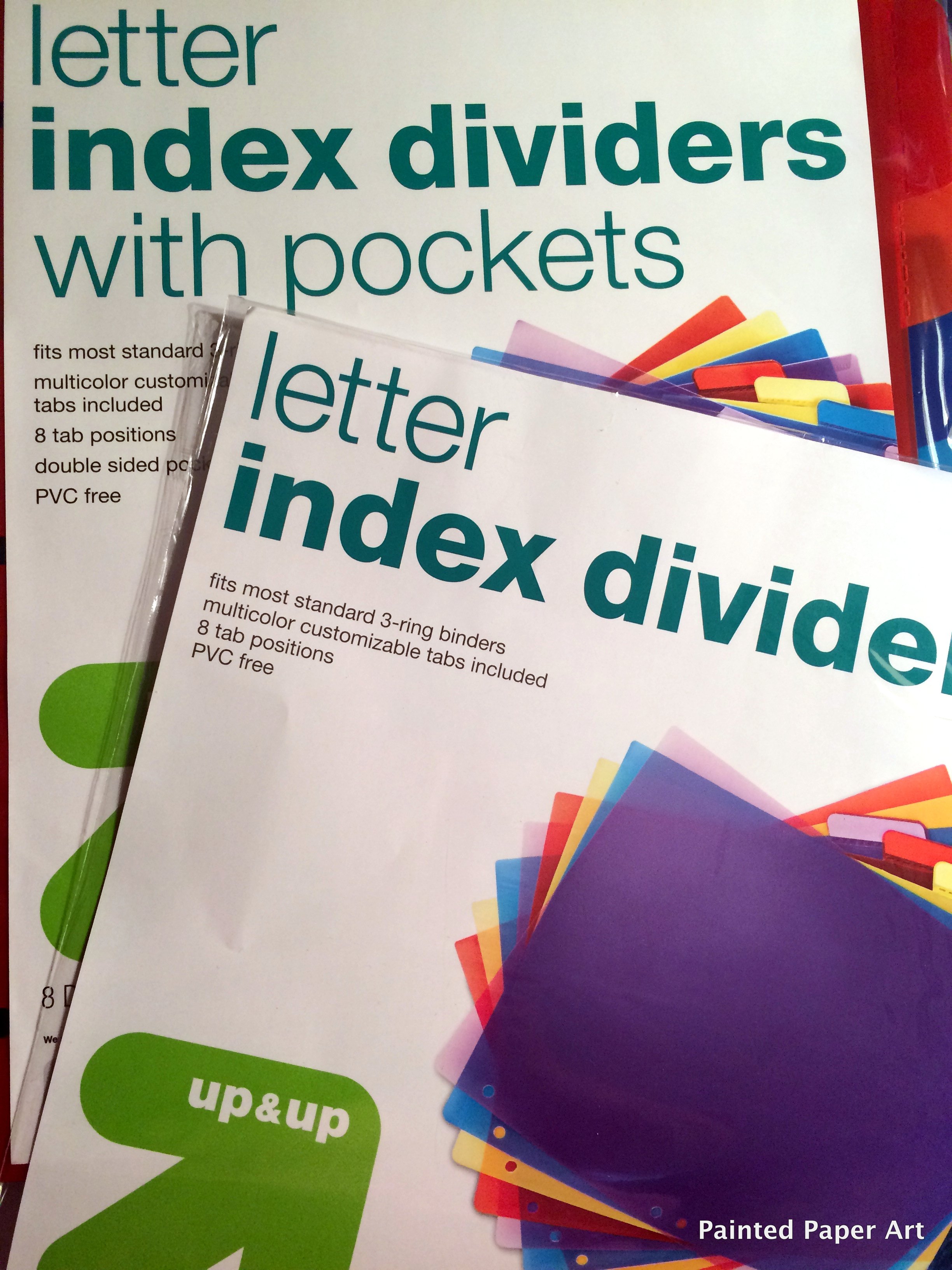 I have experienced through my years as an Art Teacher that budgets are small and time is valuable. I purposely chose a black and white layout to keep your printing costs down. PLUS, knowing how creative you are, I considered how you would want to decorate and personalize the Art Teachers Planner your way!
Only the Planner Covers are in color.

Here are your cover choices:
Light as a Feather ~ Our Most Popular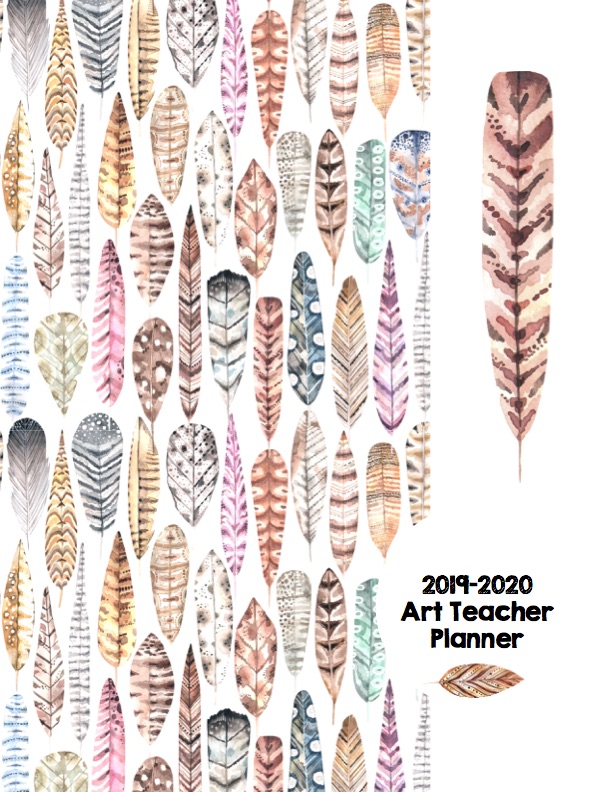 MOD Squad -Black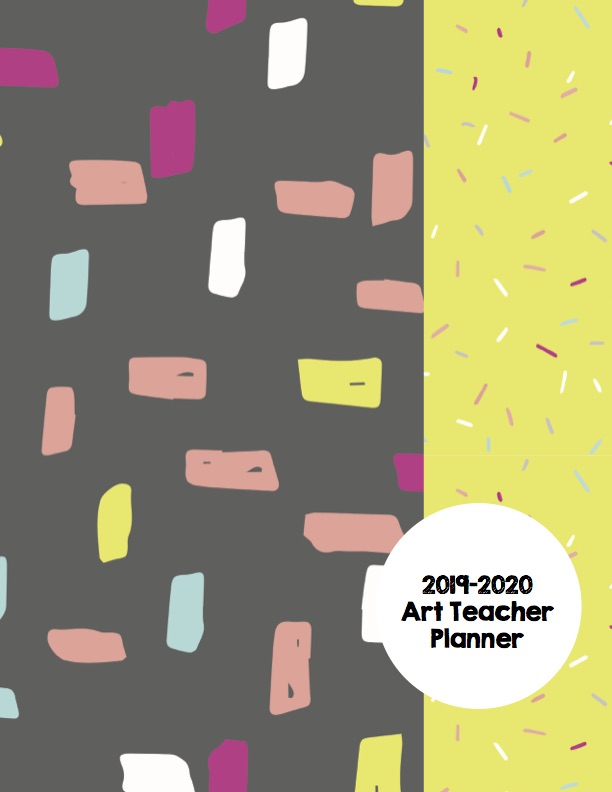 MOD Squad -Pink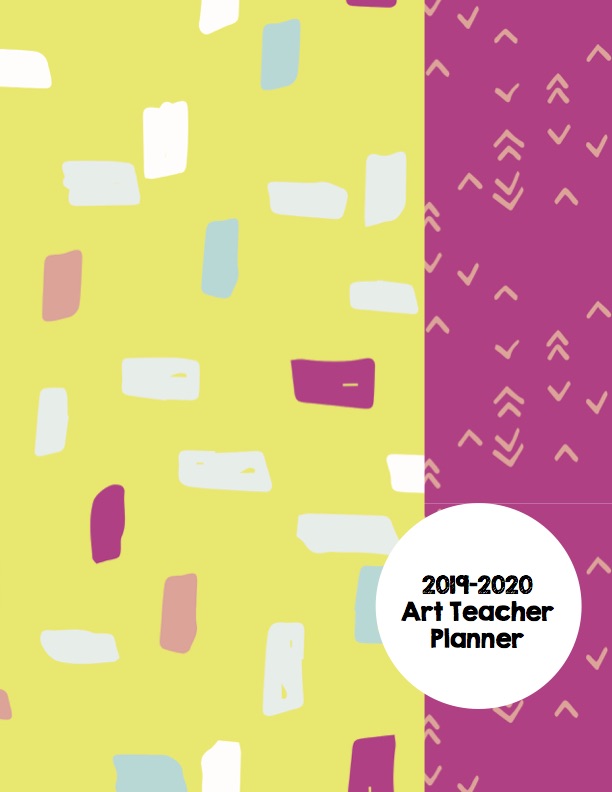 Pink Confetti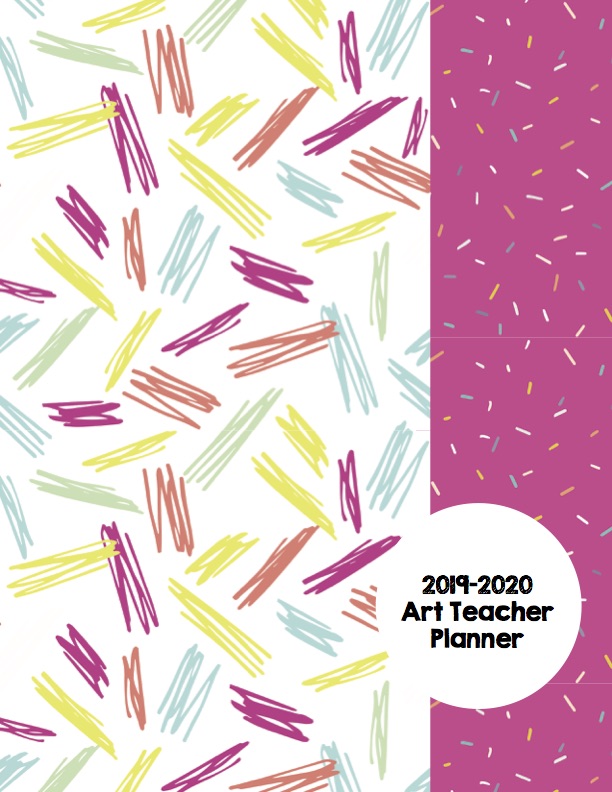 Palm Springs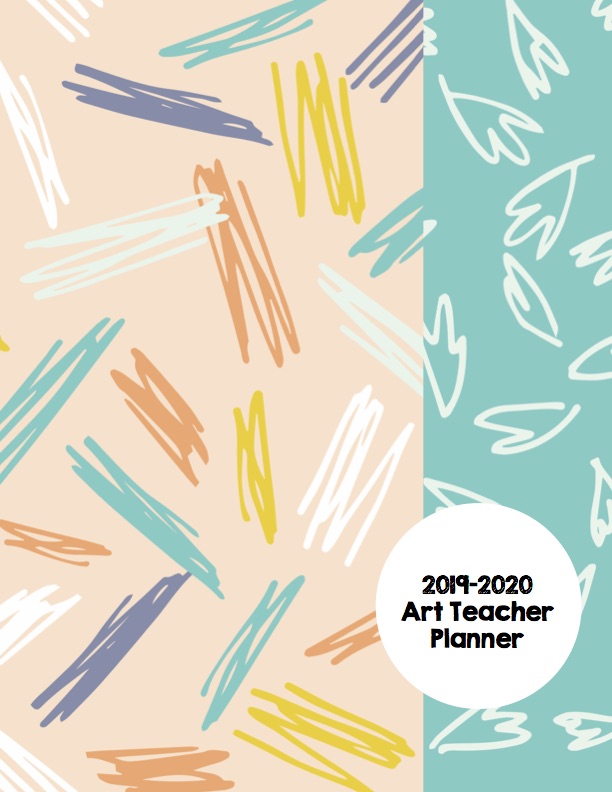 Gold Dust Stripe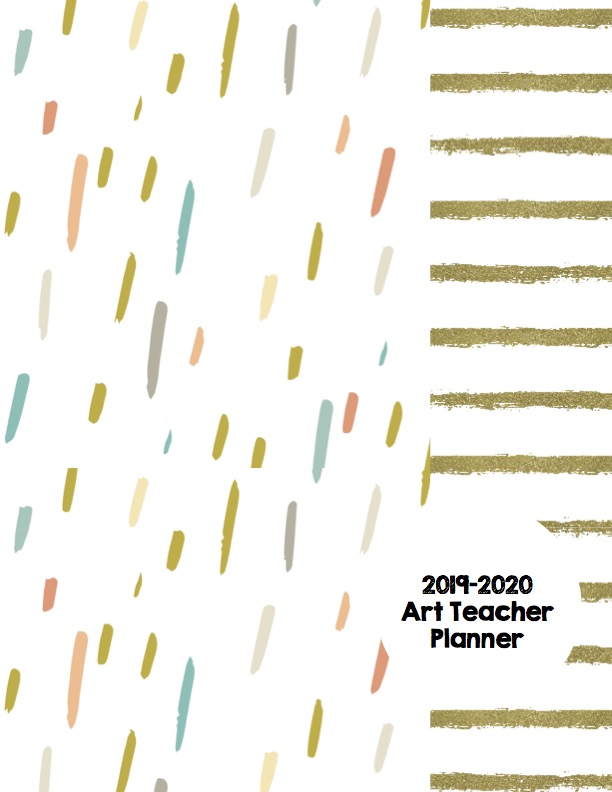 Birds of a Feather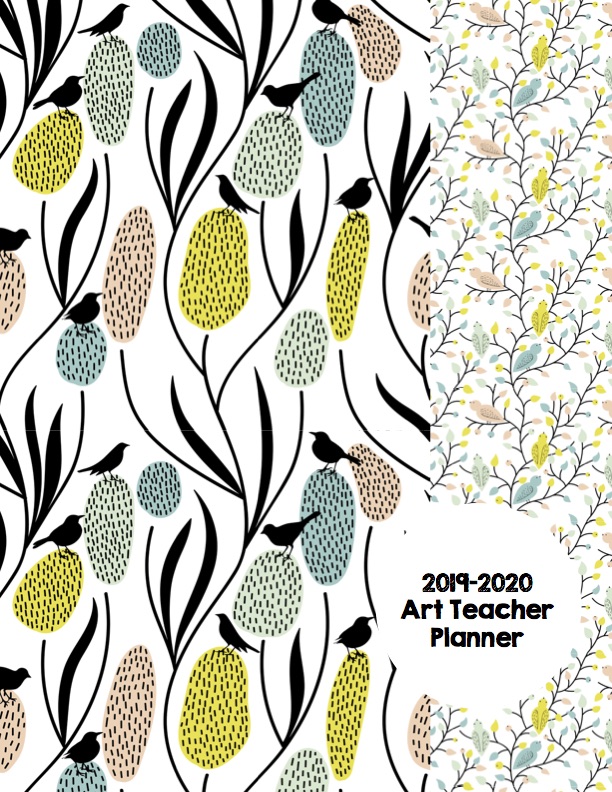 Brushstrokes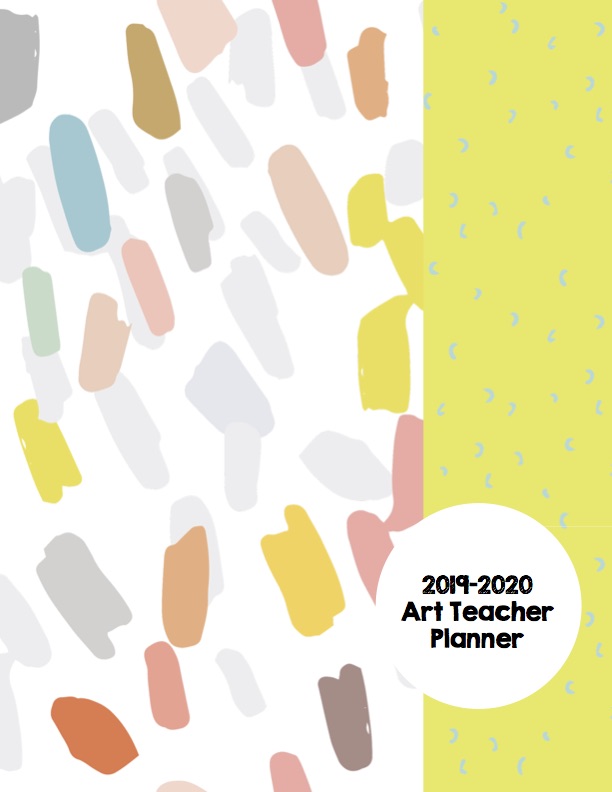 Here is another preview to view everything included in the planner.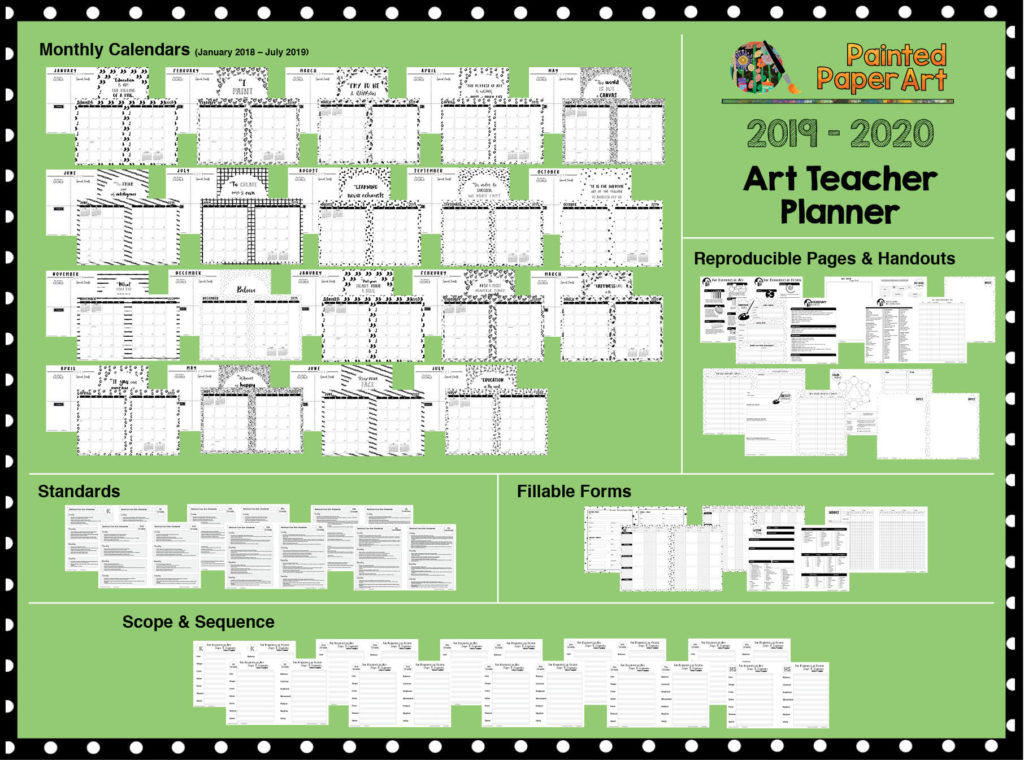 I have spent so much time and thought in this project and hope it alleviates much stress and keeps you organized for your teaching year.  
Check out this video for more info.
The Art Teacher Planner is available
 Here's to Great New School Year!
 &
Keep on Creating!
 Laura