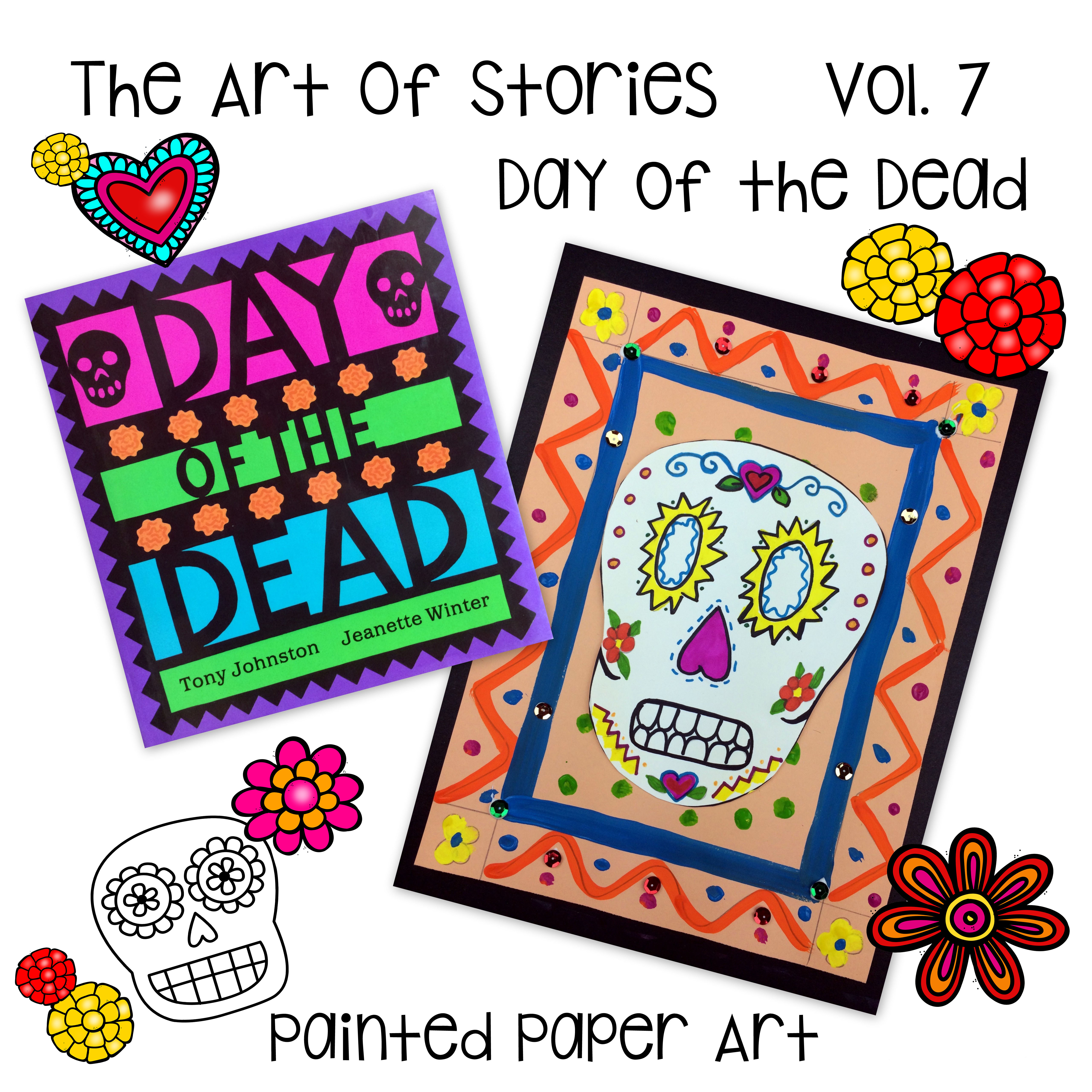 Dia de los Muertos Paper Sugar Skulls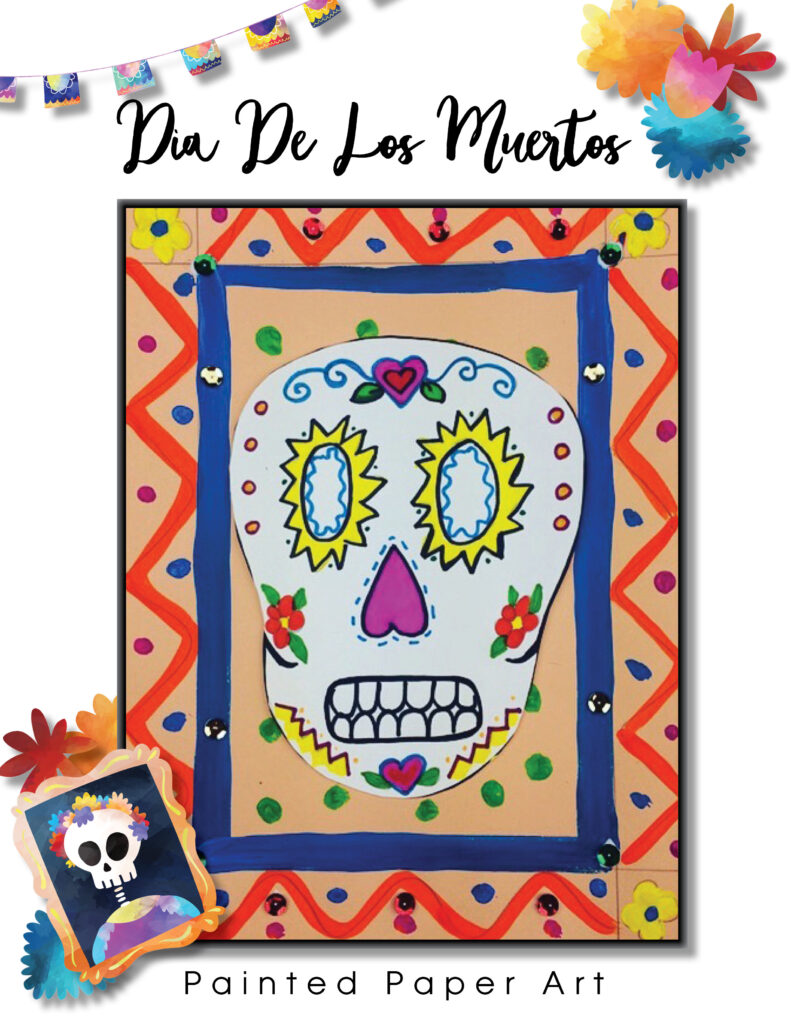 One of my favorite units to teach is Dia de los Muertos or Day of the Dead. Dia de los Muertos introduces students to the colorful world of this happy celebration that honors deceased relatives. Children learn about the traditional celebration, common in Mexico and parts of the United States, that is celebrated on November 1 and 2.
A fantastic book that incorporates all the history and key items to help prepare for Dia de los Muertos are found in this colorful book Day of the Dead by Tony Johnston and Jeanette Winter.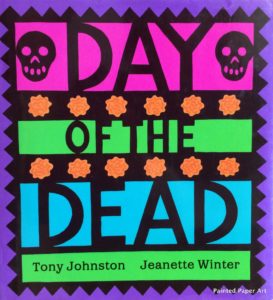 My students just absolutely love this unit! We have been making all the beautiful items used in one's home for the special day. Inspired by the books illustrations, 5th grade students created their own personal paper skulls. These mixed media projects are filled with fun painted backgrounds and borders and embellishments to complete the artworks.
Supplies you will need: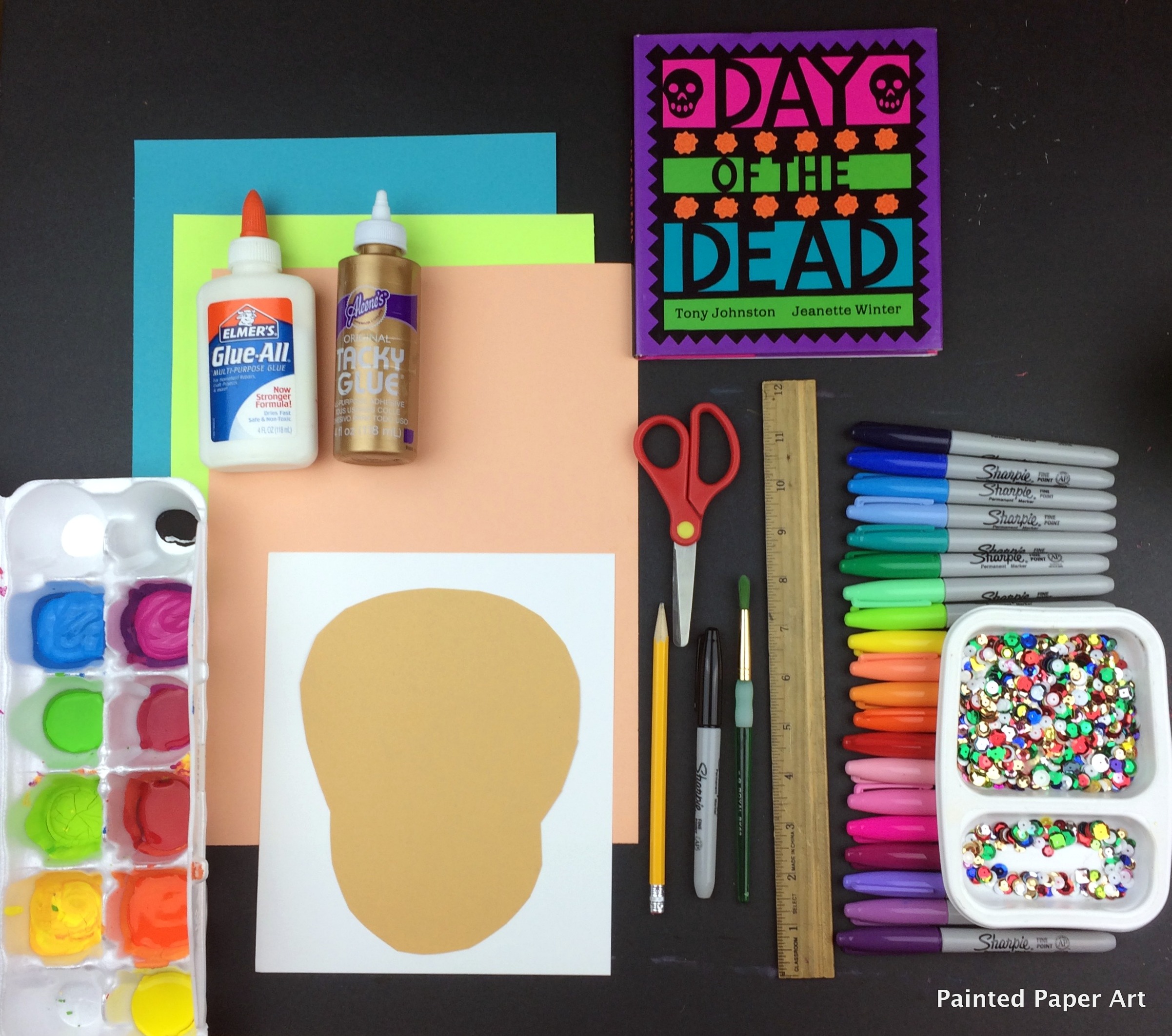 Paper Sugar Skull
First create the skull. Add oval eyes, upside down heart for nose and and oval with teeth for the mouth. (Use the skull template if needed available as a free download in the shop.)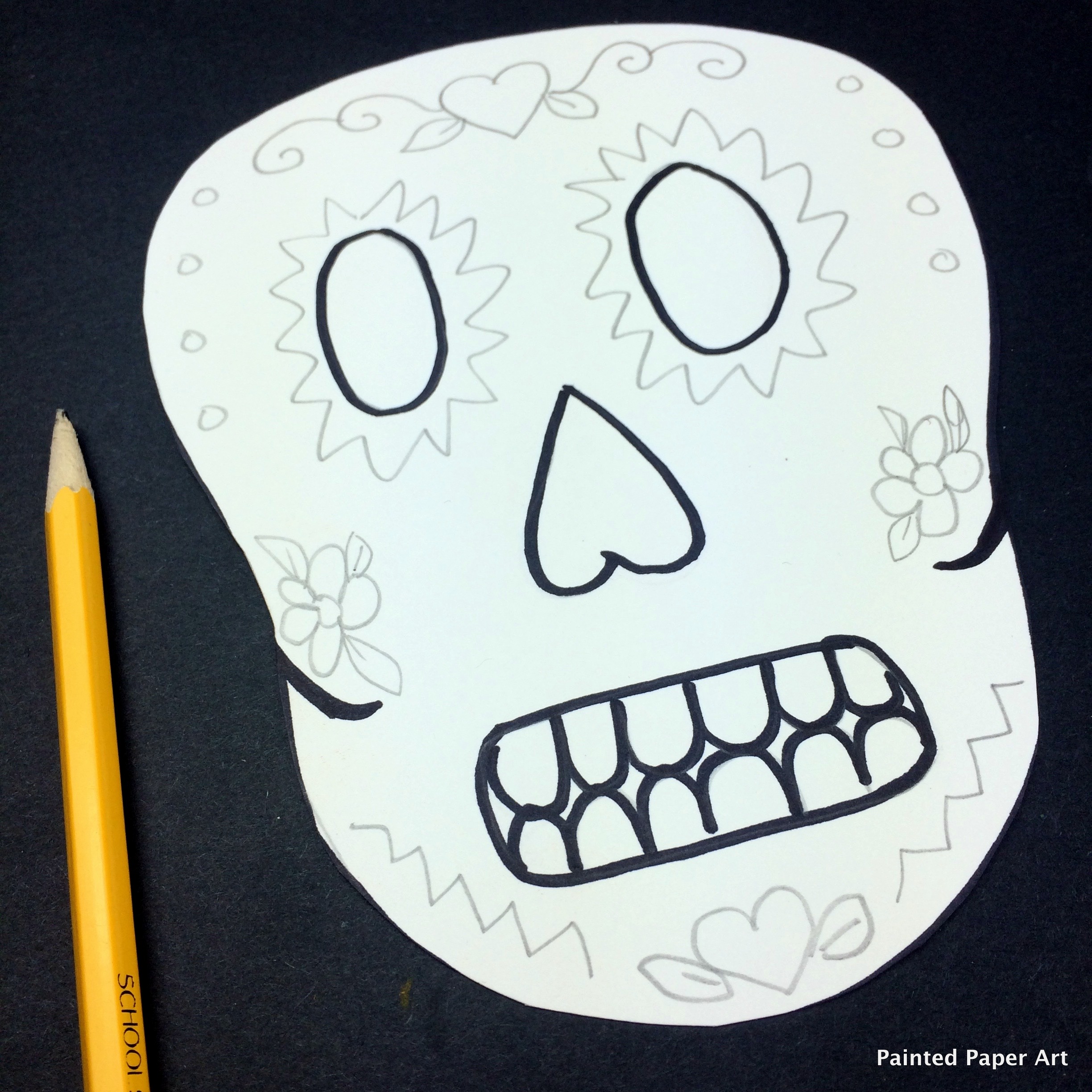 Next, add symmetrical patterns with a pencil. Stress symmetrical designs to keep a cohesive look. Use the FREE pattern handout for inspiration. Just download and print for your students to use.
Available HERE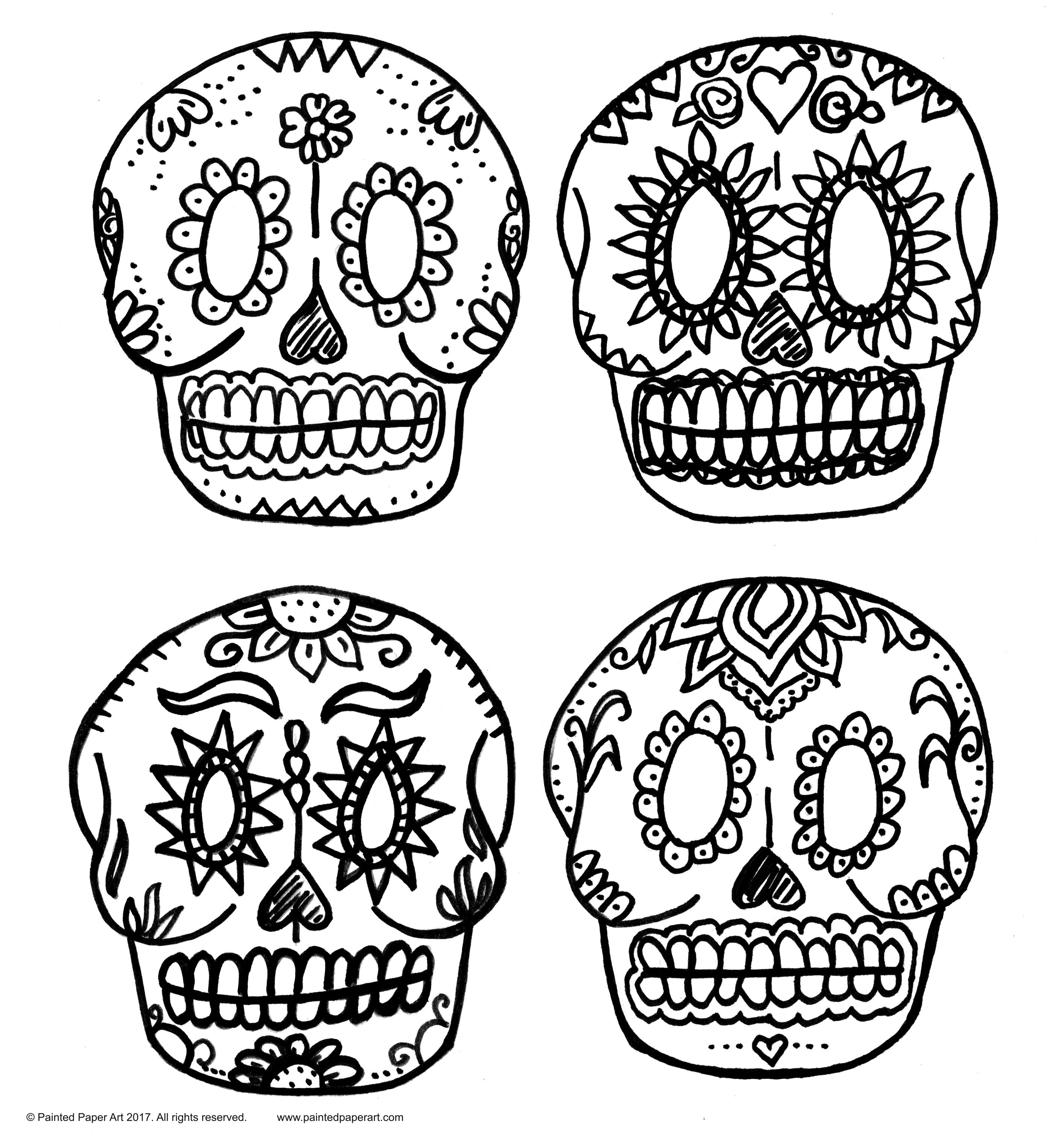 Color in the shapes and designs with thin sharpie markers or regular markers then outline all the shapes with black permanent sharpie marker.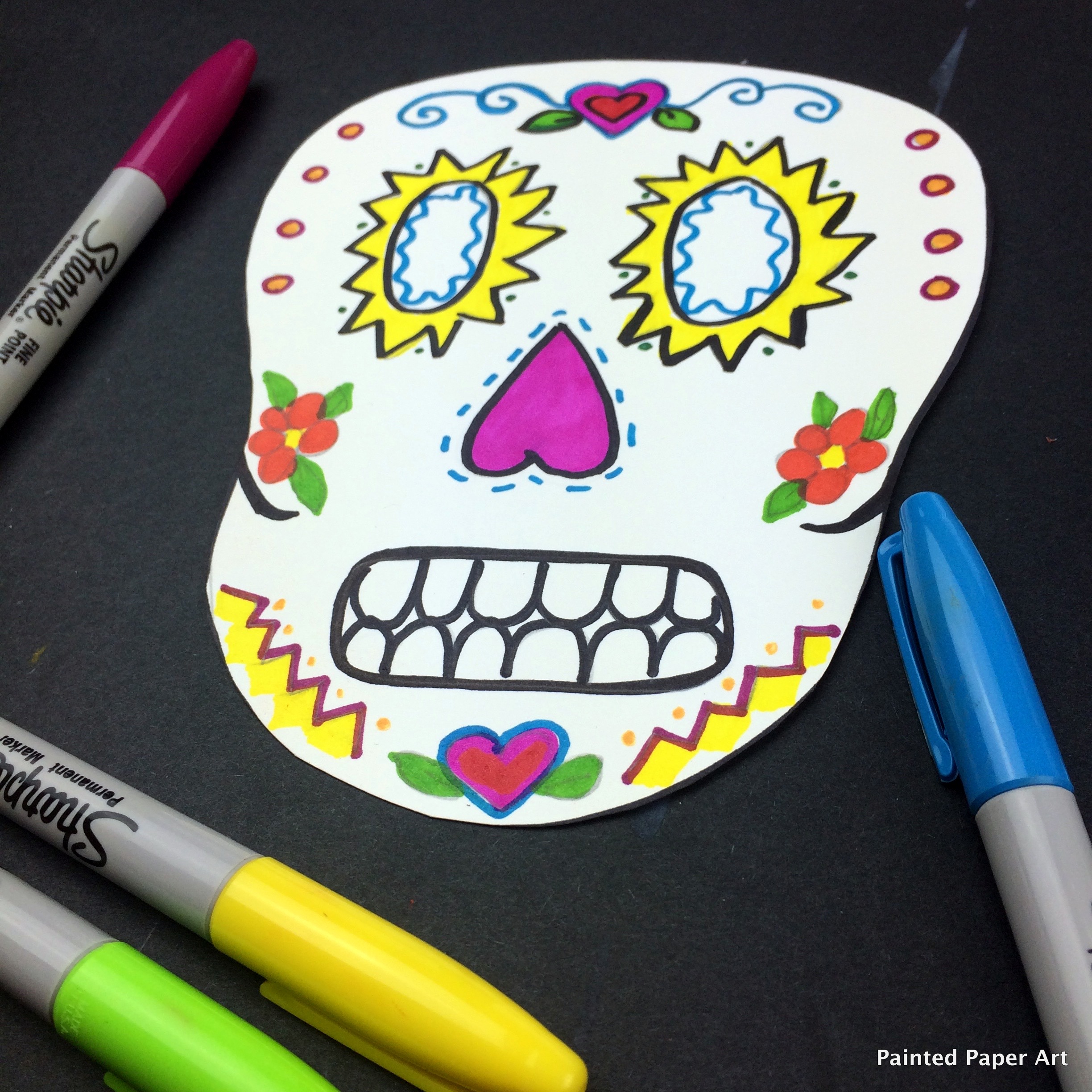 Background  
Use a 9″ x 12″ piece of colored construction paper for the background. Use a ruler to create a border around the paper. Make sure to line the ruler up with the edge of the paper to get nice, straight lines.
Add simple designs and patterns in pencil to the border. Very small patterns such as dots, dashes, and wavy lines create fun borders. Next, add color with tempera paints. When using tempera paints, start with the lightest color first and work up to the darker colors. This will keep your colors bright and clean. Add a simple border in the interior rectangle for added contrast.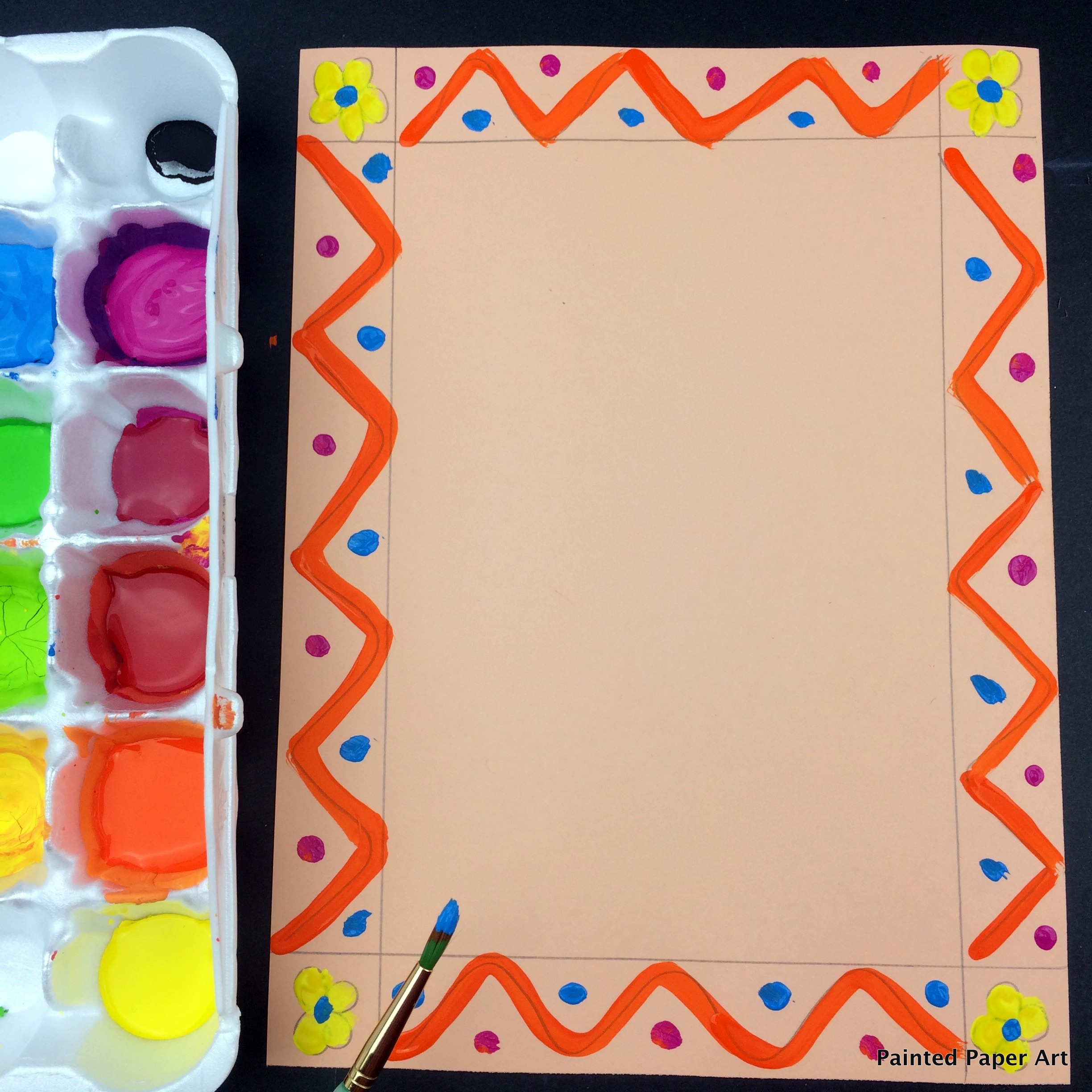 Glue down the skull with Elmers Glue-All. Add rhinestones and/or sequins. Make sure the embellishments are placed symmetrical and affix with tacky glue.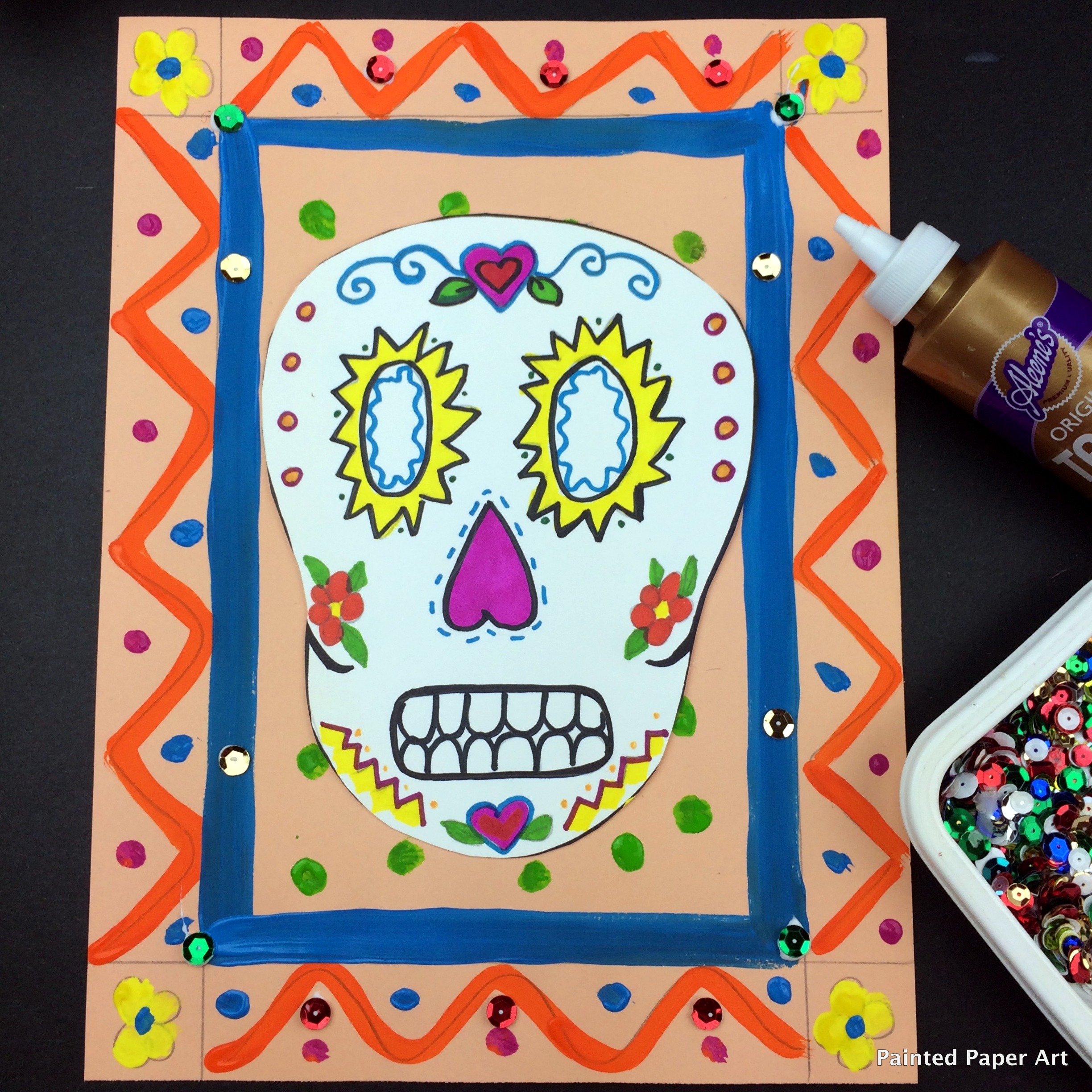 Gallery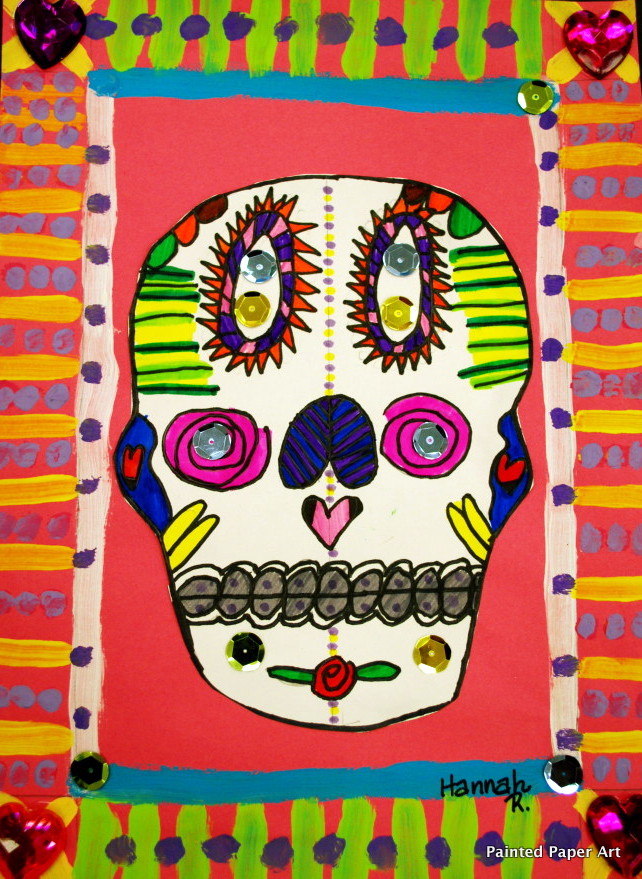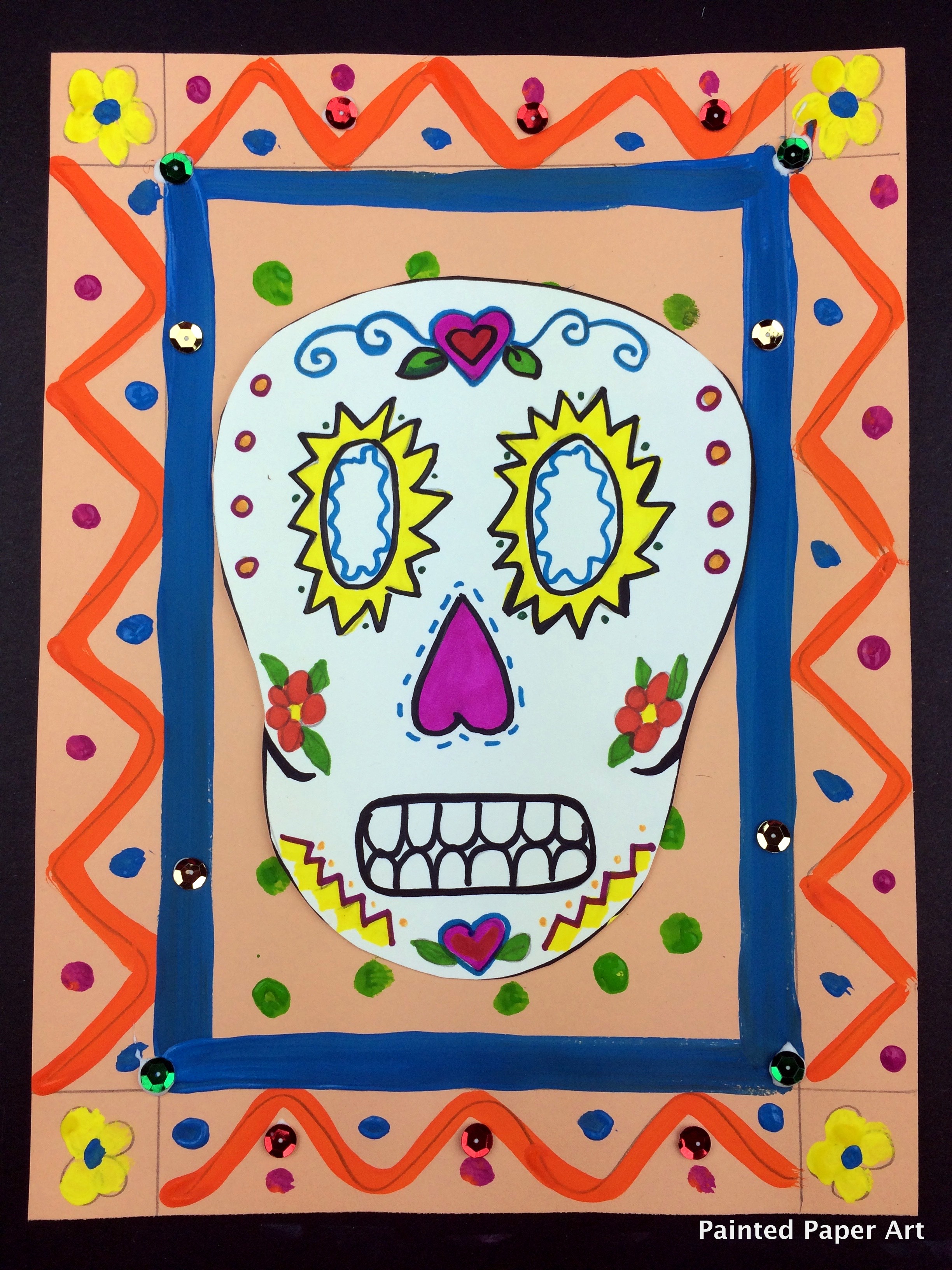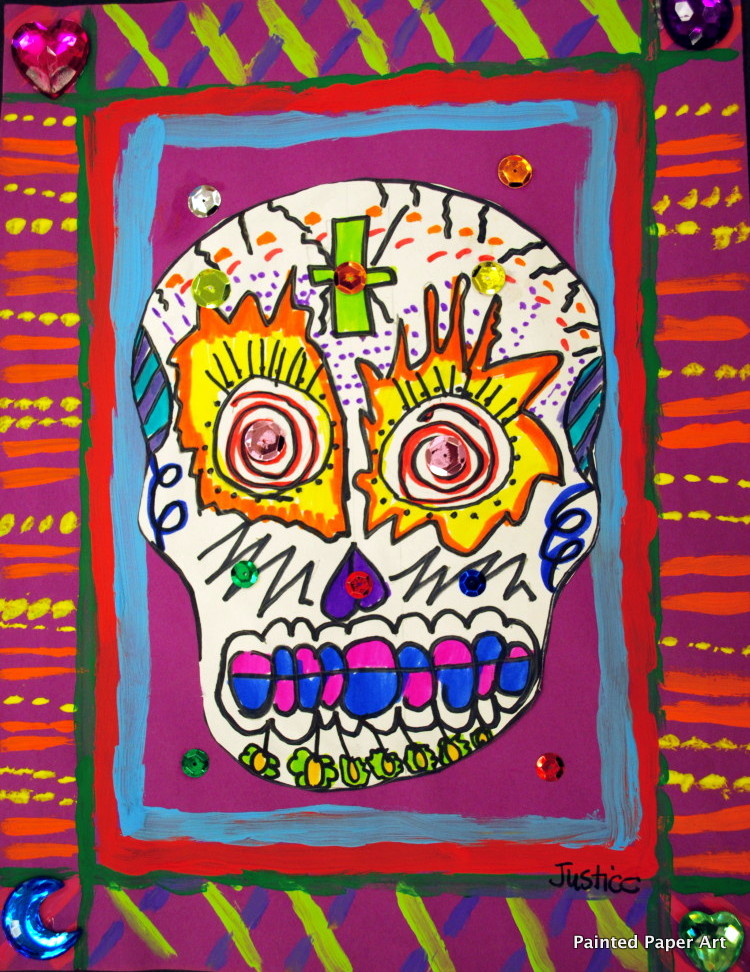 If you love Dia de los Muertos then this Art Lesson Bundle is perfect for you and your students. Key projects are mixed media Calacas (Skeleton) Vignettes, Frida Kahlo's Still-Lifes using air-dry clay, Mariachi Band Guitars, Marigold Still-Life Collage, and Mexican Serape Blankets. Students will create beautiful, vibrant mixed media projects using tempera paint, oil pastels, painted paper, markers, construction paper and air-dry clay. Plus they will gain an understanding of basic art concepts and art historical and cultural celebrations.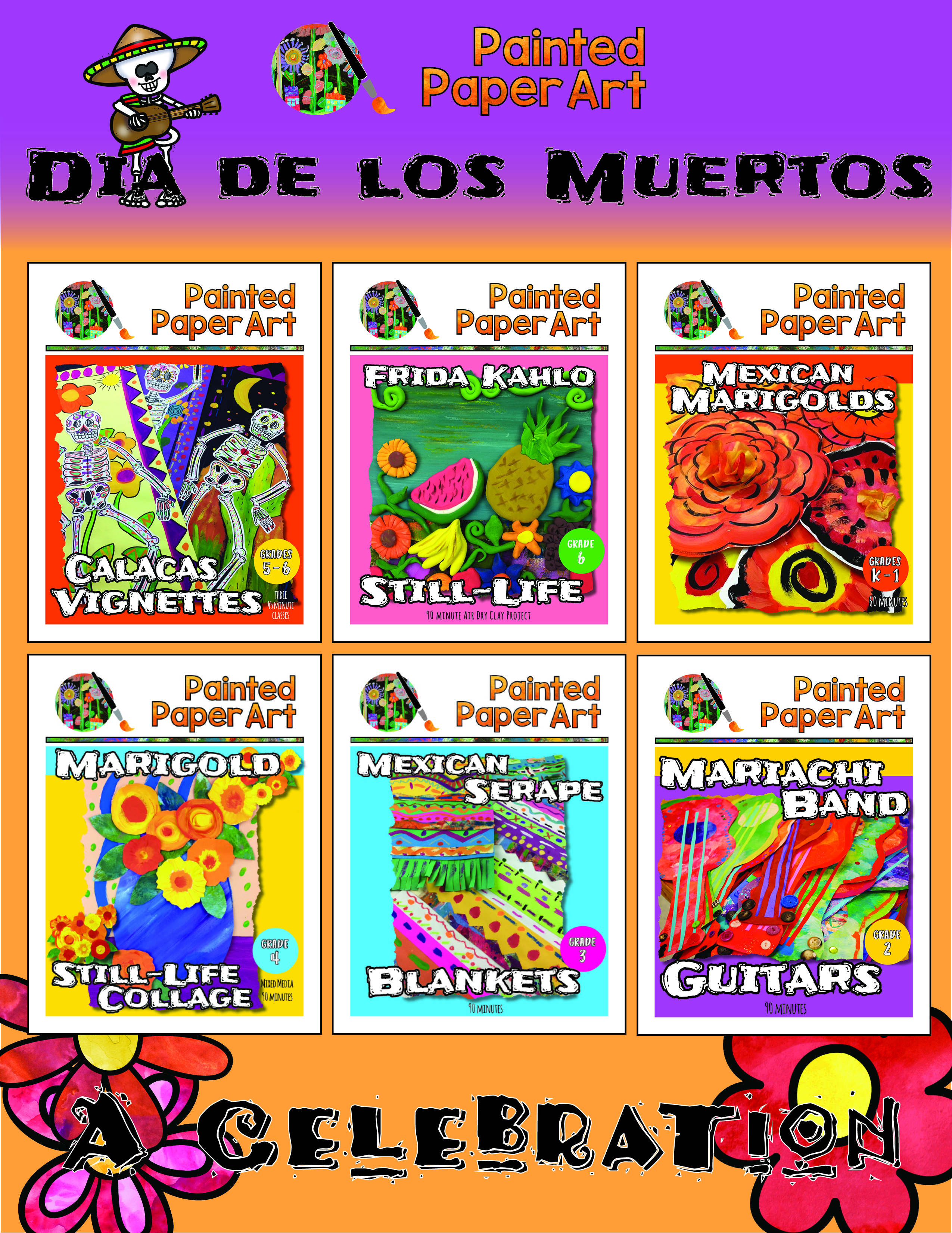 Day of the Dead Bundle 74 page bundle includes:
Calacas (Skeleton) Vignettes – 13 pages
Frida Kahlo Still-Life – 15 pages
Mariachi Band Guitars – 13 pages
Marigold Still-Life Collage – 11 pages
Mexican Marigolds – 11 pages
Mexican Serape Blankets – 11 pages
Each Art Lesson contains:
• Step-by-step instructions and full color photographs
• Supplies list
• Vocabulary words
• Learning objectives
• Artist Statement page
• National Standards
• I Can statements tailored for each project.
Also included are:
• Project specific reproducible handouts and templates
• "How to Make Painted Paper Handout"
Now available in the shop
These lessons are great for ages 6-12 but any age student will enjoy these delightful projects, I know my students sure do.
Keep on Creating!
Laura xox
SaveSave
SaveSave
SaveSave
SaveSave
SaveSave
SaveSave
SaveSave
SaveSave