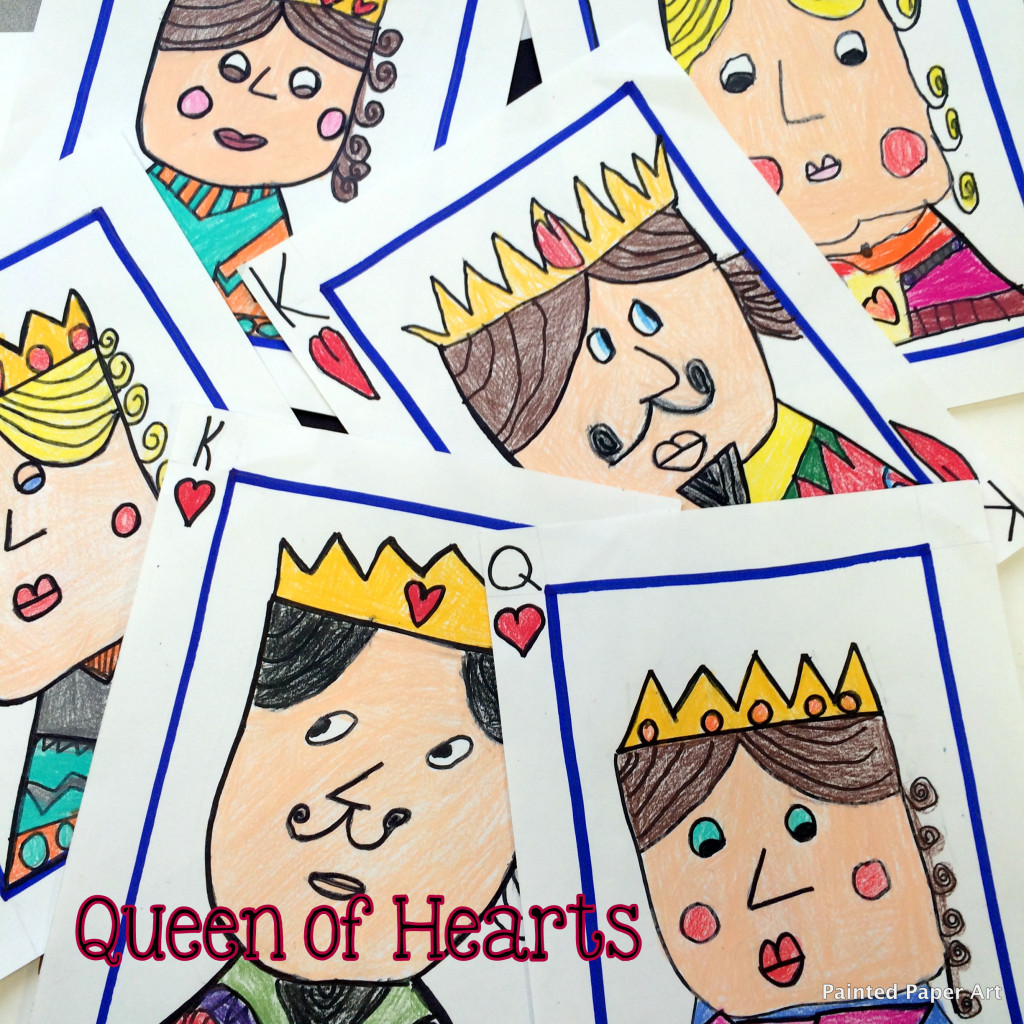 Do you love nursery rhymes? I absolutely love the playful stories that have been passed down for decades. Why not incorporate art and literature? The Queen of Hearts and his majesty, the King of Hearts, is perfect when you need a 60 minute art lesson or an easy to follow portrait directed drawing. Included in the PDF are step by step directions that create colorful patterns with hearts, and portraits that express funny facial expressions. Both are inspired by the traditional nursery rhyme, The Queen of Hearts.

First project:
The Queen and King of Heart Portraits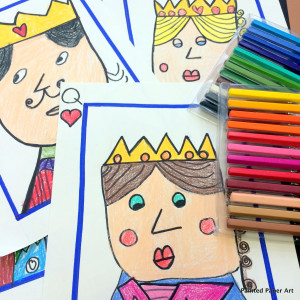 These directed drawing portraits were so fun and simple to create. There were a ton of giggles and grins from students. 🙂 Boys loved creating the Kings and especially loved adding the mustaches to their Kings!
Symmetrical Pattern Hearts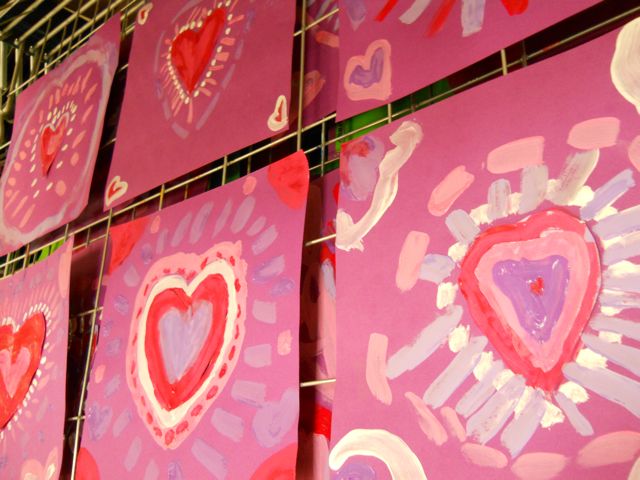 My second graders created these adorable symmetrical hearts. Before creating we read the poem Queen of Hearts.
The Queen of Hearts she made some tarts all on a summer's day;
  The Knave of Hearts he stole the tarts and took them clean away.
The King of Hearts called for the tarts and scolded the Knave full sore
The Knave of Hearts brought back the tarts and vowed he'd steal no more.
1. Students folded a 6″ x 6″ paper in half then drew half a heart. Some students had a hard time with the shape so I performed open heart surgery on them! 🙂
2. Students then glued down the heart in the center of a 12″ x 12″ piece of construction paper and started painting with tempera paint using simple designs on top and around the heart.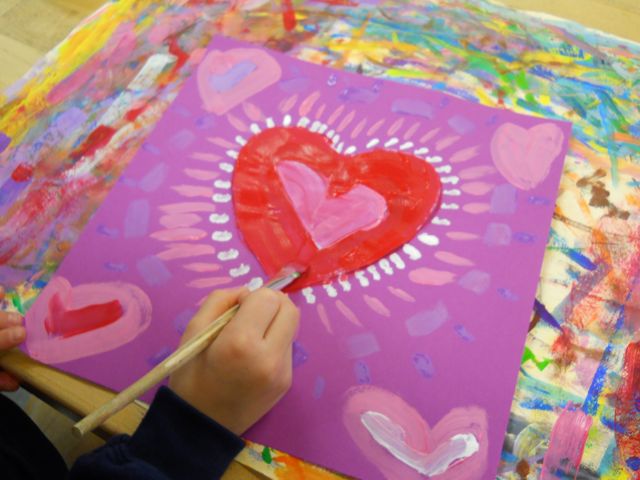 How fun are stripes and polka dots! 
Imagine any type of pattern. 
Just make sure they paint on both sides of their paper for a symmetrical look.
Students used oil pastels and drew more designs around the heart. The sensory experience of using oil pastels and feeling the pastel glide across the paper is something a student never forgets!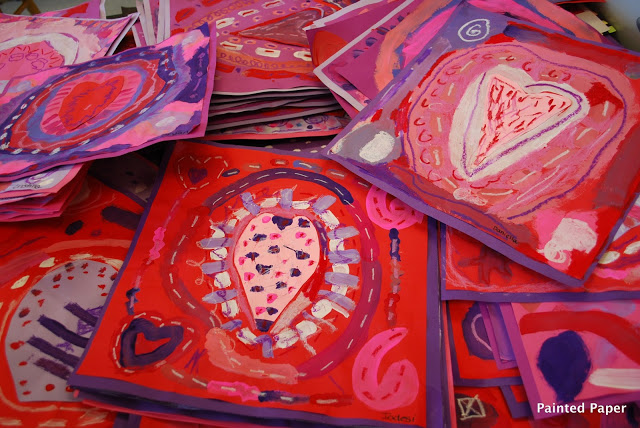 Full directed drawing lesson in a PDF format with handouts and detailed directions is available at the shop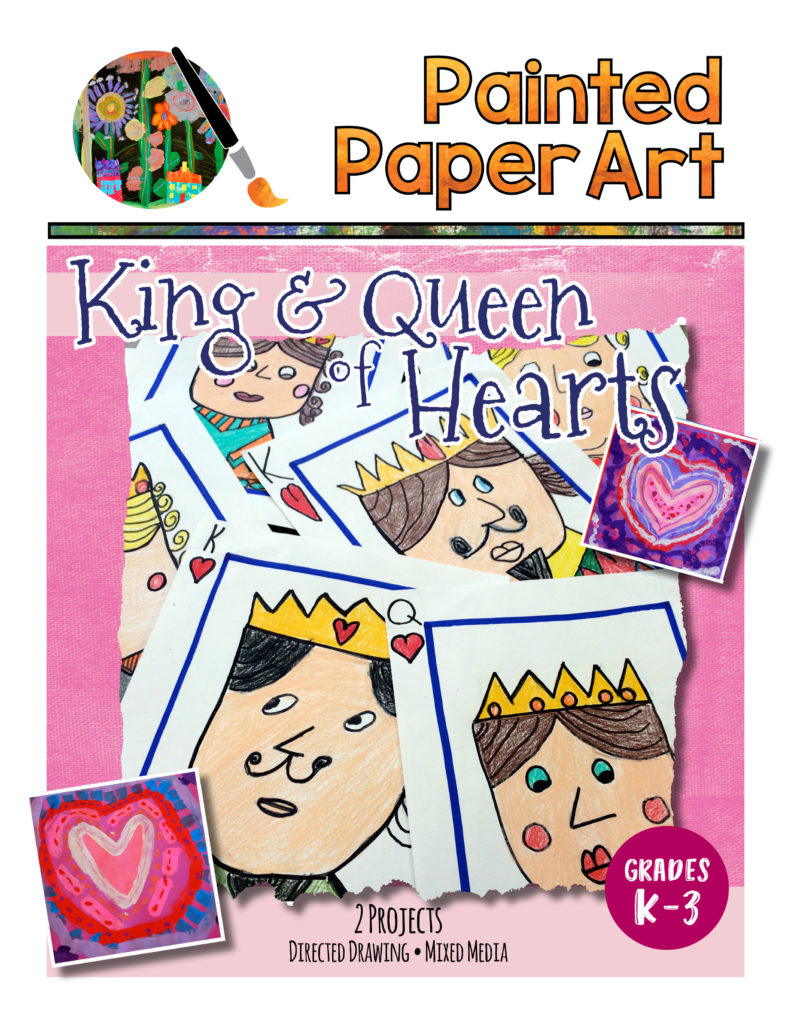 These lessons are great for ages 5-8 but any age student can create awesome artwork with these directions.
The PDF includes:
Step by step directions with full-color photos
Background information about the King and Queen of Hearts
Queen of Hearts poem
Supplies needed for both projects
Vocabulary & learning objectives for both projects
Reproducible Queen of Hearts directed drawing handout
Reproducible King of Hearts directed drawing handout
Reproducible King and Queen coloring sheet handouts for early finishers
Student galleries
Helpful tips
I Can statements
National Standards
Reproducible Artist Statement page