Start spreading the news! I love New York City! After visiting New York City this past spring, I really wanted to create projects inspired by my visit. I had so many ideas flowing thru my head, how could I just do a couple? So I decided that my next Create magazine would be dedicated strictly to New York City.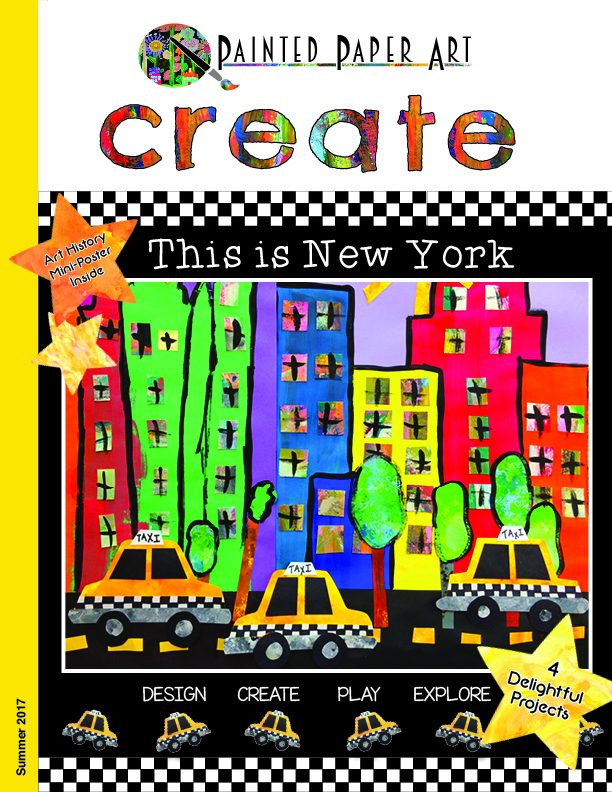 Now, I know there are some popular things about New York City such as the Statue of Liberty, Big Apple etc., but I chose to create some projects that might be a little more unique.
~What's Inside ~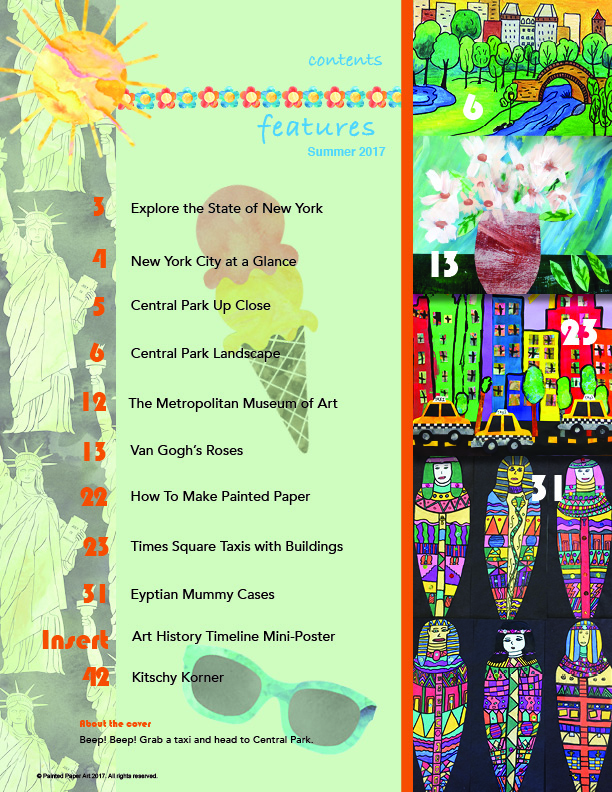 •New York State Guide ~ a perfect guide for some important facts about the state of New York.
•New York City Guide ~ a great informational text for the different boroughs (zones) that create the area of New York City.
•Central Park Up Close ~ background and historical information about the beautiful park.
Central Park Landscapes
On my first day exploring New York City I strolled into Central Park. Walking thru the lush park with large buildings on either side was pretty awesome and inspiring.This project is set up to guide students to create landscapes with sharpies, add color with oil pastels, then apply baby or vegetable oil with q-tips for a stunning beautiful painting.
Taxi Cabs in Times Square
Another project that is totally adorable is Taxi Cabs in Times Square. Kids will love painting the bright colors of the buildings and creating the fun taxis that you layer on top.
•How To Make Painted Paper – a full color, step by step tutorial for creating painted paper with kids.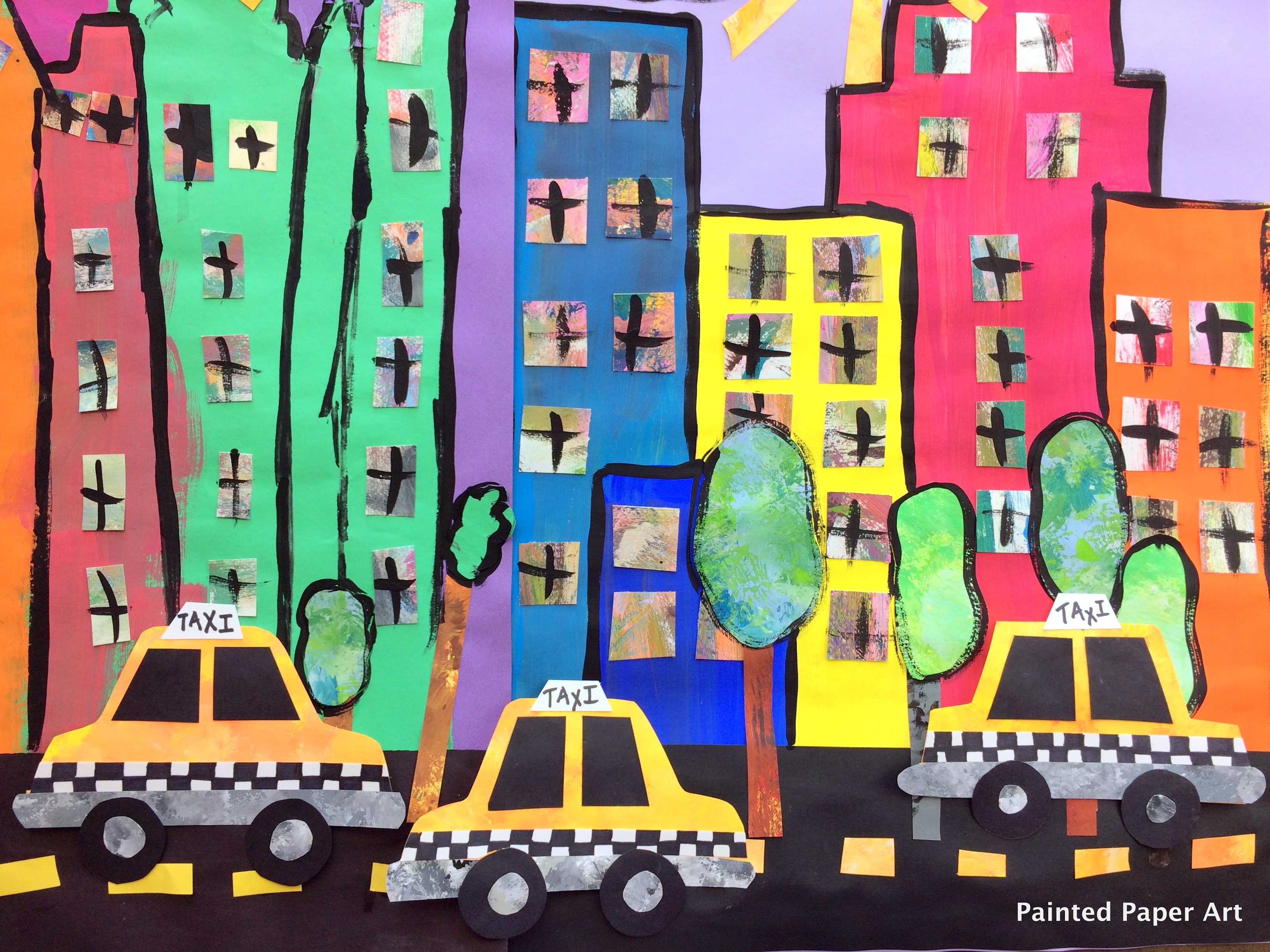 Van Gogh Roses
Inside the amazing Metropolitan Museum of Art are galleries after galleries of beautiful works of Art such as sculptures and paintings. One such painting is Van Gogh's Roses. This mixed media project uses painted paper, oil pastels, and tempera paint to create a beautiful still life with flowers. Contains full color photos and step by step directions for the project.
Egyptian Mummy Cases
Also located at The Metropolitan Museum of Art are Egyptian Mummies and Cases. This is one project that can be adapted for your younger children or middle school aged students. I created these with 6th grade students but have also had 2nd graders create these fun cases. This lesson includes full color, step by step, directed drawing instructions, giving the students creative confidence to explore with fun patterns and designs.
•Mummy Case Patterns – a handy component for use in the Mummy Case art project. Print, cut and put together to create a pattern for students to use. Trace on tagboard for a more sturdy, permanent pattern.
•Mummy King/Queen Headdress Handouts– a reproducible handout for students to gather ideas when creating headdresses.
•Art History Timeline Mini-Poster – a letter sized poster showcasing the Egyptian art time period. Great to print and use in building a comprehensive art history timeline.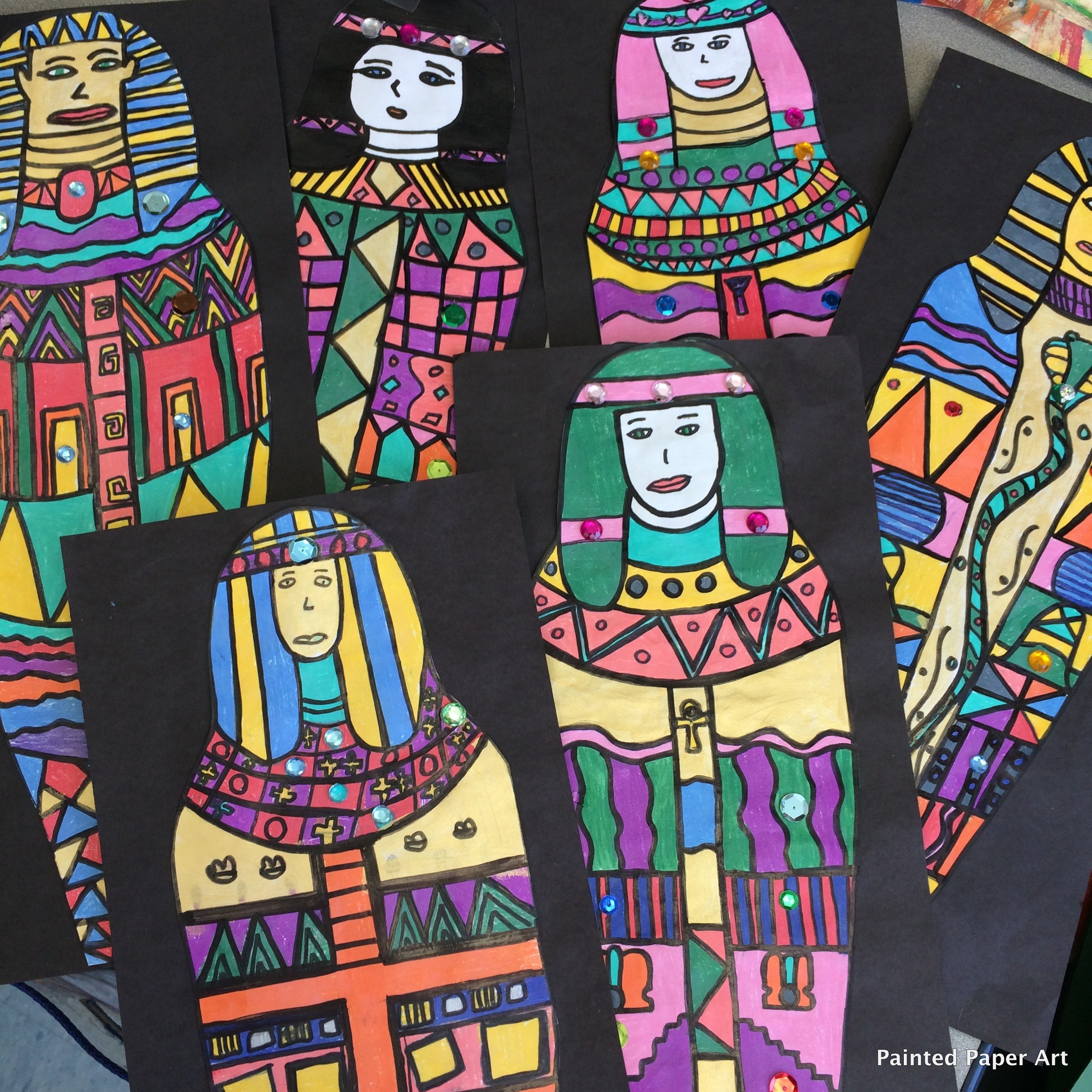 4 fun projects with step by step, full color directions – perfect for any time of the year. Plus lots of background information on the state of New York and New York City.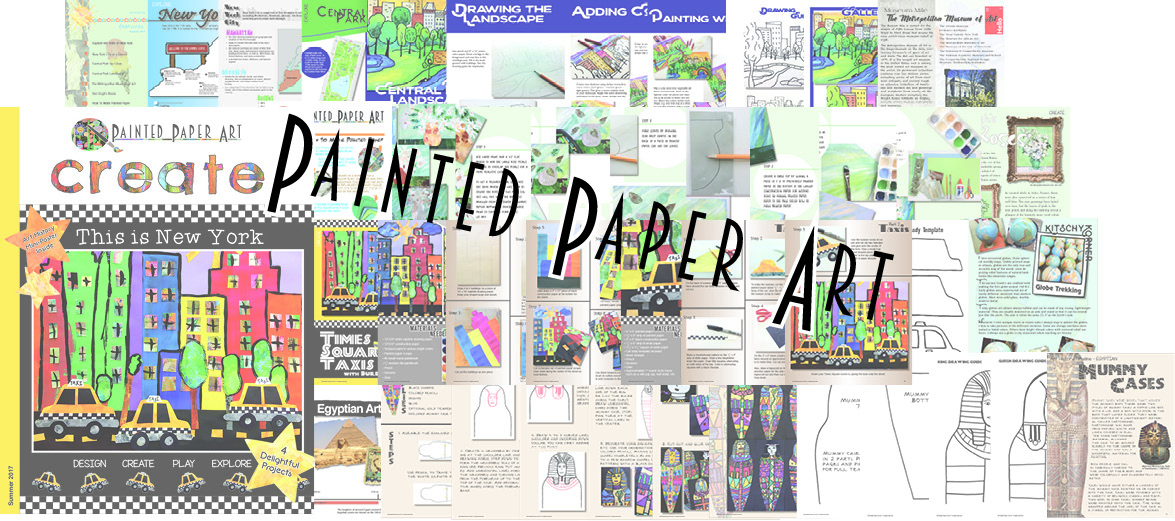 CREATE contains 43 pages, beautiful illustrations, and full color photos in an easy to read pdf format. Download, keep and view at anytime. Create is intended to be used primarily as a digital reference tool. If printing via a desktop printer, select "fit to page" for best results.
To purchase the full PDF click to visit the shop.
Keep on "CREATE" ing
Laura xoxo