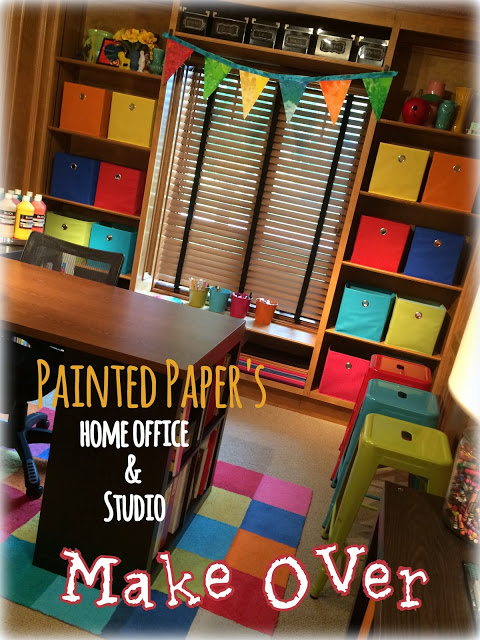 We are busting at the seams over here at Painted Paper Art Studios.  Our tiny little closet bedroom just could not hold all of us when we were creating!  My husband suggested I come down to his office- an office which we never used. In fact, it held his small desk and all our camping equipment! I guess with little kids we just never had the time to work on that room. Now that the kiddos are getting older and need a nice place to do schoolwork, we sat down and designed an efficient layout for a home office, art studio and quiet place for homework.  Here is our finished makeover-
for a Successful Home Office/Studio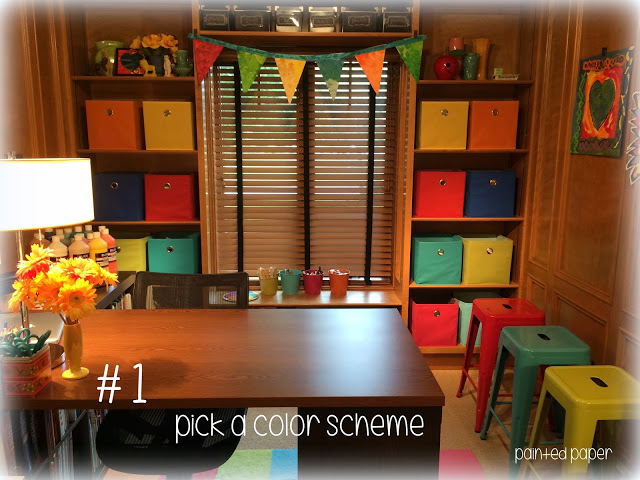 First, pick a color scheme. 
We love color so we went with all of them! 

The fabric bins were the punch of color that was needed, they hide all my supplies while making it look clean and tidy.  Bins:Target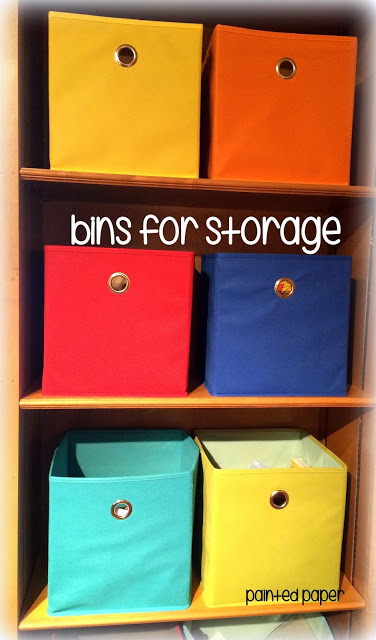 You never know where fun things turn up. 
The rug was found at Target in the kids bedroom section.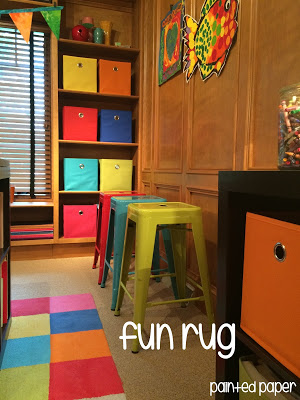 I love children's books. Period. So we used a bookcase that was in the basement and slid it under the desk top. (The other end of the desk is a small bookcase.) The books are easily accessible and ready when I need them for lessons.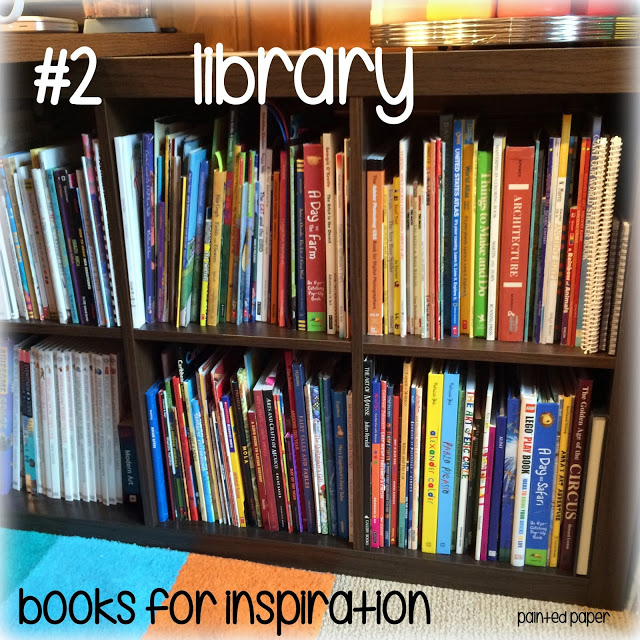 We found these awesome stools at the local grocery store. The kids love them because they can move them wherever they want. 
Plus, they are stackable! We found these at Krogers.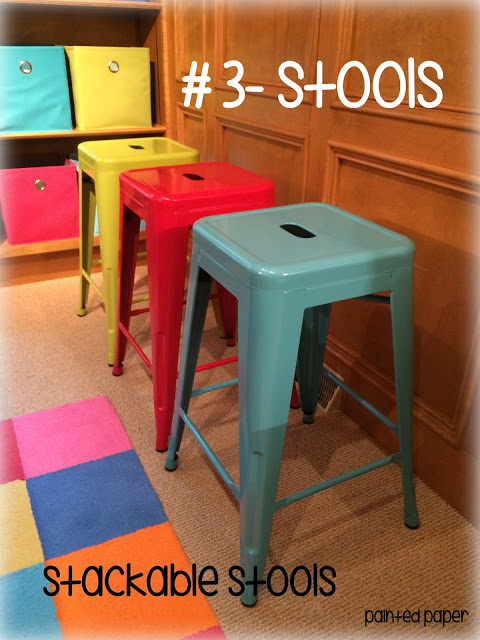 These fun bookcases are perfect if you don't have a lot of room. Each fabric square contains coloring books, chess games, card games such as Old Maid, Go Fish, etc. The crayons in the glass jar are left over from previous school years. They are easily accessible, fun and colorful in the glass jar. My daughter comes in and grabs her coloring books while I work. Win win.
Bookcase:Walmart, Fabric Bins: Target, Glass Jar: Crate and Barrel.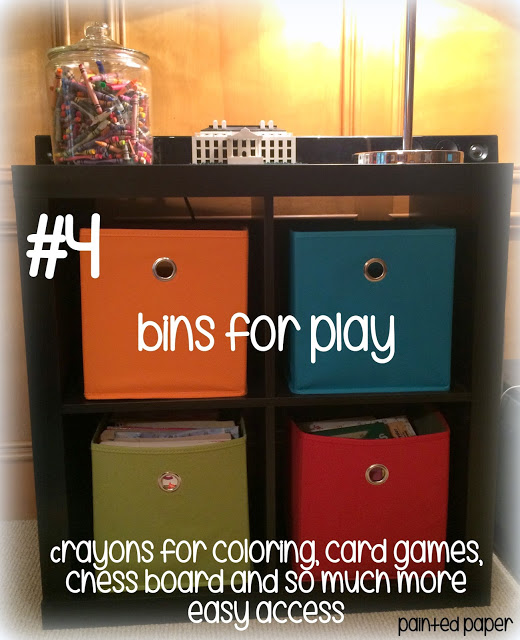 These storage boxes are up on a shelf out of the way. 
We put some fun labels on them and added a painted paper banner for decorative eye candy. 
Boxes: IKEA,  Labels: Creative Teaching Press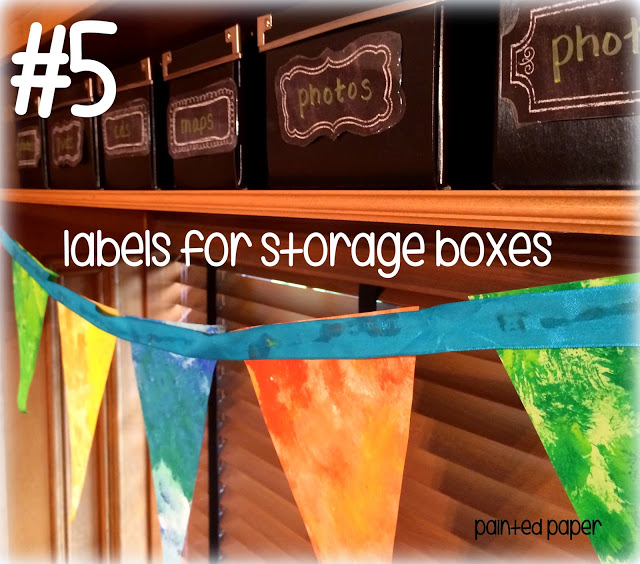 Desktop organization is a must! I used some old tins that stored tea and added some fun duct tape to decorate them. Here is the details.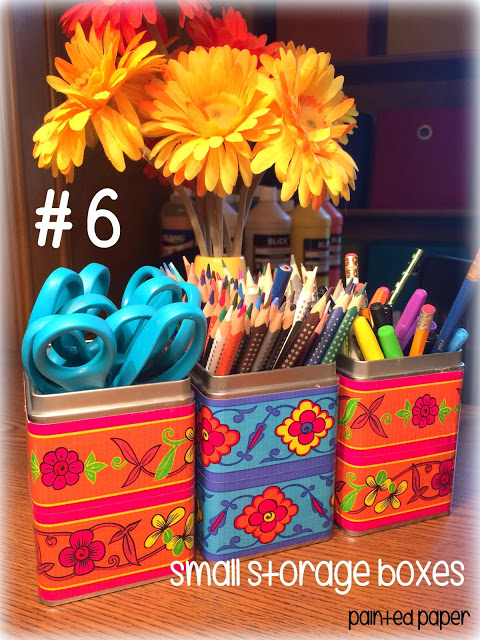 Since I paint ALOT, I put my paints on a lazy susan so I can access them when needed. 
No digging thru shelves or boxes. 
Lazy 
Susan: thrifted at resale shop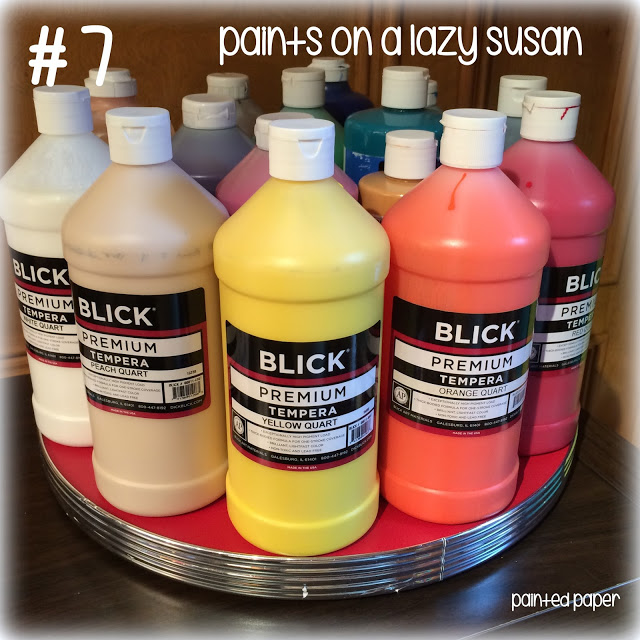 Glue is a must when creating mixed media projects. 
For some reason these bottles just multiply!!!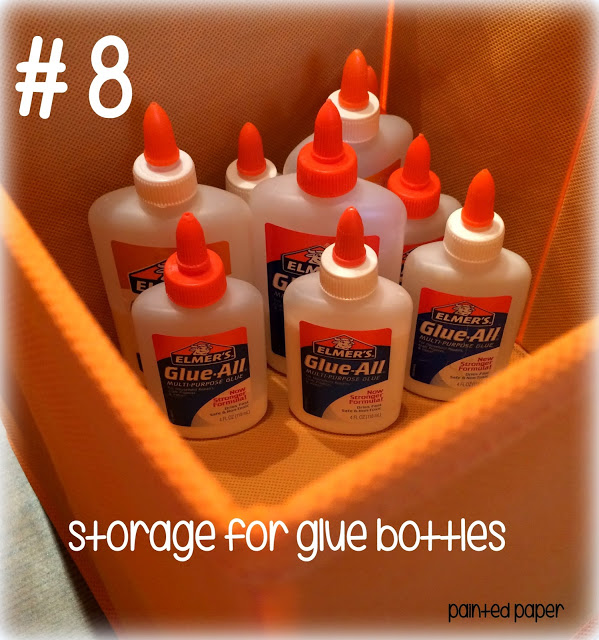 So my hubs was totally on board with us coming into the office zone! He loves to organize and when I showed him these hanging pocket folders he strolled into the teacher store in delight. His labels are for all the documents needed for our household. 
Love the color wheel set up too!
Hanging Pocket Folders: ABC Teacher Store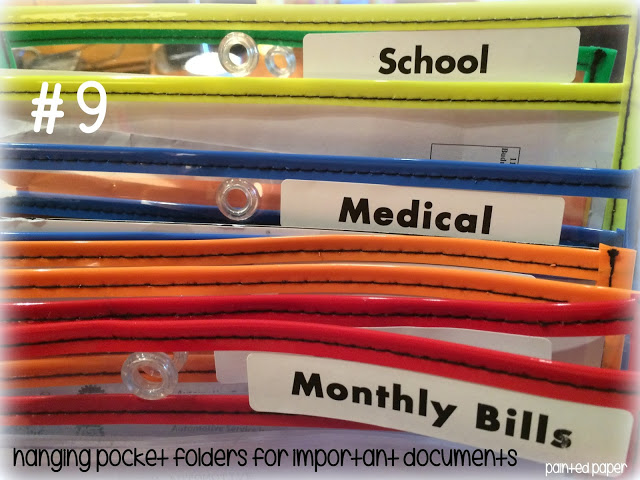 Of course, I use construction paper for most of my projects. I have to have construction paper easy to grab along with my scrap paper too. I neatly tucked clean construction paper under a shelf and put the scraps 
into a sealable tub.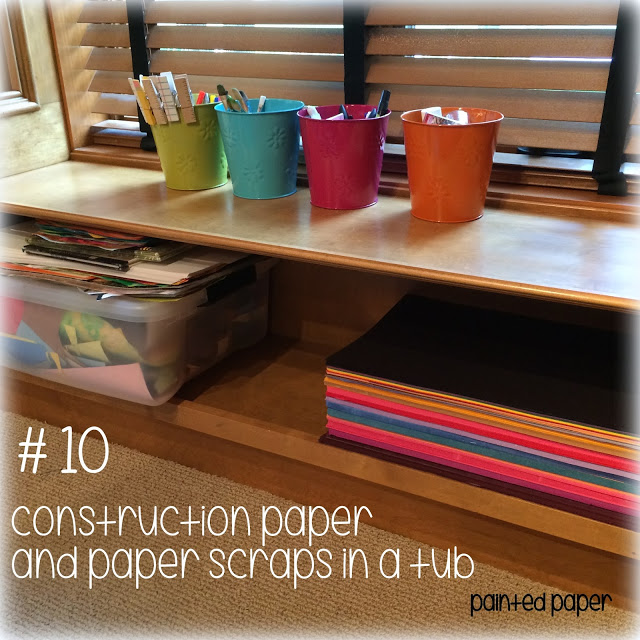 Hopefully these tips help get you organized for your
 school year and home life. 
Have a great school year and keep creating!
Stay tuned for my post on classroom organization!