We had an incredible journey into the land of wool! Students were so excited to felt that the were standing while I gave directions. (Mind you it was at 8:00 in the morning!)
A couple of weeks ago my other teaching partner and I went to our local fiber arts fair. This is a great place to get dyed wool and roving pretty inexpensive and locally grown! I met a wonderful person who raises sheep right down the road and I plan on using her for more purchases. We are even trying to get our transportation director to raise a couple of sheep so we can have more wool.

You just have to tell the fiber artists that you are an art teacher and they will spill the beans on an easy way to felt with kids. LOL 1st, I tried the bubble-wrap method. It worked pretty well, but then I stumbled across the zip-lock bag method. Totally awesome. Check out this website for great directions!
http://kleas.typepad.com/kleas/2007/05/tutorialfelting.html
Ok, enough of my side stories, the students were told the process of how the roving was prepared then we went to town. Following Kleas directions, the students pulled their wool created their designs. I gently put them into the ziplock bags, added hot soapy water and then they pinched and smashed to their delight! When I rinsed the finished felted projects they just slid right out onto each child's tray. So here they are! it was all the rage! Everyone wants to felt now! It was such a fun day! Just Awesome!
Butterfly

Flower

Heart

Waterllily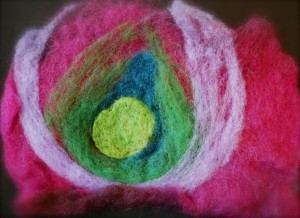 Laura