During Picasso's Blue Period, Pablo used various tints and shades of blue. Picasso painted with blue paint because his friend had died and he was deeply saddened. He also missed his home land of Spain. With all the blue he also enjoyed music. Many of his paintings, and collage projects have guitars and music in them. So why not incorporate the weaving of tints and shades along with sheet music.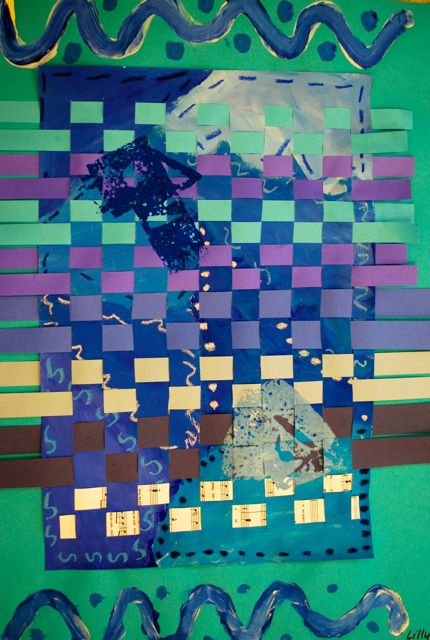 Directions:
Day 1
1. Students painted various tints and shades on 12 x 18 paper. Let dry.
Day 2
2. Students added oil pastels designs on the edge of the tints and shade shapes.
Day 3
1. Students create a loom out of the pre-painted 12 x 18 paper.
2. Strips of blue shades of construction paper cut to 1″ by 18″
3. Students weave.
4. Last, weavings were glued to a 18 x 24 blue construction paper and students painted borders with tints and shades of blue tempera paint. Students had the option of using Picasso head stamps for an extra design.