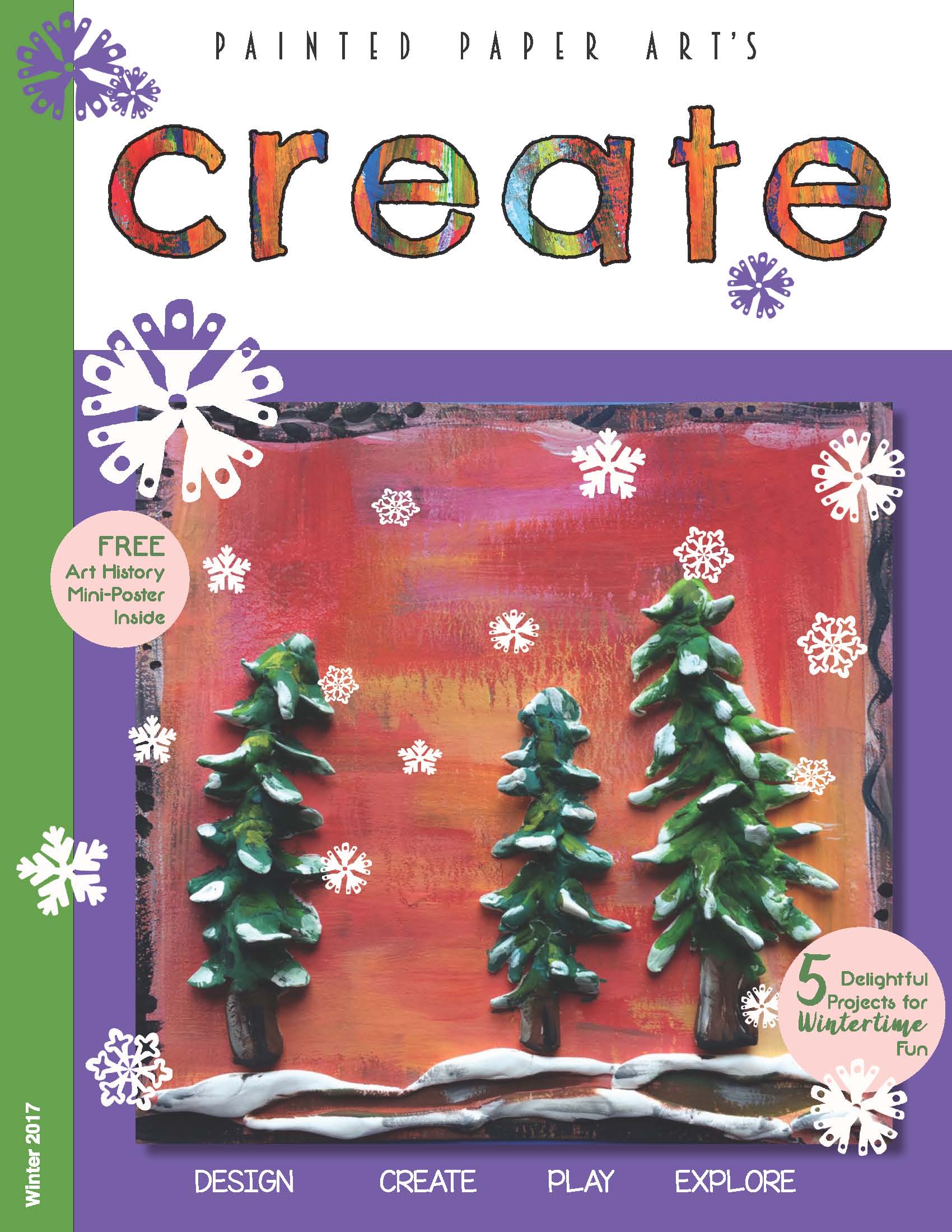 I have always loved reading magazines. Thumbing through my favorite issues, both old and new, looking for ideas and inspiration. Some issues I've kept for years and have revisited time and time again.
I had an idea to Create my own digital magazine geared for educators, parents and anyone who likes to Create art with kids.
"It is my hope you'll enjoy this magazine as much as I enjoyed putting it together. Inside there is a variety of art projects, tips, and fun and useful information I hope will help you in your classroom or anywhere you create art with kids."
Painted Paper Art's Create Winter 2017 Digital Magazine is a full color pdf containing features such as: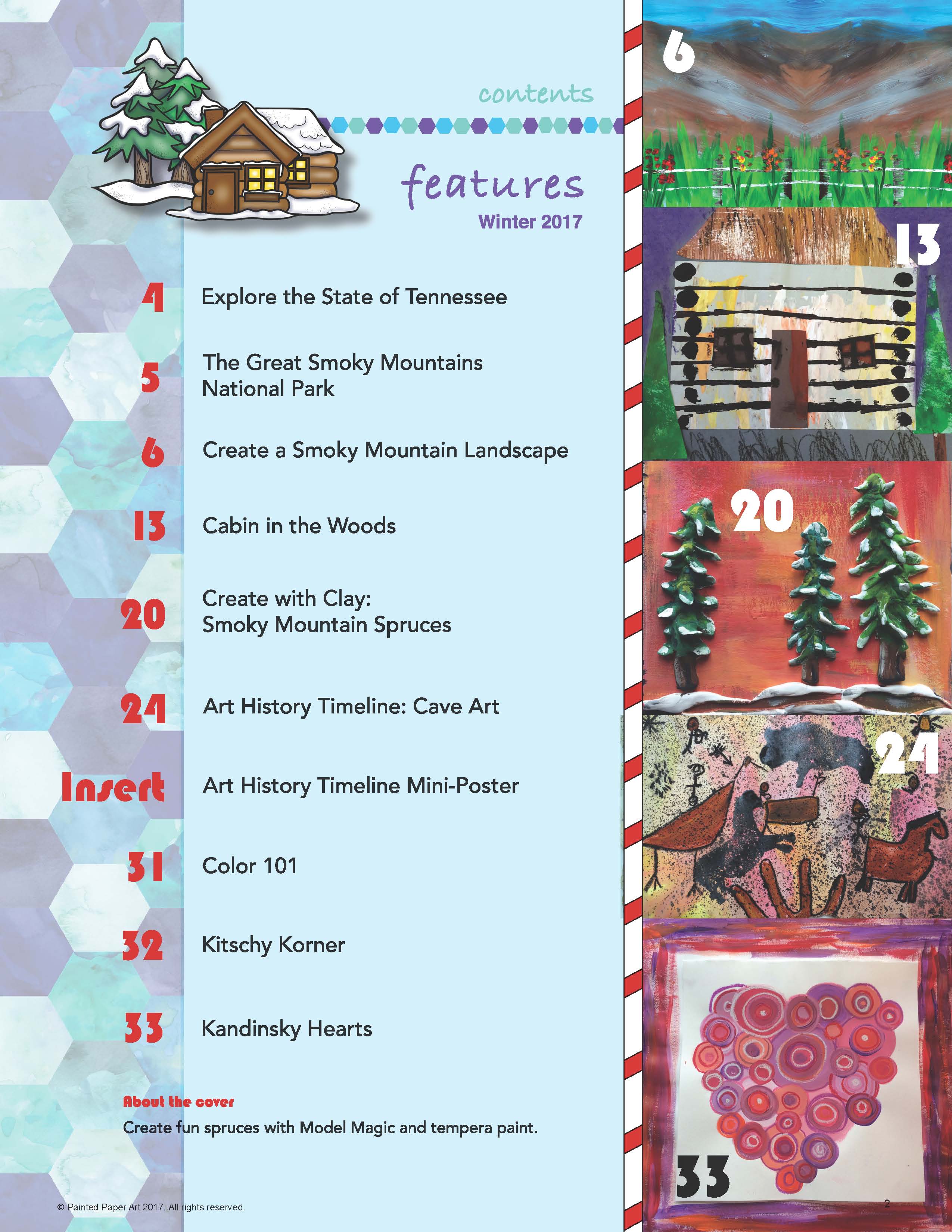 Thematic Unit
Explore the State of Tennessee – a fun informational page that touches on a few highlights of the great state of Tennessee.
The Great Smoky Mountains National Park – some background on one of America's Greatest National Parks.
Create a Smoky Mountain Landscape – a full color, step by step project using tempera paint that is perfect for introducing young artists to landscape painting.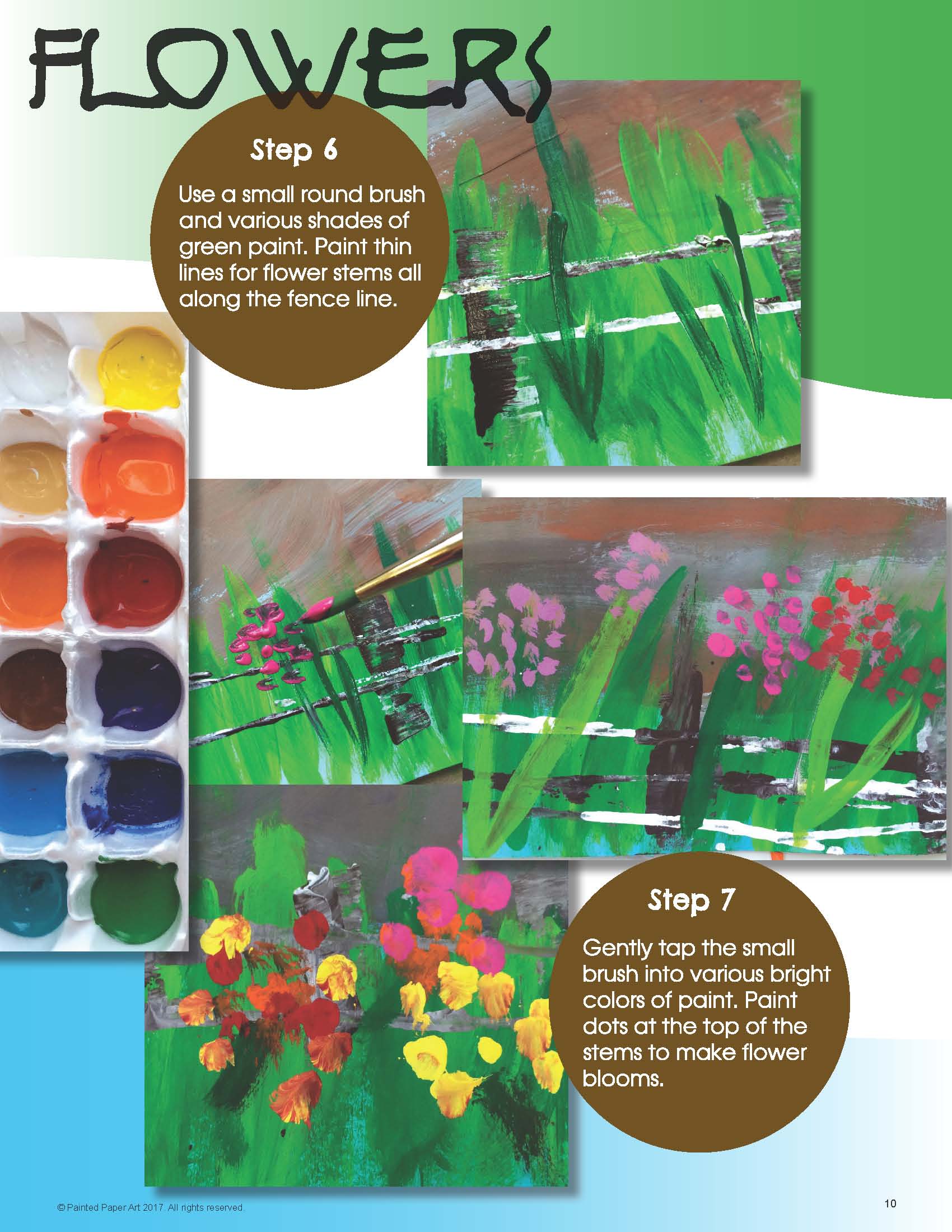 Great Smoky Mountains Wildflower Guide – a perfect guide to the various flowers found throughout the Great Smoky Mountains.
Cabin in the Woods – Who doesn't love a cabin in the woods. This mixed media project uses painted paper, chalk, and tempera paint to create a log cabin. Contains full color photos and step by step directions for the project, as well as detailed steps for making painted paper.
How To Make Painted Paper – a full color, step by step tutorial for creating painted paper with kids.
Trees of the Great Smoky Mountains – this informational page discusses the vast array of trees found in the Great Smoky Mountains.
Create with Clay: Smoky Mountain Spruces – this delightful project uses air dry clay, cardboard and tempera paint to create 3-dimensional trees. A great project to introduce kids to air dry clay.
Art History
Art History Timeline Project: Cave Art Paintings – this mix-media project uses oil pastels, watercolor and tempera paint to create prehistoric cave art. A great way introduce students to prehistoric art and the world of art history.
Cave Art Stencils – a handy component for use in the cave art project. Print and cut out these images to create stencils for student use.
Art History Timeline Mini-Poster – a letter sized poster showcasing the prehistoric art time period. Great to print and use in building a comprehensive art history timeline.
Color 101 – a fun look at the Pantone color of the year for 2017.
Kandinsky Hearts – the beautiful colors of Kandinsky's Color Study: Squares with Concentric Circles used to make Valentine's Day hearts.This project is perfect for Valentine's Day or any day to celebrate love! Includes full color, step by step directions perfect for little artists.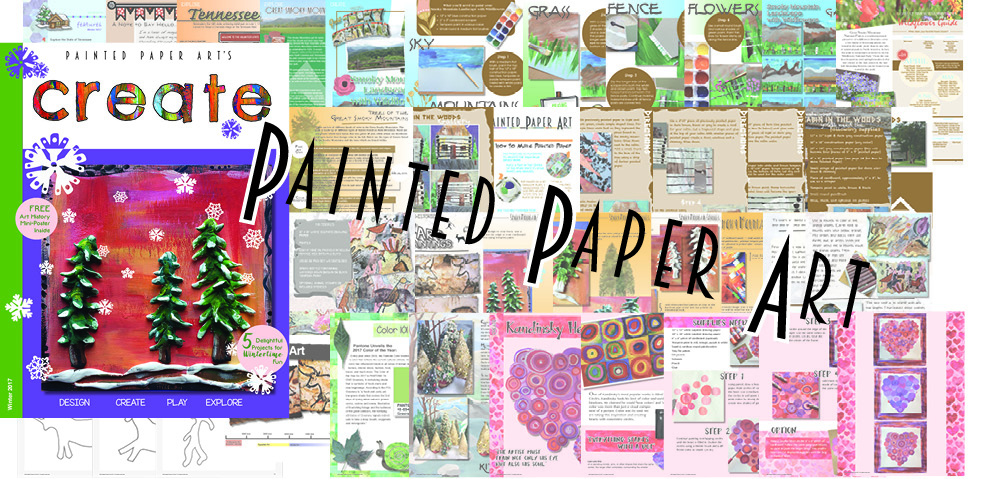 Create contains 39 pages, beautiful illustrations, and full color photos in an easy to read pdf format. Download, keep and view at anytime. Create is intended to be used primarily as a digital reference tool. If printing via desktop printers is desired, select "fit to page" for best results.
To purchase the full PDF at an introductory rate at 50% off
click to visit the shop
Wishing you all the best in 2017!
Keep on "CREATE" ing
Laura  xoxo
SaveSave